What is fondue and how to cook it?
Recently, fondue, a traditional Swiss dish, has become widely spread in the restaurants menu. Translated from French, this word means "melted." Fondue is made from cheese and wine in dishes called kakelon right at the table, so all participants of the meal can watch the process. But what is fondue and how to eat it? Let's figure it out.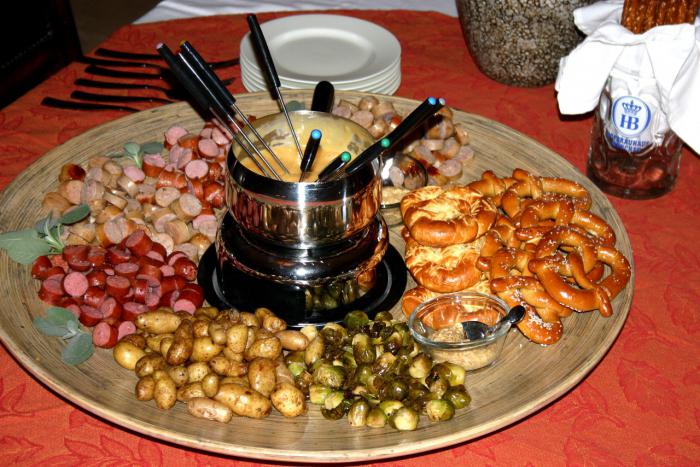 A bit of history
Seven centuries ago, in the Swiss Alps, shepherds took the head of cheese, bread and wine with sheep to graze. When it was getting dark, they decided to refresh themselves, but all the products became stale in a day, and then the shepherds invented putting cheese and wine in the cauldron and heating it over the fire. It turned out delicious nourishing mix, in which you can dip bread. So there was a fondue. Gradually, the dish passed on to the tables of rich people, they began to cook it from the best sorts of cheese and wine.
Soon, what is fondue, learned in Italy and the Netherlands, and later in China and France. Sweet fondue made from white or bitter chocolate blended with cream has become very popular.In this mixture, pieces of fruit or sponge cake were dipped and washed down with liqueur or champagne.
In Switzerland, there is another legend about the occurrence of fondue. A lone traveler late in the evening knocked at a small private hotel asking for overnight stay and dinner. The owner accepted the traveler, but refused to dinner: the cook had long gone, and no one could cook. However, he allowed the traveler to go into the kitchen and cook something for himself. And in the kitchen by this time the hearth was still hot. On it was a pot of hot vegetable oil. The traveler found pieces of vegetables, some slices of meat and threw everything he found into hot oil. The food there warmed up, and the traveler gladly had dinner.
How to use the traditional dish of Switzerland
It is recommended to take a fondue box and place it in the center of the table. Each guest is given a plate and two forks. In the center of the table lay the dishes with pieces of bread (it is cut into cubes). The guest pushes a slice of bread onto a fork, puts it in hot fondue (we will look at the recipes below), turns the mixture to stop dripping, and puts it on a plate. Then you need to chop a piece with a second fork and send it to your mouth.
If the fondue is fish or vegetable, then the fondue box with broth or hot oil is placed in the center of the table, and plates with pieces of meat, vegetables or fish are placed next to the guests. The guest punctures a piece of product, dunks it in butter and puts it on his plate. Nearby are bowls with sauces and seasonings, as well as garlic bread. The meal usually ends with salads that are suitable for the main course.
How to eat sweet fondue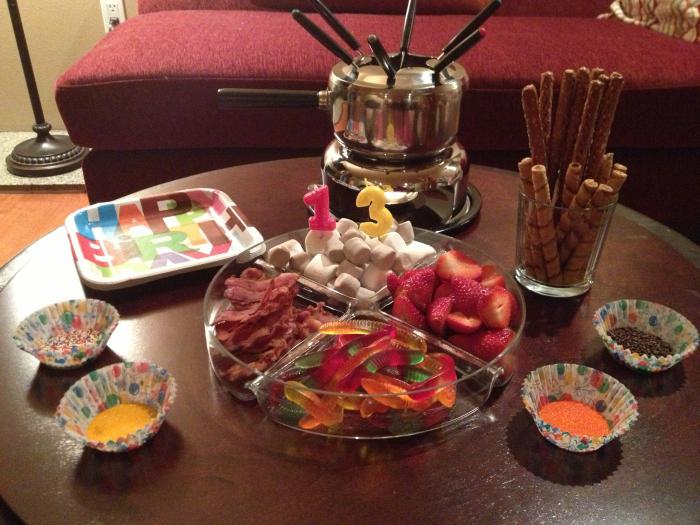 It is usually only warmed up and eaten immediately after the main course. It should be noted that such a fondue (photo above) is prepared quite simply. Before each guest place the dishes with sliced ​​fruit, muffins, cookies or other sweets that need to be dipped in a liquid mixture. To this dish serves glasses with schnapps, liqueur or glasses of champagne, sweet wine. If alcohol is not consumed, you can serve herbal carbonated drinks.
Let us consider in more detail what a fondue set is and how it is used to make a traditional Swiss dish.
Cookware for cooking delicacies
The fondue set consists of a metal, clay or ceramic pot (depending on the type of dish), one or two long forks with special tips, as well as a burner with a heating temperature controller and a stand.In addition, the set may include various accessories: plates, saucepans.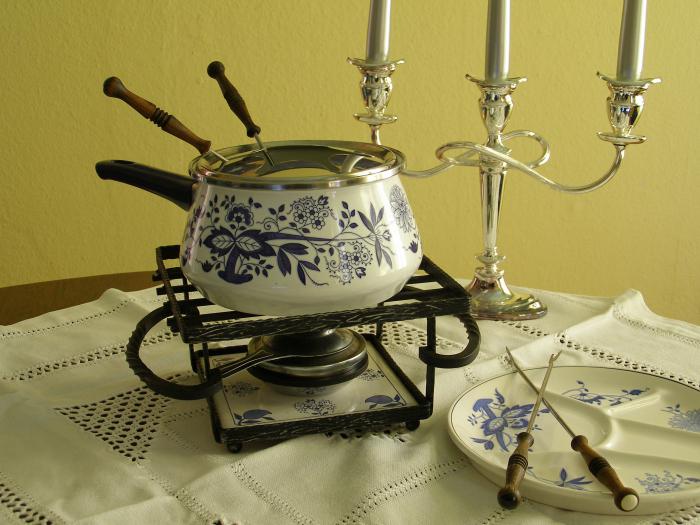 Next, tell you how to make fondue. Recipes will be offered the most interesting.
Classic fondue
Ingredients:
one clove of garlic,
450 grams of cheese gruyere,
250 grams of Emmental cheese,
one and a half glasses of white dry wine,
one spoon of lemon juice,
four spoons of potato starch,
nutmeg,
ground pepper.
Cooking
Before making fondue, it is necessary to smear the cauldron with a clove of garlic, after cutting it. The vessel is placed on a stand with a burner and a grate, put in it cheese, grated on a grater. In wine, starch is diluted, lemon juice is added, cheese is poured with the mixture, salt and spices are added, and the burner is set on fire. The contents of the pot are stirred in zigzag movements. When the mass is melted, it is still kept for about seven minutes on the fire. Then they take pieces of bread with a long fork and dip them into it. At the same time, a plate with spices is placed next to each guest. The dish is served wine or coffee.
Seafood Fondue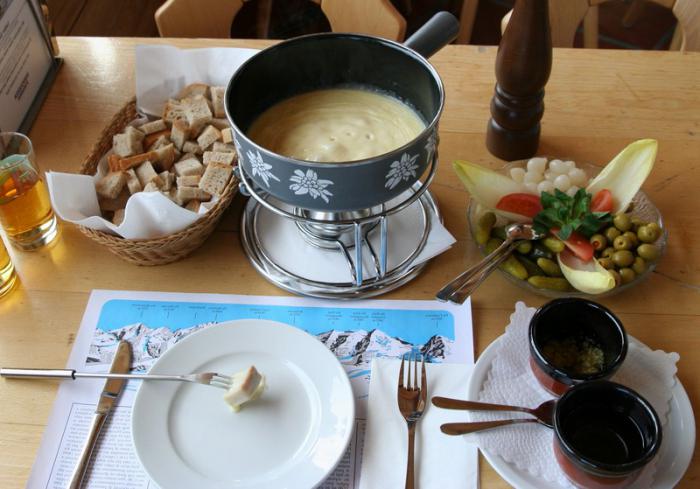 Ingredients:
230 grams of fillet of flounder, halibut, cod and large peeled shrimps,
180 grams of mussels without shells,
juice from two lemons,
one spoon of oyster sauce,
two spoons of corn flour,
vegetable oil.
Cooking
You must marinate the fish before making seafood fondue. The fillet must be placed in a dish, sprinkled with lemon juice and sauce, cover with a lid and put in a cold place for twenty minutes for marinating. Then the fish is taken out and sprinkled with flour, laid out on a large dish, which is placed in the center of the table. In a cauldron, heat the butter to a boil and begin to prepare the dish. Long pieces of food are pounded into pieces and dipped in hot oil for a few minutes for frying. The finished pieces are laid on their plate and eaten with a second fork. Served with sauces and spices.
Flounder Fondue
Ingredients:
three flounder fillets,
900 grams of fish broth,
two spoons of grated ginger root,
three spoons of sherry,
one spoonful of minced cilantro.
Cooking
Fillet cut into strips and spread on a plate. Pour broth in a cauldron, add ginger and boil for ten minutes over medium heat. Over time, add sherry and cilantro, cook for five minutes. Each guest lowers the pieces of fish into the broth.
Fondue in german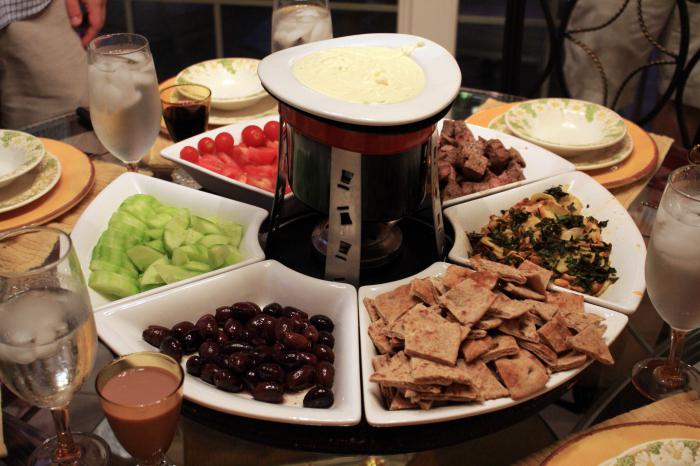 Ingredients:
garlic slice,
250 grams of milk
230 grams of Gouda and Eden cheeses,
one spoon of grated nutmeg,
one spoonful of cornstarch or cornmeal,
two spoons of gin
ground pepper.
Cooking
Let us tell you what fondue is in German. First, the cauldron is rubbed with garlic, which is then thrown away, the milk is poured there and heated to boiling, gradually adding grated cheese. Then reduce the fire and add nutmeg. Starch is diluted with gin and poured into the mixture, ground pepper is added and the mixture is boiled for three minutes, stirring constantly. During this time, the fondue should thicken. Served with vegetables, crackers. Jin gives it a special aroma and piquancy.
Italian Fondue
Ingredients:
15 grams of butter,
50 grams of sliced ​​champignons,
one clove of garlic,
250 grams of canned tomatoes and grated Fontin cheese,
one spoonful of corn starch,
170 grams of milk
half a spoonful of onion salt and dry oregano.
Cooking
With the rubbing of the cauldron cut garlic should begin cooking fondue. Then butter is melted in a cauldron, mushrooms are added to it, and passaged for two minutes, stirring constantly. Then add the tomatoes and bring the mass to a boil.The cheese is mixed with starch and placed in a cauldron, stirred until completely melted. Then gradually pour in the milk, sprinkle with salt and oregano. When the mass boils, the fire is turned off. Served with ciabatta.
Belgian fondue
Ingredients:
50 grams of butter,
80 grams of flour,
600 grams of milk
five yolks,
salt and pepper,
one pinch of cayenne pepper,
half a spoon of grated nutmeg,
50 grams of grated Parmesan cheese,
one beaten egg
two scoops of breadcrumbs,
vegetable oil.
Cooking
Before cooking fondue, you need to melt the butter and add flour to it, mix well. Then, milk is gradually poured into the mass and stirred until the mixture boils. Then add salt and pepper, nutmeg. Separately, beat the eggs with the grated cheese and pour this mass into the milk, mix and cool. Using the forms for cookies from the frozen mixture cut circles and roll them in flour. An egg is poured into a separate dish, crackers are poured on a flat dish. Each circle is dipped in an egg, and then in breadcrumbs, then roasted in a cauldron in hot oil until golden brown.
Fondue Worcestershire
Ingredients:
250 grams of milk
350 grams of smoked cheese,
four tablespoons of corn flour (starch),
two spoons of horseradish,
one spoonful of mustard,
two spoons of Worcester sauce (soy).
Cooking
Milk is poured into a cauldron and heated to boiling. Then add the grated cheese, cook on medium heat until the mass is smooth. Flour or starch is mixed with ready horseradish, sauce and mustard, mixed and transferred to fondue. Cook the mixture for three minutes, stirring constantly. During this time, the mass should be thick. This dish is served with boiled sausages, apple slices, diced bread.
Classic Chocolate Fondue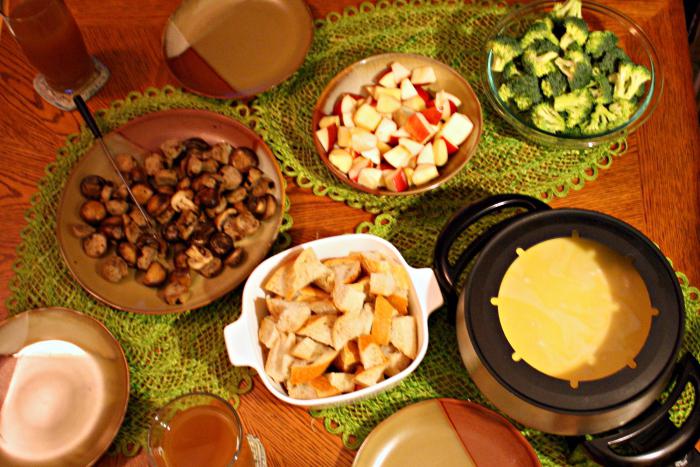 Ingredients:
350 grams of dark chocolate
250 grams of cream
a pinch of salt,
fruit to taste.
Cooking
Chocolate fondue is made very simply (what is it, you already know). The cream is heated until the appearance of tiny bubbles, then add the broken chocolate into pieces and stir constantly with a whisk until the mass thickens. The fire is turned off, the cauldron is placed in the center of the table. Next to each guest place plates with slices of different fruits, which will need to be dipped in hot chocolate, pre-chopped them on a skewer.If the mass becomes very thick, add a little cream and mix it.
Chocolate Fondue
Ingredients:
one third cup of sugar
one spoonful of starch
one glass of cream
one glass of milk
two spoons of ground coffee,
half a spoon of cinnamon,
one vanilla pod,
200 grams of dark chocolate
three spoons of butter.
Cooking
I must say that such a fondue is prepared quickly enough. It is necessary to mix the cream, starch, sugar, add vanilla, coffee, cinnamon and milk. This mixture is heated for four minutes, stirring constantly. Then add softened butter and grated chocolate to the mass. Fondue poured into the pot and served on the table. Next put a plate with slices of apples, pears, pineapple, biscuit and marshmallow. Wash down the dessert with sweet liqueurs, wines or champagne.
Marshmallow Fondue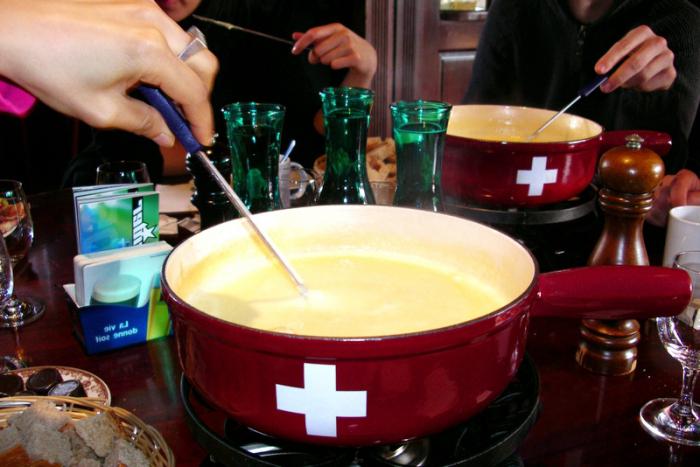 Ingredients:
400 grams of dark chocolate
85 grams of butter,
300 milliliters of cream,
300 milliliters of milk
marshmallow toffee
Cooking
In the cauldron put all the components, melt them, constantly stirring. On a fork with a long handle strung pieces of marshmallow, dipped in chocolate and eaten.If desired, marshmallows are replaced by strawberries, pineapple, scoops and other things.
Finally
Fondue today is a common delicacy that can be prepared by all family members directly at the table. It should be noted that paper napkins are put on the table in order to be able to wipe the drops of oil.
A few words should be said about what is batman fondue. Many, having heard this name, think that this is a kind of tasty delicacy that came to us from Switzerland. However, this opinion is fundamentally wrong. The term "batman fondue" has nothing to do with food - it is a smooth movement of classical dance.
Related news
What is fondue and how to cook it image, picture, imagery