Siberian State Medical University: description, passing score and reviews
After graduating from school, each person thinks about getting further education. Many people decide to master the legal and economic specialties. Unfortunately, making such a choice, applicants often do not think about their future. Specialists with diplomas of lawyers and economists annually graduate from universities in huge quantities. Some graduates do not find work. The labor market is saturated with such specialists. In order to have a prestigious and well-paid job in the future, it is best to get some kind of medical specialty. The right direction can be found in such a famous Russian university as the Siberian State Medical University. Tuition, passing points, specialties - topics that are worth considering, because they are important for applicants.
About higher education
SSMU, operating in Tomsk, is one of the oldest educational institutions in our country. They founded the institution in the second half of the XIX century, or rather, in 1888. Over the years, the university has gained recognition in the country, has interested many foreigners. Figures and facts testify to the achievements of the educational organization:
Siberian State Medical University is among the top three universities in Russia related to the medical profile;
80% of the teaching staff consists of persons with academic titles and degrees;
The university has about 5,000 students who are residents not only of Tomsk, but also of other cities of Russia and countries (statistics show that there are people from 55 regions of our country and 24 foreign countries at the university);
the educational organization has several own multidisciplinary clinics, in which about 20 thousand patients receive the help of specialists every year;
at SSMU, the country's best medical library (according to a rating compiled by the Academy of Evidence-Based Medicine in 2016).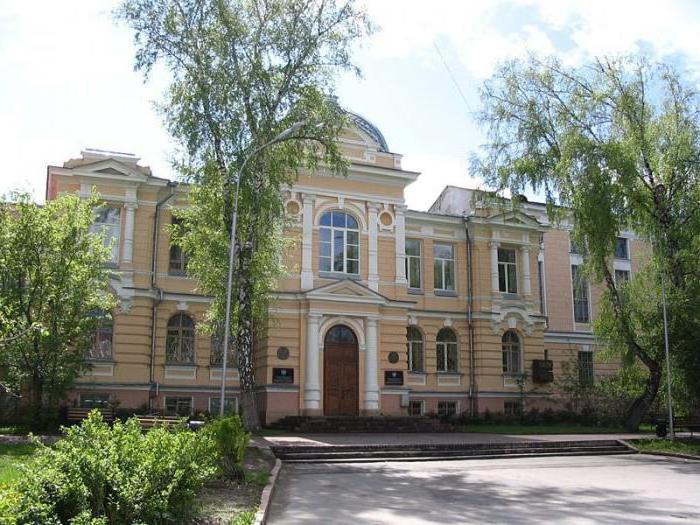 What does the university offer to applicants?
The Siberian State Medical University offers applicants a variety of areas and specialties, enrolling in which you can get a higher education.People who want to become doctors or pharmacists and get a diploma of a specialist will have to study from 5 to 6 years in full-time. Part-time studies in such professions are not provided. The fact is that future doctors will carry out diagnostics, various medical manipulations, operations, prescribe treatment, and it's impossible to learn all this by yourself. That is why there is no correspondence course.
For people who want to get a profession in a shorter period, the Siberian State Medical University offers undergraduate degrees. It prepares future nurses and managers who will continue to work in health care. For the first profession is required to study 4 years in full-time education. "Management" is a simpler direction. That is why training on it is implemented in the correspondence department for 4 years and 6 months.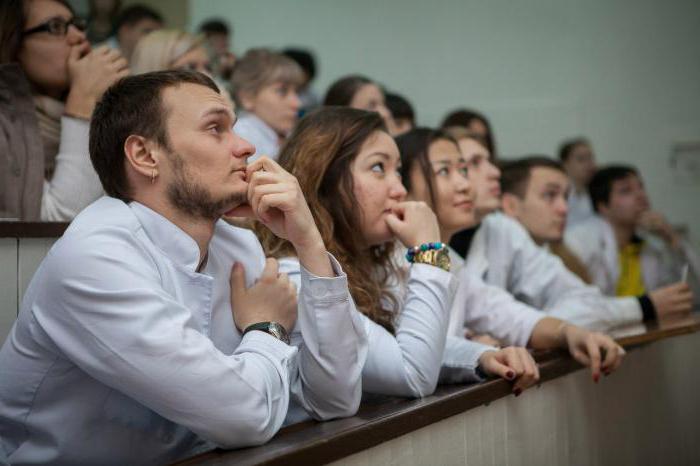 Entrance tests
After graduating from school, you can enter a Siberian State Medical University for higher education programs only as a result of passing the EGE. To become a student of SSMU, you will need to pass several disciplines:
either chemistry, biology, rus. language;
either physics, biology, rus. language;
either math, biology, Rus. language;
or biology, social studies, rus. language;
either math, social studies, rus. language.
People after the end of colleges have the right not to pass the exam. For them, in the above-mentioned educational subjects in SSMU, entrance examinations are conducted according to the programs developed by the university. Their form is written. One exam lasts for 180 minutes. Check the answers of applicants university teachers. They give marks on a 100-point scale.
If you take chemistry, biology and Russian. language…
Before applicants who have the results of the exam in chemistry, biology and Russian. language or going to take these items, opens a wide selection of specialties. People with a good level of knowledge in these disciplines are accepted by the medical faculty of the medical university. This structural unit organizes the educational process on such specialties as "General Medicine" and "Dentistry". In the first of these, students will become general practitioners, and in the second, dentists.
With the results in chemistry, biology and Russian. Language Faculty Siberian State Medical University (Tomsk) accepts to the pediatric faculty.He offers only one specialty. Her name is "Pediatrics." Also, with the results on the listed disciplines, the way to the pharmaceutical and medical-biological faculties is open. The first structural unit offers "Pharmacy". This specialty is for future pharmacists. The second structural division invites to "Medical Biochemistry". After studying this specialty, you can become a biochemist.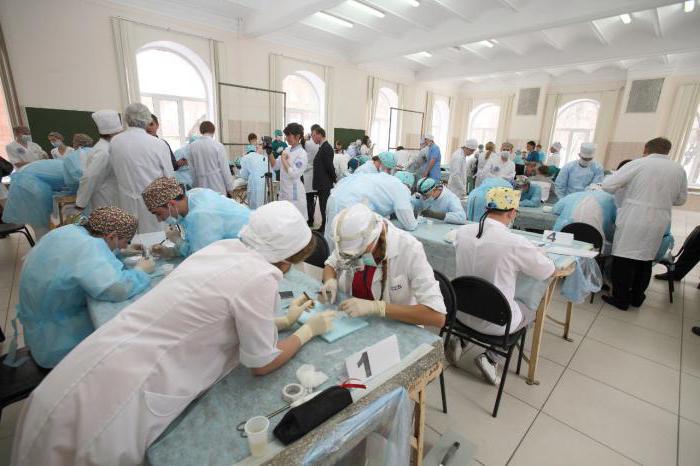 Physics, Biology and Russian as an entrance test
With the results of examinations in these subjects, you can enter the Siberian State Medical University "Siberian State Medical University" only for one specialty - "Medical Biophysics". It is used to train specialists who are further engaged in the following activities:
conduct research for accurate diagnoses;
introduce new scientific, diagnostic research methods, including those based on high technologies;
introduce methods of regenerative medicine.
Admission to university with the results in mathematics, biology and Russian language
In front of people who are going to take mathematics, biology and Russian.language, in SSMU opens only 2 specialties. One of them offers the Faculty of Medicine and Biology. This is about "Medical Cybernetics". This is a young specialty of higher medical education. A student completing it can work as a functional diagnostics doctor, laboratory technician, and specialist in radiation methods of research.
The second specialty is available at the Faculty of Management and Behavioral Medicine at SSMU - this is "Clinical Psychology". Future specialists will have to deal with psychological diagnostics, examination, work as consultants in various medical institutions.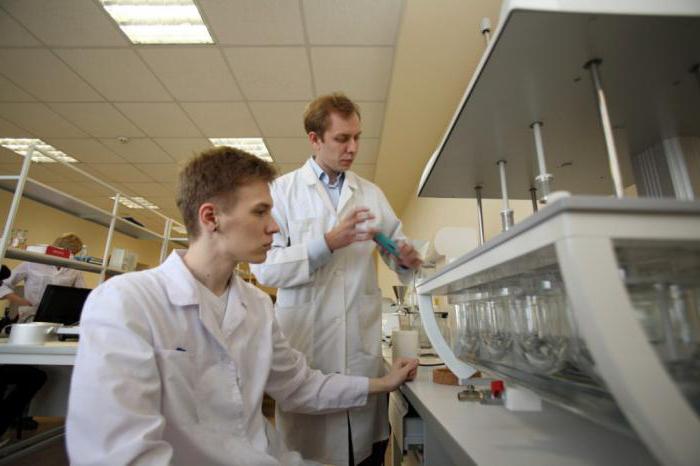 Entrance examinations in biology, social studies and Russian language
Biology, social studies and Russian language - the subjects necessary for admission to the Siberian State Medical University (Tomsk) in the specialty "Nursing". It is quite common. A large number of applications annually register the admission committee of the university. Applicants choose this specialty, because it is more simple in comparison with medical directions.Students in the Nursing case study:
provide first aid;
perform medical manipulations prescribed by a doctor;
inject;
measure blood pressure;
care for sick people in the hospital.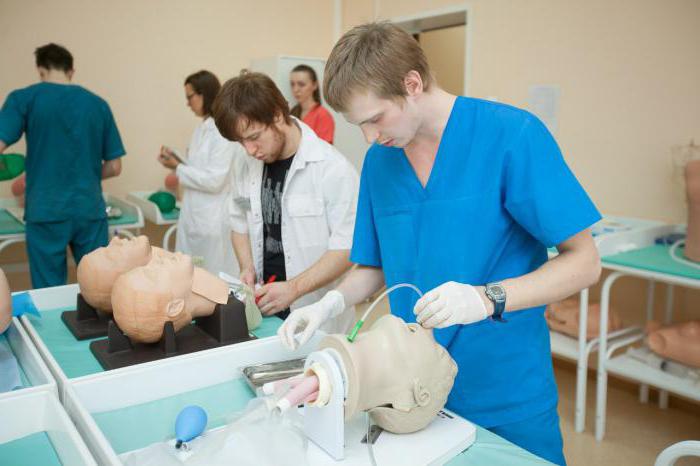 Mathematics, social studies and Russian language
Results in mathematics, social studies and Russian. language is required for applicants who want to enroll in the "Management". This specialty in health care is important. Management refers to the science of managing socio-economic processes at the level of a medical institution, the targeted impact on people in order to transform unorganized elements into an effective productive force.
Students who have received the specialty "Management" will continue to engage in improving the efficiency of medical services. The tasks of the staff will also include the impact on the performance of the business of the institution.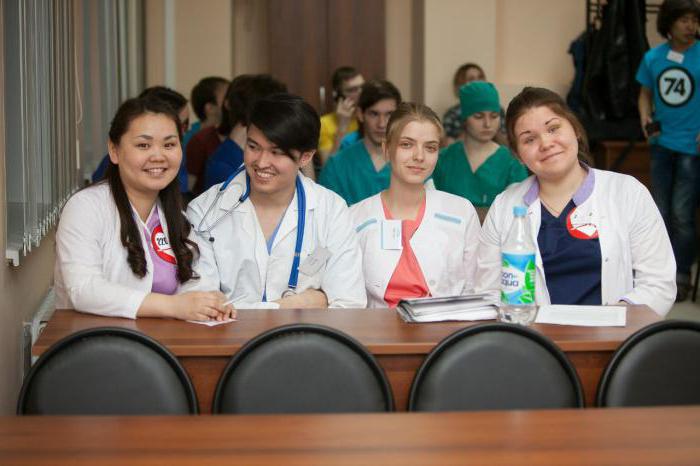 Siberian State Medical University - passing score and prices for educational services
One of the frequently asked questions of applicants concerns the passing points and the cost of studying in paid places. The data that will be inherent in the admission campaign in the current year cannot be named.Members of the selection committee provide information for review of past years.
Data for 2016 is presented in the table below.
Siberian State Medical University, Tomsk: passing scoreand the cost of training

Specialty / Direction

Passing score

Tuition per year, rub.

"Medical business"

245

138 200

"Dentistry"

275

145 000

"Pediatrics"

239

122 200

"Pharmacy"

206

119 200

"Medical biochemistry"

226

161 000

"Medical Biophysics"

200

161 000

"Medical Cybernetics"

207

161 000

"Clinical psychology"

218

113 100

"Management"

There were no budget places

99,900 (full-time) and 39,000 (by correspondence)
Student reviews
SSMU is one of the best medical universities in the country. And this is confirmed by student reviews. In the university, according to the students, there is everything necessary to gain knowledge and skills:
professional teaching staff;
European-level simulation center;
museum complex with exhibits that are useful for learning;
practice clinics with modern equipment.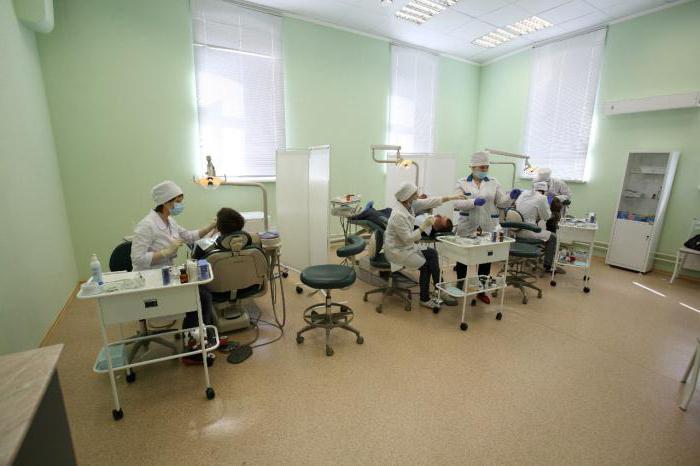 At the university, students are offered medical English courses. Also in the university there is an English speaking club. Creative unions and sports clubs have been created for students, their own theater operates, KVN teams are formed.For applicants offers electronic courses Siberian State Medical University. "The structure of the atom" (presentation), the material on the structure of cells of living organisms are examples of useful resources developed by the school for applicants.
In conclusion, it is worth noting that SSMU is a university in which you can get a prestigious education. During the years of study, students form an excellent knowledge base and develop the necessary practical skills. After graduating from high school, many manage to build an excellent career.
Related news
Siberian State Medical University: description, passing score and reviews image, picture, imagery