Salted caramel: recipe with photos
France is the birthplace of truly delicious desserts. One of them is deliciously salted caramel. The recipe of cooking seems unusual, because not every housewife will decide to mix sugar and salt in one dish. However, you should not be afraid. French culinary experts have established that salt softens the cloying of caramel, but also enhances its great taste.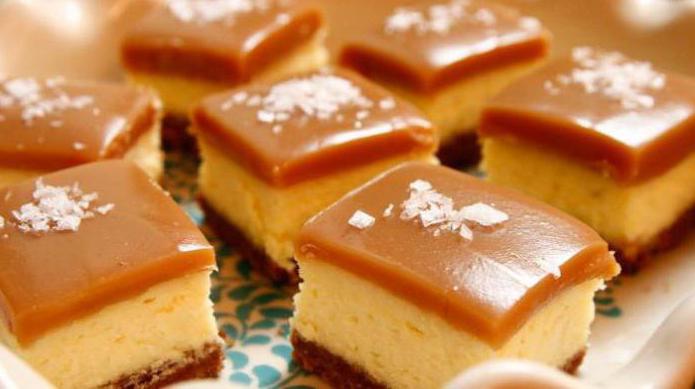 Ingredients
Very easy to prepare salted caramel. The recipe involves the use of available products. All you need is to visit the nearest store and stock up on the following ingredients:
fat cream (33%) - 200 grams;
sugar - 200 grams;
water - 50 grams;
butter (if desired) - 50 grams;
salt - to taste.
Cooking method
If you follow the instructions exactly, dessert comes out the first time. This is not a difficult, but delicate work that requires close attention.
First you need to combine sugar and water in a scoop. The ratio of products must be strictly observed. The mixture should not be too liquid or, conversely, thick.
Then put the dishes on a high heat, bring its contents to a boil and reduce the cooking temperature to medium.
Next you need to watch that the mixture is not burnt. In a few minutes, it will acquire a beautiful amber color. Mix the ingredients with a spoon should not be - sugar can crystallize, and the substance does not work homogeneous. It is better to take a dipper and rotate it so that the mass is mixed by itself.
After that, the dishes must be quickly removed from the fire. If desired, add caramel butter. From this dessert will become more stable, and it can be used as a filling.
Now you should cook the cream. It is better to heat them up a little, and then pour into the syrup in two or three doses. Next, the mixture must be thoroughly mixed with a whisk. In this case, the mixture may begin to sizzle and splatter.
Then in the mass you need to add one teaspoon of salt. After that, the syrup should be put on medium heat and let it boil for a couple of minutes. At the same time, salted caramel will bubble quite strongly. The recipe recommends taking the container deeper so that its contents do not spread over the plate.
Then ready dessert should be poured into a glass vase with thick walls. First, the substance will be liquid, but thickens as it cools.
Here is our salted caramel. A recipe with a photo will allow you to cook it without much hassle. Treats can be added to the cake, cupcake, eat with cottage cheese or pancakes.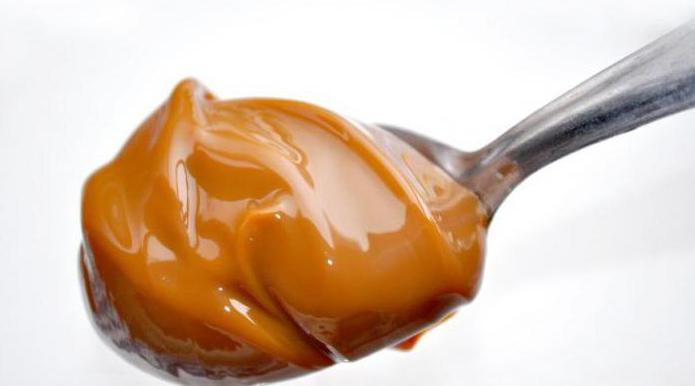 French recipe. Ingredients
Salted caramel came to us from Europe. A simple recipe is presented below. The French claim that the secret to cooking is in exquisite ingredients:
brown sugar - 300 grams;
sea ​​salt - two thirds of a teaspoon;
cream 33 percent fat - 190 milliliters;
water - 25 milliliters.
French recipe. Cooking method
First, in a bowl with a thick bottom, you must add sugar and mix it with water.
After that, the solution must be put on a high heat and, stirring, bring to a boil.
Then you should stand for a couple of minutes and pour into the resulting mass of cream.
Then you need to add salt and cook the dessert until the sugar crystals are completely dissolved.
Next, the sweet mass should be allowed to cool in a convenient container with a lid.
So is prepared in the French version salted caramel.The recipe requires a certain skill, because caramel is a capricious substance and can curl at any time.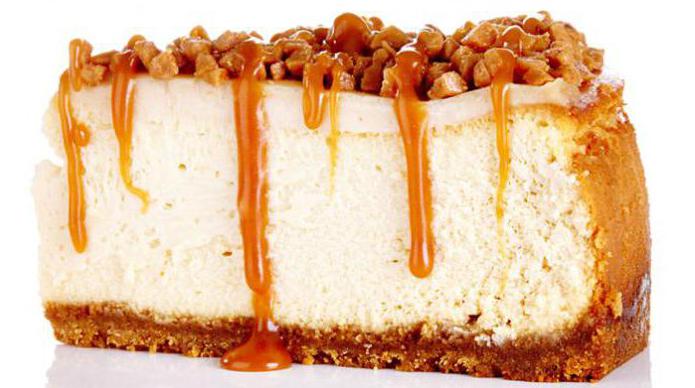 Useful tips
Cream for making dessert should be 33 percent fat. Milk, sour cream or cream of a different consistency is not suitable.
Dessert does not always work the first time. It happens that the syrup thickens in seconds and turns into a lump of sugar. Do not be discouraged and try again.
Wash the dipper from the frozen syrup is quite simple. It must be filled with water and left for some time, until the syrup is dissolved.
Salt is added in order to reduce the cloying of caramel. It can be any - small or large - still completely dissolved.
Do not be afraid to experiment. Our recipe uses cream in a 1: 1 ratio with sugar. At the same time, the average caramel is salted. For the cake, you can use this option. However, depending on the goals, you can make the dessert more liquid or thick by adding a little more or less cream.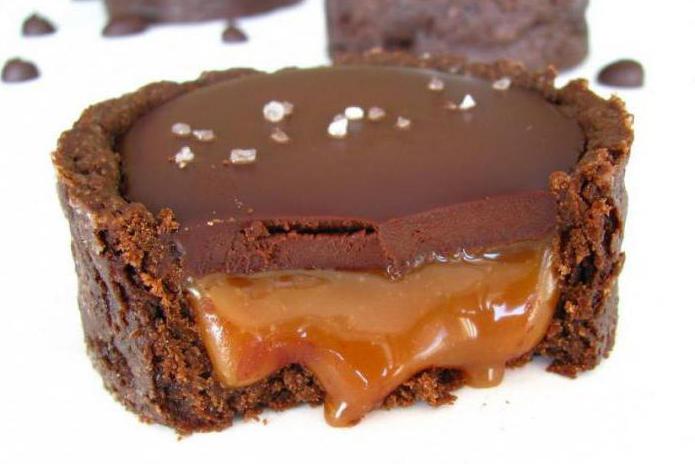 Cake with salted caramel. Ingredients
This is a very interesting recipe. It is useful in order to make the evening special.For the preparation of dessert will need the following products:
For the test:
butter - 250 grams;
dark chocolate - 250 grams;
coffee (espresso) - 150 milliliters;
flour and baking powder - 225 grams;
sugar (light) - 200 grams;
brown sugar - 200 grams;
cocoa - two spoons (table);
nonfat sour milk - 100 milliliters;
eggs - four pieces;
chocolate chips - to taste.
For salted caramel:
granulated sugar - 200 grams;
cream (fat) - 75 milliliters;
butter - 50 grams;
sea ​​salt (in flakes) - half a teaspoon.
For chocolate ganache:
dark chocolate - one hundred grams;
cream (fat) - one hundred milliliters.
Cake with salted caramel. Cooking method
Delicious dessert will give a good mood and great well-being. To make this treat, you need salted caramel for the cake. A recipe with a photo step by step at home will allow you to penetrate into all the nuances of cooking:
First of all, you need to heat the oven to a temperature of 150 degrees.
Next, you need to take the form and lubricate it with oil.
Now you should take the stewpan, put the chocolate, salt, coffee, butter, broken into pieces into it, mix with each other and melt over low heat. Gradually, the mixture should be homogeneous.
After that, the resulting mass should be drained kefir (buttermilk) and beat everything with a mixer.
Then you need to beat the eggs and mix everything again.
Then pour flour, sugar, baking powder and cocoa into a separate bowl. Combine these ingredients with an egg-chocolate mixture and mix everything well again.
Next you need to pour the ready dough into the form and send it in the oven to bake for 2.5 hours.
Now the cake must be cooled and cut along with a sharp knife.
After that we need salted caramel for the cake. Recipe with photos step by step will clearly demonstrate the method of preparation. In a clean dish should pour sugar and pour water.
Then all you need to put on fire and bring in a homogeneous state.
Next, you need to increase the cooking temperature and cook a thick mass of dark golden color.
Now practically ready salted caramel for the cake. The recipe says that sugar syrup should be mixed with cream and butter, and then pour salt into it.
Then you need to quickly make ganache. For this it is necessary to melt the chocolate in the cream and whisk the mass with a whisk.
After that, take the top of the cake and pour half of the ganache on it.
The other half must be smeared with caramel. Cover it with the rest of the filling.
Then the finished treat must be put in the fridge. An hour later, it can be served at the table.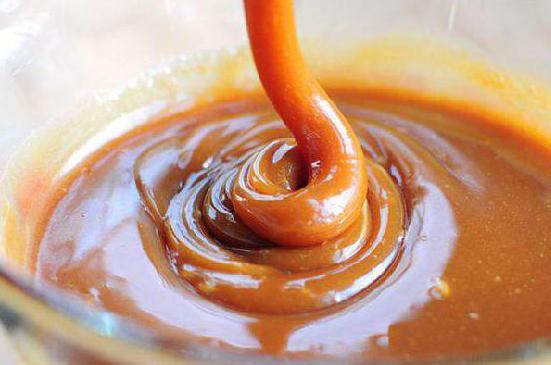 Cheesecake with salted caramel. Ingredients
Want to surprise your loved ones with an unusual treat? Prepare a dessert with the addition of such an exquisite ingredient as salted caramel. Calorie dishes - 322 kcal per 100 grams. This is quite a lot, but in a small amount it will not hurt anyone.
For ginger base:
Ginger cookies - 20 pieces;
molasses - two spoons (table);
butter - 55 grams.
For cheese filler:
cream cheese - 635 grams;
brown sugar - 165 grams;
egg - 3 pieces;
butter - 35 grams;
vanillin - to taste.
For caramel:
sugar sugar - 110 grams;
sea ​​salt - 10 grams;
butter - 45 grams;
33 percent cream - 55 milliliters.
For decoration:
chocolate - 110 grams;
nuts - 110 grams.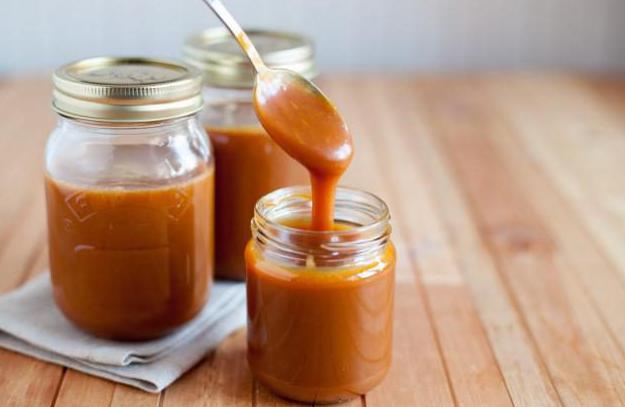 Cheesecake with salted caramel. Cooking method
First you need to cook ginger cake. To do this, sift the flour and combine it with baking powder and ginger powder.
After that you should combine the egg, honey and softened butter.
Then you need to knead the dough and leave it in the refrigerator for several hours.
Then the dough must be rolled to the desired width (two centimeters wider than the previously prepared baking dish for cheesecake).
Next, you need to lay out the foil form, put in it the dough and press it to the bottom and the walls of the container.
After that you should put the cake in the oven, preheated to 180 degrees. Cooking time - 8 minutes.
Now you need to make the cheese part of the dessert. To do this, combine the cheese and sugar using a mixer.
Then you should add melted butter to the mass and beat everything diligently.
Next to the mixture with continuous stirring, you need to add a pinch of vanilla.
Then you need to pour the cheese mixture on the cake and wrap the form in two layers of foil. This design should be placed in a container of larger diameter, filled to 2/3 of the height with water.
Now everything should be placed in the oven and baked at a temperature of 160 degrees for 50 minutes. After that, the future dessert should be cooled in the oven and put in the cold until it is completely cooled.
Then the cheesecake can be freed from the foil and pour over with a deliciously filling (salted caramel). The recipe also requires sprinkle treats coarsely chopped chocolate and cornflakes.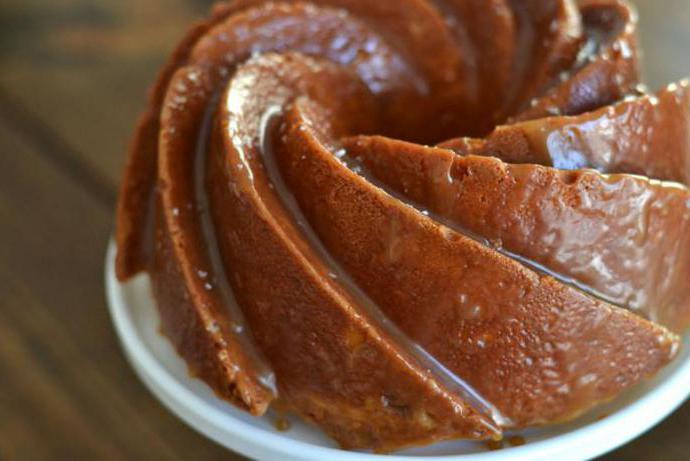 Conclusion
The above dessert tastes great.It is gentle and tough, like a toffee, but with a slight salty aftertaste. Home-made caramel is especially good - after the first spoon you want to eat the rest. Since the mass is thick, it is ideally combined with many products. The consistency makes it look like boiled condensed milk, and this makes it an excellent topping for pancakes, muffins and pancakes. The dessert is also delicious as a filling. Each recipe described above may be modified at its sole discretion. Experiment, and you get amazing dishes. Arrange delicious tea with your friends and acquaintances. Bon Appetit!
Related news
Salted caramel: recipe with photos image, picture, imagery