Restaurant "Kokoko" in Petersburg: menu, photo, address and reviews
A restaurant "Cocoko"- this is an original institution where guests can try traditional Russian cuisine, cooked according to modern culinary trends. This place is also famous for its unique design and author's meal. In addition, all dishes here are prepared only from natural products obtained from their own farm. More information about the restaurant, its address, menu, wine list and customer reviews can be found in this article.
Restaurant "Kokoko" in St. Petersburg: address
Regular visitors of the restaurant know that initially "Cocoko"was located in another place and only in March 2016 moved to the central part of St. Petersburg. It opened in the building of the prestigious hotel W. Thanks to its convenient location, not only locals can dine at the restaurant, but also numerous tourists who often spend the whole day viewing the historic center of the city.Facility's address: St. Petersburg, Voznesensky Avenue, Building 6. Right next to the restaurant is the Alexander Park and the Peter and Paul Fortress, as well as St. Isaac's Cathedral, which can be seen from the windows of the restaurant.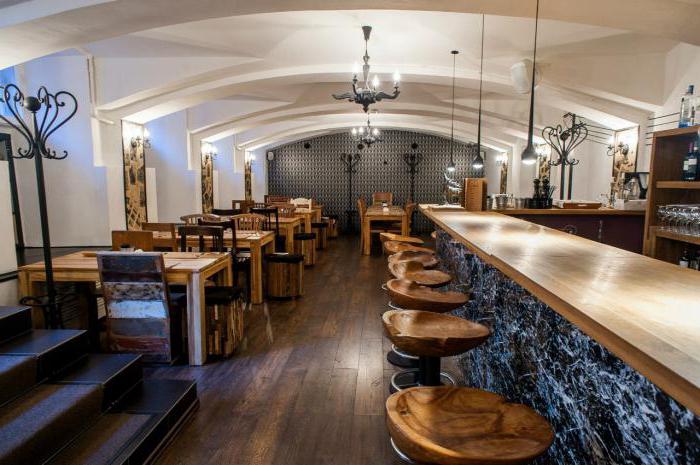 Since in the central part of the city there is a restaurant "Cocoko"(its address is indicated above), visitors can easily reach it by metro. The closest station is Admiralteyskaya (350 meters). The stations Nevsky Prospect and Sadovaya (1 km) are a little further away. , you can stroll through the historic center of the city on the way to the restaurant or take a bus. For guests arriving by car, there is a guarded private parking where they can leave the car for free.
Schedule
A restaurant "Cocoko"in St. Petersburg it works daily. It opens at 11:00, so visitors can not only have lunch or dinner here, but also have breakfast. On weekdays, not counting Fridays, the restaurant closes at midnight. The kitchen is open until the last guest, so order original dishes here you can and before closing. At the weekend "Cocoko"open until 06:00.Until the morning, guests can enjoy not only drinks and snacks from the bar, but also delicious dishes prepared according to the recipes of the local chef. The restaurant can also close sooner or later during a special event, but management usually notifies its guests about this in advance.
More about the restaurant
A restaurant "Cocoko", the photo of which can be seen in this article, was opened almost 4 years ago. Popular Russian musician and songwriter Sergey Shnurov and his wife Matilda worked on creating the project. The main concept of the restaurant is traditional Russian cuisine, and dishes are prepared according to non-ordinary recipes. Another principle was the use of only seasonal farm products that grow farms of St. Petersburg. The interior of the halls was occupied by MatildaShnurov, which used in the design of the original and not compatible with each other elements. For example, at the entrance guests are greeted by roosters woven from branches, and the rooms themselves are distinguished by a pompous and luxurious interior. The design used numerous shades of gray, which is combined here with a tree of warm colors. It made furniture, bar. There is also parquet on the floor.Along the walls there are wooden shelves on which fresh flowers are placed, earthenware and other décor that resembles old Russian utensils.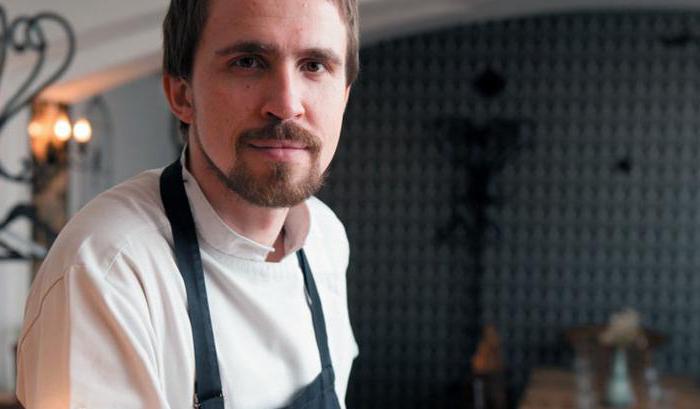 For his restaurant, Sergey Shnurov invited popular chef Igor from MoscowGrishechkina. Prior to that, he worked in well-known metropolitan institutions "Blogging"and Ragout. It was he who invented all the original dishes that guests can taste here. In addition, one can often find him in the kitchen"Cocoko"where he personally prepares his creations. Thus, this institution can hardly be calledbudget.According to statistics, the average check excluding alcoholic beverages is about 2000-5000 rubles per person. Therefore, most often the restaurant is visited by wealthy people or those who want to celebrate their holiday in an original way. In addition, the building has free internet. The restaurant does not provide home delivery, but guests can take freshly prepared coffee to go.
Breakfast at Kokoko
A restaurant "Cocoko"in St. Petersburg recently got another innovation. Now, every day from 07:00 to noon, the guests of the establishment can try dishes from the special menu" Russian Breakfast. "Classic recipes of Russian cuisine are combined here with the original author's presentation.Let us list some of the dishes that you can taste when you come here for breakfast:
hungover chicken broth with green onions;

rice porridge on condensed milk with the addition of vanilla and orange;

dumplings with cottage cheese and cherries;

scrambled eggs with a side dish to choose from (bacon, fried sausages, mushrooms, ham, cheese, tomatoes, green onions);

pancakes made from wheat flour with black sturgeon caviar;

cheesecakes with condensed milk;

draniki

with tartar of salmon, sour cream, horseradish and greens;

Fitness omelette made from proteins and low-fat yogurt;

sweet croutons, toasted bread with butter,

croissants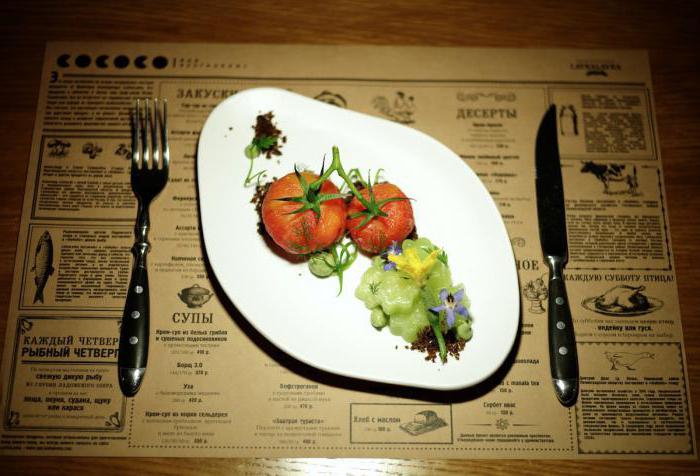 The main menu of the restaurant "Kokoko"
The main menu starts in the restaurant every day from 14:00 until closing. For foreign tourists, it is duplicated in English. The menu includes snacks, soups, side dishes, pickles, caviar, meat and poultry dishes, desserts and ice cream, prepared according to Igor's own recipes.Grishechkina. His cuisine is based on traditional Russian dishes, not only in the composition of ingredients, but also in design, which can only be seen in "Cocoko". The restaurant, whose menu has a huge number of dishes and snacks, offers to try the following original recipes:
"Porridge from the ax": buckwheat porridge with porcini mushrooms and stewed beef cheeks;

stewed beef tongue with potatoes, scrambled eggs and pickled tomatoes;

farm

burger

and seasonal vegetable chips with fresh tomato ketchup;

saute from mushrooms and winter vegetables;

pickle "Leningradsky" with fried chicken hearts;

lazy dumplings with porcini mushrooms and beef jerky;

bone marrow with pickled vegetables, caviar and rye-bread toasts;

cod in onions from seaweed with foam with the taste of the sea;

dessert "Mother's favorite flower";

Alaska bread pudding with red berries, ice cream and fast meringue.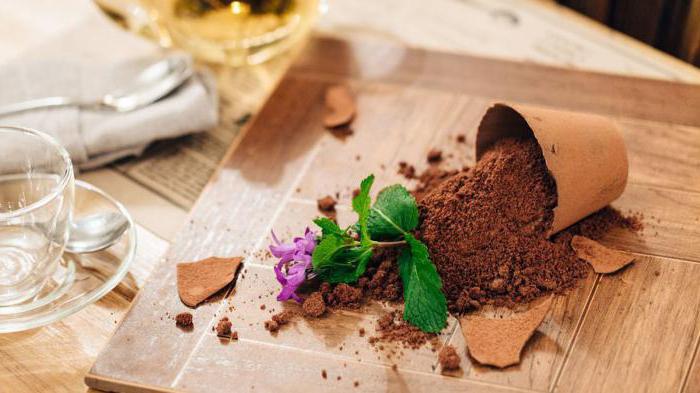 Wine list and other drinks
A huge selection of alcoholic and non-alcoholic beverages offers its guests a restaurantShnurovCocokolattecappuccino), hot chocolate, black and green tea. A special part of the menu is given to herbal infusions. So, you can try decoctions of oregano, mint, linden, meadowsweet, Crimean roses. Here, in fresh juices, not only berries are added, but also spices and herbs. For example, the menu hasmixesfrom apple, celery, juniper or carrot, sea buckthorn and cardamom.Also, you will prepare fruit drinks, fruit drinks, jelly or kvass. The restaurant serves mineral water, soft drinks, energy drinks.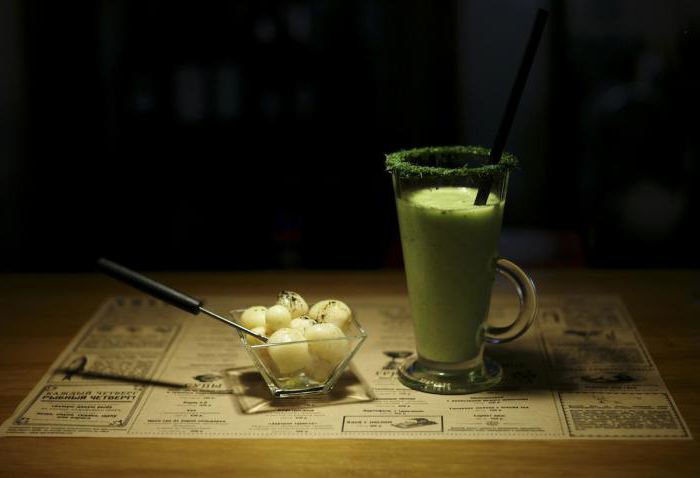 The author's recipe here is hot mulled wine with red and white wine. Strong alcoholic beverages can be ordered either in a glass or in a bottle. Guests are offered a huge selection of sparkling, red, white, pink and sweet wines from France, Argentina, Spain, Germany, Austria, Italy and Russia. You can also order beer and cider, vodka, half a glass, brandy, mixed andsingle maltwhiskey, rum, tequila, gin, liqueurs. In the drinks menu you can find cigarettes.
Shop at a restaurant
It is worth noting that the restaurant "Cocoko"you can not only come to dinner, but alsoto buynatural products from the best farmer enterprises of St. Petersburg. Here you can purchase gift certificates for dinner in denominations of 1500, 3000 and 5000 rubles. From desserts you can buy Russian caramel cockerels made from sugar syrup with the addition of vanilla, citrus, cinnamon. Homemade chicken eggs are sold here,gluten freebread, sweet pastries. You can buy poppy, carrot,cottage cheese and strawberrypies, chocolate and raspberry cakes. It is worth paying attention to natural buckwheat and flower honey, pine cones jam, homemade fruit drinks and nectars. Dark chocolate with the addition of sea salt, dried raspberries, cones and sunflower seeds is especially popular with customers.
Local events
A restaurant "Cocoko"every Thursday holds traditional gastronomic evenings with IgorGrishechkin. At 19:00, all guests can participate by making an order for a special dinner of 12 unique dishes. The chef will prepare them for you personally. The cost of dinner is 5,000 rubles. Other events in the restaurant is usually not held. Fully rent a hall for a banquet also does not work. Instead, you can order a large table and personalized service for your holiday.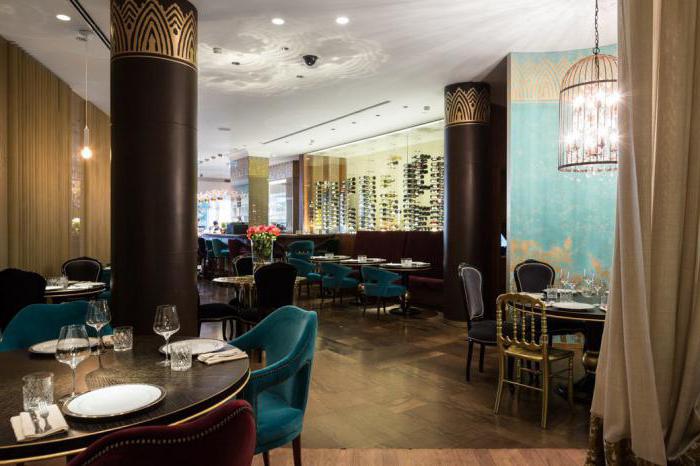 Restaurant "Kokoko": positive reviews
This restaurant is considered one of the most popular places in the city. And most often visitors leave good reviews. In them they point to the following advantages of this institution:
Excellent location, suitable for tourists, and amazing view from the window to the sights.

Original serving dishes.

Large portions, which is enough for two people.

Calm and quiet atmosphere without noisy and drunk visitors and loud music.

It is possible to book the desired table a few days before the visit.
Negative feedback
It is hardly possible now to find an institution that would not be criticized by the guests. A restaurant "Cocoko"has a few negative reviews, but they should be taken into account before visiting. Visitors note that the disadvantages of this establishment are such moments:
The cook refuses to cook some dishes from the menu because the necessary ingredients are not in the kitchen.

Very slow service. In this case, the table can be no longer than 2 hours.

The waiters are not well versed in wines, so they can not properly choose the right drink for the guests.

Hostess

arranges guests at its discretion. For example, if there are free tables by the window, visitors are located in the corridor.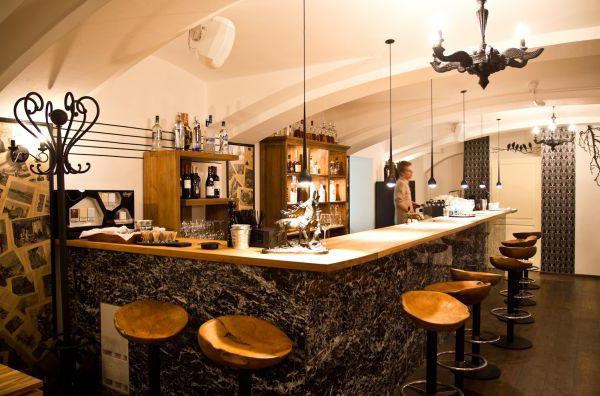 Is it worth visiting this restaurant?
Visitors definitely recommend to visit the restaurant at least once "Cocoko"Cheap prices for an institution of this level, good service, original serving of food - all this does."Cocoko"a pleasant place for a romantic dinner, gathering in the company of friends or family. Here you can celebrate a holiday or a snack after a long walk through Peter.
Related news
Restaurant Kokoko in Petersburg: menu, photo, address and reviews image, picture, imagery