Recipe for pilaf from beef and steamed rice
Delicious beef pilaf is a popular oriental dish that people love to cook in our country. It is worth noting that such a dinner can be made not only from cow meat, but also to use pork, chicken or lamb. However, the most delicious pilaf is obtained from fatty beef.
Recipe for classic pilaf with steamed rice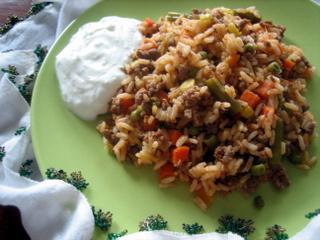 Ingredients Required:
carrots - three small pieces;
pepper - 1/3 part of a small spoon;
salt - one full dessert spoon;
fresh beef - 550 grams;
greens - a couple of leaves;
vegetable oil - three large spoons;
bay leaf - at will;
onions - four medium heads;
spices for pilaf - to taste and desire;
tomato paste - two large spoons;
steamed rice - one and a half faceted glasses;
garlic - one whole head.
Beef pilaf recipe: meat and vegetable processing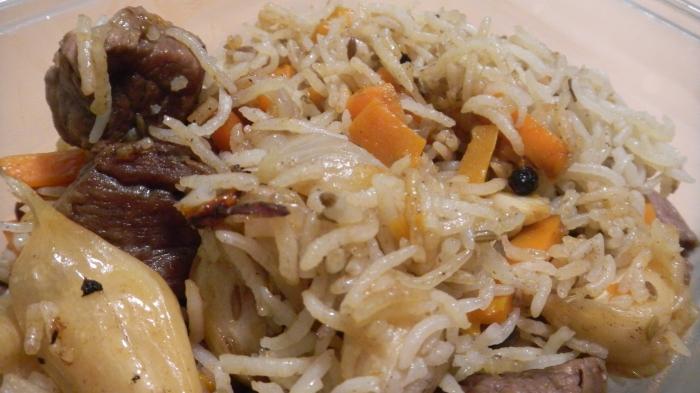 To make this dish fragrant and tasty, before cooking it is recommended to carefully fry the meat with vegetables.It is worth noting that beef for real pilaf is best purchased without bones and with enough fat. Thus, the purchased meat must be rinsed well in cool water, and then cut into large cubes. Next, the beef should be laid out in a frying pan, add to it a few spoons of vegetable oil and fry a little. After that, you need to prepare vegetables. Three medium-sized carrots and four onions should be peeled and cut into cubes. Then chopped vegetables, along with bay leaf, tomato paste, salt and pepper, should be put in a pan with meat and also fried a little. After the products are lightly covered with a golden crust, the dishes should be removed from the heat and processed rice.
Beef pilaf recipe: preparing rice and forming a dish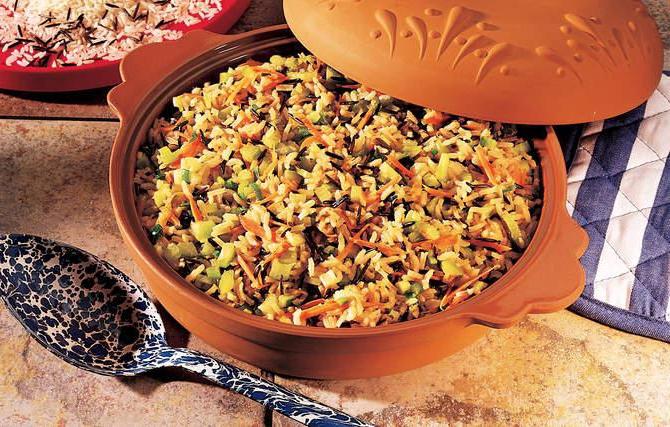 For cooking pilau, it is recommended to use long steamed rice. It should be noted that such cereal is prepared for a short time, and its taste and appearance are much better than other varieties. Before you mix rice with prepared goulash, it must be rinsed first under hot and then under cold water.Next, the cereal must be placed in a large cauldron, and then there put the beef fried with vegetables. Both ingredients should be well mixed with a spoon, and then add to them a little salt, spices, chopped herbs and a whole head of unpeeled garlic. Before you put pilaf on the fire, it is required to fill it with boiled water. It is worth noting that the liquid should cover the grain no more than one and a half centimeters. After all, steamed rice absorbs not a very large amount of water.
Beef pilaf recipe: proper serving
Serve classic beef pilaf for dinner preferably hot. It is also recommended to additionally prepare a salad of fresh herbs, tomatoes, cucumbers and onions for the dish.
Beef pilaf recipe: useful advice
Before spreading the pilaf into plates, it is advisable to keep it in a tightly wrapped pan for about forty to fifty minutes. So the dish will reach the end and will be even tastier.
Related news
Recipe for pilaf from beef and steamed rice image, picture, imagery