Potato soup: how to cook delicious?
Potatoes - the most popular vegetable, and dishes from it you can cook nemerye amount. This and all sorts of side dishes, and salads, and pastries. In addition, potatoes - almost a mandatory component of most soups and borscht.
Soup, Soup, Soup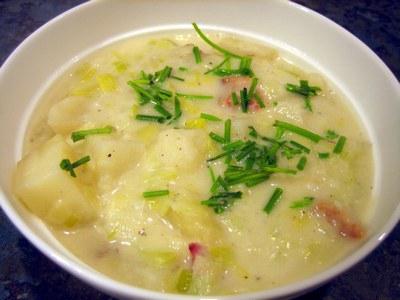 Potato soup can be cooked in meat broth from pork, beef, chicken, and head. And you can cook and vegetarian option. As a dressing, sour cream, cream, whey or tomato paste are usually used. So, cook the classic soup of potatoes with mushrooms. We will need 0.5 kilograms of medium fat meat (of which sort - at the discretion of the hostess). Well, if it is with a bone - the fat will be more, and the potato soup will taste better. Further, onions (one head is enough), roots (parsnips, parsley, celery) - only 200 grams. Greens to sprinkle the finished dish (parsley, dill, onions). Potatoes - 5-6 pieces of medium size. Oil for zazharki - sunflower. Spice.We act as follows: boil the meat in salted water, removing skim from a skimmer. Then remove it from the pan, remove it from the bone, divide it into portions by the number of eaters. Finely chop the onions and roots, fry.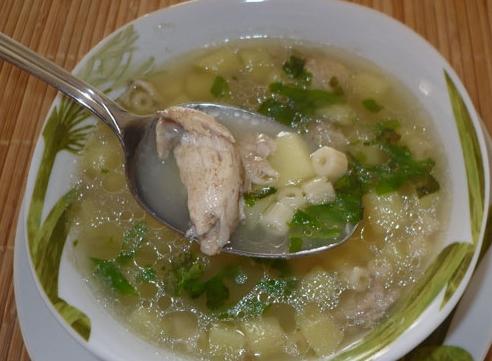 In boiling broth throw potatoes cut into slices or cubes and fry. Add salt (to taste), bay leaf (a couple of things), peppercorns to the cooked potato soup. If you like the taste and smell of Bulgarian pepper, you can add one peppercorn, purified from the seeds. Better than red or orange - look the dish will be more beautiful, more appetizing. And then divide the pepper by the number of servings. Cook until done. 10 minutes before the end throw in your potato soup cooked and shredded mushrooms. Instead of mushrooms, you can add canned green peas or beans.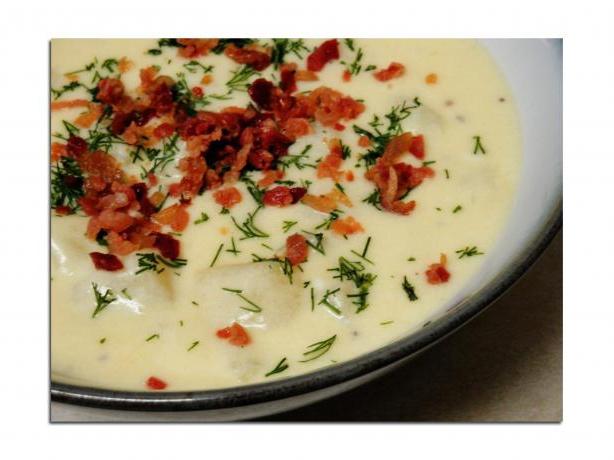 Cream soup
Among the dietary dishes in the first place are puree soups. Their soft base and tender consistency do not irritate the stomach in various diseases of the gastrointestinal tract, they are nutritious, well absorbed and are considered very useful. For example, chicken and potato cream soup. Boil the chicken, remove the meat from the bone, separate the skin.Leave some meat "semi-finished product", turn the rest of the meat in a meat grinder several times to get a pasty consistency. Then pour 2-3 spoons of broth, rub through a sieve. Boil potatoes (about a kilogram) in chicken broth: peel potatoes, wash, cut into slices, add sliced ​​leek, throw in boiling broth, salt. When the potatoes are cooked, combine it with the broth as well. Add fresh hot milk - 2-3 cups, where to grind the egg yolk (also 2-3 things). Stir meat and potato mash. Add butter - at the rate of 1 tablespoon per serving. If the soup is too thick, dilute with broth or milk. Separately, fry white loaf croutons. Cut unused portion of meat into strips or cubes and add to plates. Sprinkle the cream soup with greens.
For a fasting day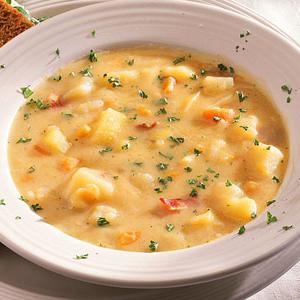 Of course, the first dishes in meat broth and sour cream or dairy dressing are excellent. But on fasting days you can eat no worse. Cook the vegetarian potato soup. Vitamins in it weight, calories - at least.Connect, so to speak, pleasant with useful! So, potatoes need 4 pieces, onions - 1 head, carrot, too, 1, half a cabbage, a bunch of greens, not bad roots. For dressing - soy sauce. So: carrot on a grater, onions, roots shred, all in a pan and fry in vegetable oil. In boiling water we throw sliced ​​potatoes, put the fry, salt, laurel and allspice do not forget. When the potatoes are half ready, add finely chopped cabbage and cook until ready. After removing from the stove, sprinkle with chopped greens. If desired, fill the soup with soy sauce. Let infuse a couple of minutes, after which you can serve.
Related news
Potato soup: how to cook delicious image, picture, imagery