Portable battery for your phone: models, rating, tips on choosing
It's no secret that modern mobile consumer electronics have one unpleasant feature, namely, the need to constantly recharge the battery hidden in the case, due to which, in fact, the work of the gadget is possible. The same applies to the phones of the new generation, which, due to their technology and advanced functionality, have become excessively voracious in terms of electricity consumption. Regardless of how long your smartphone runs on a single battery charge, it is still not enough, and provided you use it quite often, the question of extending the operating time becomes even more relevant. In this material we will talk about portable batteries for mobile phones, - about their characteristics, design features. Also consider a number of interesting models that are relevant at the moment.
Why do I need a portable battery?
As already mentioned above - the battery (that is, the battery) in modern smartphones requires constant recharging. Gadgets are becoming faster, more powerful, more, and in terms of autonomy, almost nothing changes. The average battery life today rarely reaches 8 hours or more, under a serious load, this value is reduced to 5 hours. And even if struggling to stretch the available capacity, to achieve autonomy at least in two days is almost impossible. It sounds sad, but it is true that gadget manufacturers would not say. Naturally, the problem did not remain without a solution, and since it is not possible to significantly improve the autonomy in the gadgets themselves, an additional battery can be used. In the case of old-fashioned phones that are disassembled, having received full access to the battery, you can replace the main battery. But such phones are getting smaller, they were replaced by monolithic cases in the manner of the iPhone. An additional battery in this case is an external portable battery for the phone.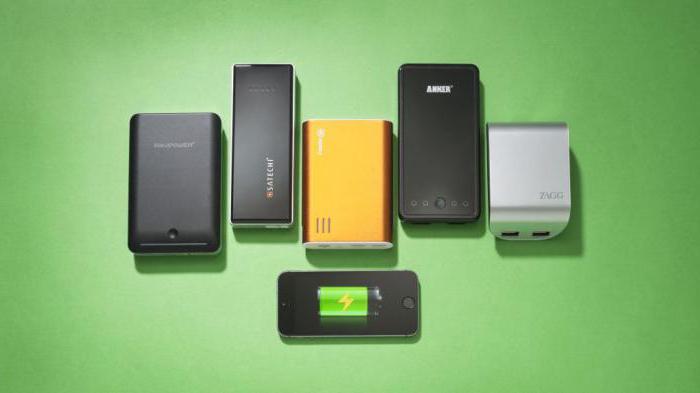 How does a portable battery work?
However obvious it may sound, the external portable battery works just like a regular (internal) battery. Changes relate to a slightly modified design in accordance with the scope of application of such a battery. In fact, this is a series of power cells that are soldered to the power controller (similar to those in smartphones). Then, ports for recharging the battery itself and one or more ports for charging smartphones, tablets, laptops and their ilk are built into this design. Despite the simplified, in comparison with the smartphone, version of the design, the battery works according to the same principles as in the phone, so the battery remains the most dangerous object in any gadget. Like any other device, an external battery has a number of characteristics that you should rely on when choosing a portable battery for your phone. How to choose the right model based on its technical equipment and what is really worth paying attention to?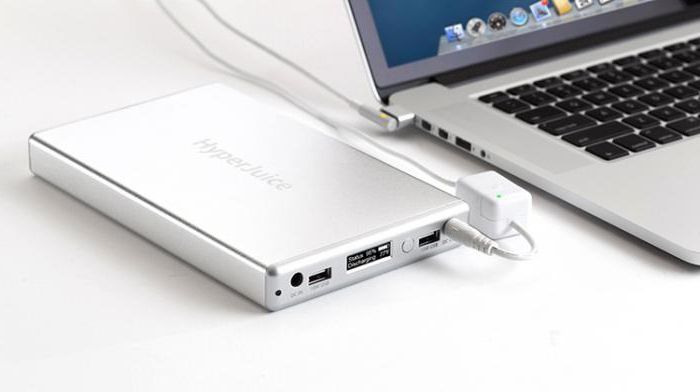 Portable Battery Capacity
The main parameter that you need to pay attention to when choosing a device.It is from this indicator that how much extra time "life" your smartphone will receive, which means that in fact this figure means the efficiency of the battery as a whole. This value is directly related to the battery capacity of your smartphone. As well as the volume of other compact batteries (smartphone, tablet or smart watch), the battery capacity of an external battery is measured in ampere-hours, namely in milliampere-hours. When choosing the optimal capacity value, you first need to find out the volume of the battery of your smartphone (smartphones or tablet), and then find an external battery with a value of at least 1.5-2 times more so that you can recharge your phone (another gadget) at least once. Suppose you have a 2500 milliamp-hour battery installed on your phone. If you want to get at least one additional recharge cycle, then you should look for an external battery with a capacity of 4000-5000 milliampere hours. It would seem that this is a bust, in fact, the actual battery capacity is always different from the one declared by the manufacturer (this is especially true for solutions from China). And the device loses its charge even inactive.The best option when buying is a 6000 milliamp-hour battery for smartphones and 12,000 milliamp-hour for tablets.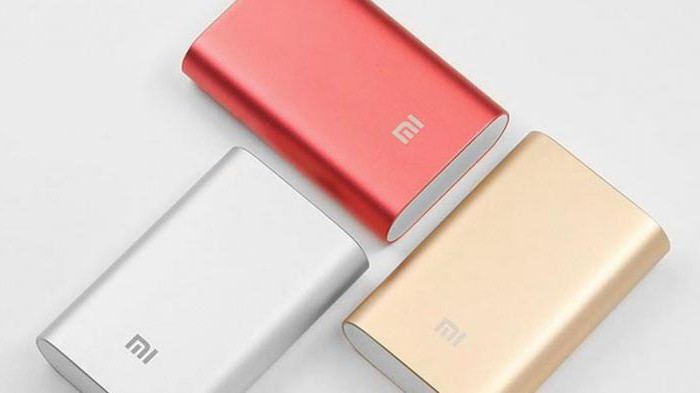 Discharging current
Everything is simple: in order to share electricity with a phone or tablet, a portable battery needs a certain amount of current. Usually one amp (1A) is enough for a smartphone to fully charge. With tablets and their giant batteries, more power is needed, at least two amperes (2A). Some portable batteries are equipped with several ports from one to three amps. This option is suitable for those who plan to charge several devices of different types at once. You can find out the exact information about what kind of current is needed for your gadget by looking at the label of the charger.
How to charge a portable battery for your phone?
Another serious point, which is often overlooked by careless buyers - a way to recharge the portable battery itself. The fact is that some models have a specific socket connection and generally only eat from a computer or laptop, which adversely affects the speed and efficiency of charging.Such devices are outdated and nowadays almost not produced, but they can still get you. It is better to make sure that the purchased gadget is equipped with a standard micro-USB port and is capable of charging from the mains.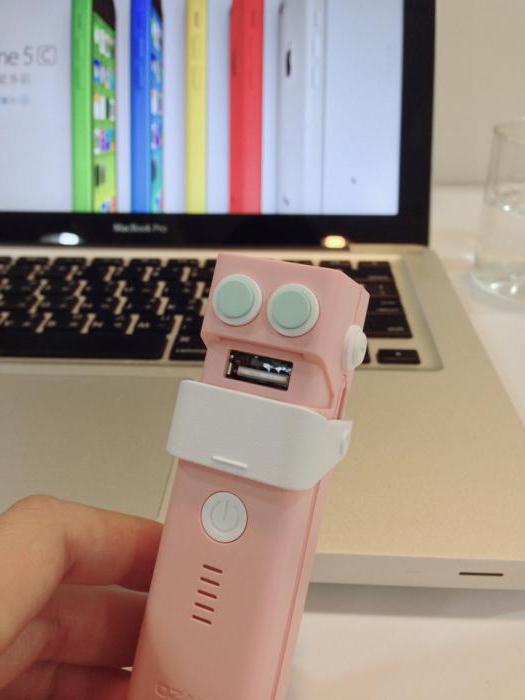 Design, size and weight
Anything can be found in this category, manufacturers do not limit themselves to anything and often experiment. There are different variants of cases for portable batteries. Colorful, bright, catchy, big, small, with handles and without them. From giant monsters capable of charging your phone more than 6 times, to tiny ladies' batteries, capable of only briefly extending the life of a smartphone battery. External batteries vary in their form factor. For example, there are interesting solutions, made in the form of a cover for a smartphone. Thanks to these options, the user does not have to carry a cable and allocate a separate space for a portable battery. Often, massive batteries are equipped with a large number of ports, reaching up to 5 different USB ports. Such solutions are suitable for those who want to recharge several gadgets at the same time or share with a friend.There are other chips, for example: a built-in flashlight, displays with indication, straps, locks, and so on, in general, everything that the manufacturer's imagination is enough for.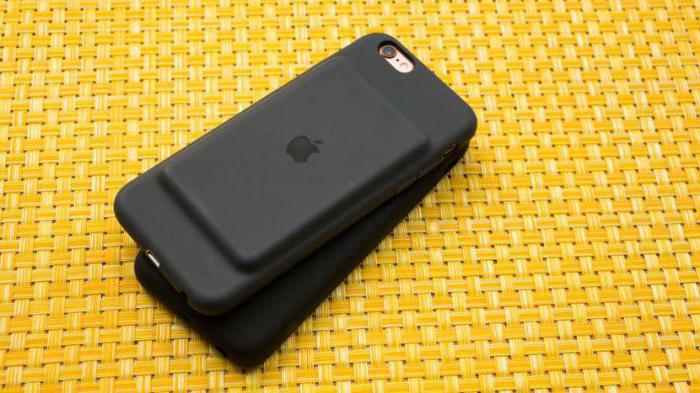 When choosing a device design, you should pay attention to two important details:
The on / off button must be recessed into the case so that the gadget does not accidentally turn on in the bag or in the pocket and do not begin to supply energy to nowhere;
The specified battery capacity must match its size; no one can shove a 12000 milliamp-hour battery into a watch-sized case.
Portable phone battery - how to choose?
Even knowing the specific specifications and features of external batteries, the question of choice remains open, since various companies are engaged in the creation of such devices. Some make batteries exclusively for specific smartphones, someone makes universal options. In some decisions, emphasis is placed on the exterior, in some on the technical aspect and reliability.
If we imagine an average solution that exactly fits all, then it should have the following characteristics:
Capacity is from 6000 to 12 000.
1A port or several different ones at once.
Weight not more than 500 grams.
The price is about 1 000 rubles (all that is much cheaper is also much inferior in quality).
This knowledge is already quite enough to begin an independent search for a suitable battery, but still it is worthwhile to introduce specifics. Next, consider the various portable batteries for your phone. The rating of the most interesting decisions on the market that stand out for their colorful exterior, unusual design or extremely low price is presented below.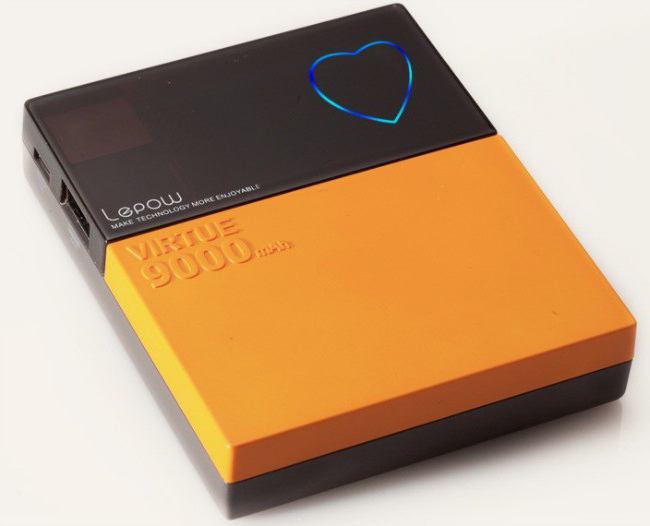 Xiaomi Mi Power Bank
Cost: 990 rubles.
Capacity: 10,400 milliamp-hours.
A popular gadget from the Chinese company Xiaomi, which is famous for its dumping prices on fairly high-quality and well-designed devices. Xiaomi Mi Power Bank is no exception. This is a very compact and stylish gadget with a capacious battery inside. The finish is made of anodized aluminum in the manner of a MacBook. Inside installed high-quality, proven power cell from LG and Samsung. As for the capacity, in fact, its value is 6250 milliampere hours. Xiaomi is honest with the buyer and explains it by the fact that half the capacity goes into the discharge. This is a good portable battery for the Samsung Galaxy S6 phone, since it was the tests that were carried out on it, and it is able to charge the battery twice. At the same time, Mi Power Bank hardware is fully optimized for working with other modern smartphones.In general, we have a great portable battery for the phone, user reviews confirm this fact. Owners of the device praise its premium design, low cost and good ergonomics. Critical reviews are also there, but they relate mainly to defective samples and fakes.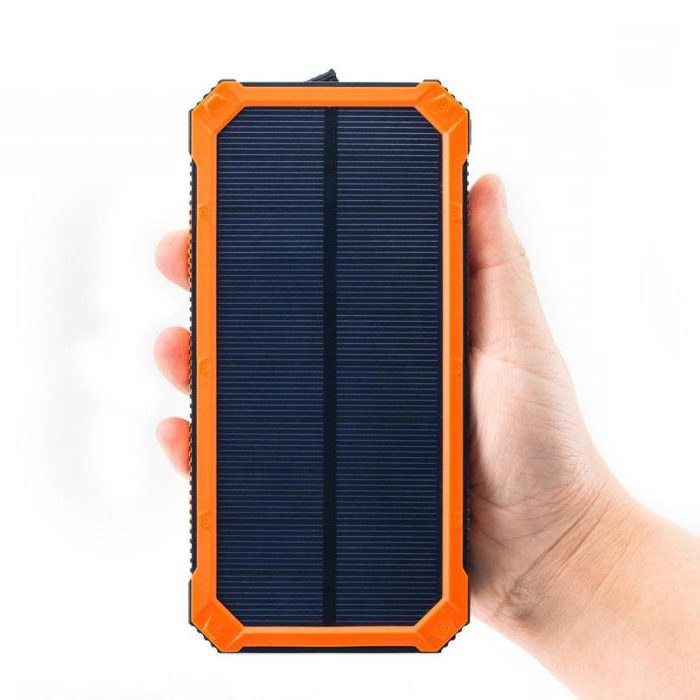 OZAKI O! Tool D26
Cost: 2 490 rubles.
Capacity: 2600 milliamp-hours.
Extravagant and intricate robot battery that attracts with its unusual style and compact size. There is nothing remarkable in its design and capabilities. He can hardly fully charge a modern smartphone, and its body is made of cheap plastic. If you are ready to sacrifice everything for a stylish toy that will look cool in your hands and easily fit even into a shirt pocket (the gadget is only 6 centimeters high), you should pay attention to the OZAKI brainchild, but prepare 2 490 rubles (by the way, for This money can buy two Xiaomi Mi Power Bank).
Apple Smart Battery Case
Cost: 9 790 rubles.
Capacity: 2365 milliamp-hours.
This gadget is made in the form factor of the case and has a very narrow focus - it fits only three phone models: iPhone 6, iPhone 6s, iPhone 7. This battery has some interesting features.First, it is made of expensive silicone, wearable and resistant to damage. Secondly, it has a rather unusual design, namely the bulge in the central part of the case (where the battery is located). Thirdly, with this case you can simultaneously charge your smartphone and use the same cable. There are disadvantages, which should include an impressive cost and the ability to charge the iPhone only once. It turns out that in front of us is insanely expensive, with a low capacity and highly controversial design gadget, but at the same time the only one that is tightly connected with the iPhone (even at the program level) and giving the very emotions of integrity and forethought with which the apple corporation is famous.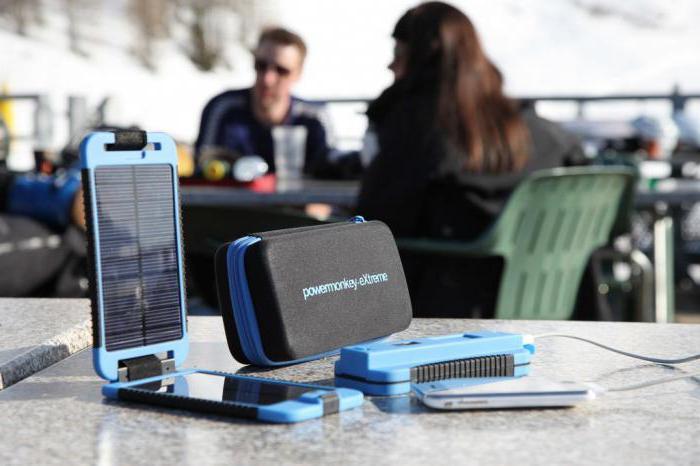 DEXP SOLAR 10
Cost: 1,890 rubles.
Capacity: 10,000 milliamp-hours.
This is probably the most inexpensive portable battery for a solar-powered phone. Yes, exactly, the device can be charged using solar energy, for this purpose a special panel is installed on its body that converts the sun's rays into electricity. The gadget boasts the presence of two USB-ports that supply current with different power (you can charge your phone or tablet).On a sunny day, SOLAR 10 will become an indispensable helper, and if it rains, you can charge it from a normal power supply or computer. The type of power is selected by the user in manual mode, using a special key on the body.
Lepow virtue
Cost: 3 989 rubles.
Capacity: 9000 milliamp-hours.
Another interesting gadget that attracts attention with its bright appearance, but is not impressive with the other characteristics. The body is made of rigid, matte plastic and small glass inserts. The lower part of the case is painted in a pleasant orange color, in the upper part there are two displays: one of them displays a charge indicator, on the other it is the same, but in the form of a pulsing neon heart. The gadget came out weighty, low-functional, but at the same time surprisingly cute. Moreover, recently this handsome man has fallen heavily in price. Prior to this, the high cost has discouraged many users from acquiring this miracle.
Powermonkey extreme
Cost: 14 900 rubles.
Capacity: 9000 milliamp-hours.
The most advanced portable battery on the list. A real Swiss knife in the field of electronics. By purchasing Powermonkey Extreme, you get not only a classic battery, but also two solar ones.Included is a complete set of adapters for different smartphones and tablets, there are also modifications for connecting cameras and DVD players. There is a hard case for transportation and a compact strap (hook on the belt, for example). The battery itself is made of sturdy materials, since the device is designed for use in extreme conditions. In general, it is a good portable battery for a phone that works in extreme conditions. The device owners, travelers and fishermen appreciated the gadget, praising him the praises in various forums. Users only complained about the high cost.
Related news
Portable battery for your phone: models, rating, tips on choosing image, picture, imagery