Patties fast in the pan and in the oven: recipes
Every housewife knows the secrets of cooking fast baking. They are able to save the situation if unexpected guests or relatives have come to you and asked to bake something tasty for tea. From our article you will learn how to cook quick pies with various tasty fillings.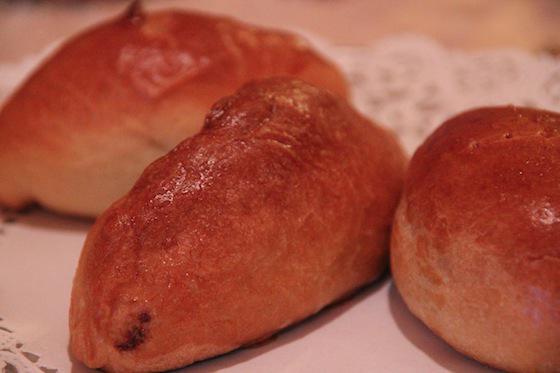 Chicken and cheese pies
You may have noticed that one chef needs to spend the whole evening on cooking pies, and the other does all the work in one hour. If you want to learn how to make quick fried pies, then carefully read the following recipe:
Sift 150 grams of white flour into deep dishes, add salt and a tablespoon of vegetable oil to it. Pour 150 ml of hot water into the dry mixture and begin to whisk the dough. Then continue to knead it with your hands, and when it becomes firm and elastic enough, gather it in a room and leave it alone for a while.
Finely chop 300 grams of chicken fillet with a knife, then grate 150 grams of hard cheese and chop one boiled egg.Combine the prepared products, salt them, add three tablespoons of sour cream and mix thoroughly. If you wish, you can add any greens to the filling.
Divide the dough into several equal parts, roll them with a rolling pin and put a spoon of the filling in the center of each. Give the patties the desired shape and fry in a pan on both sides.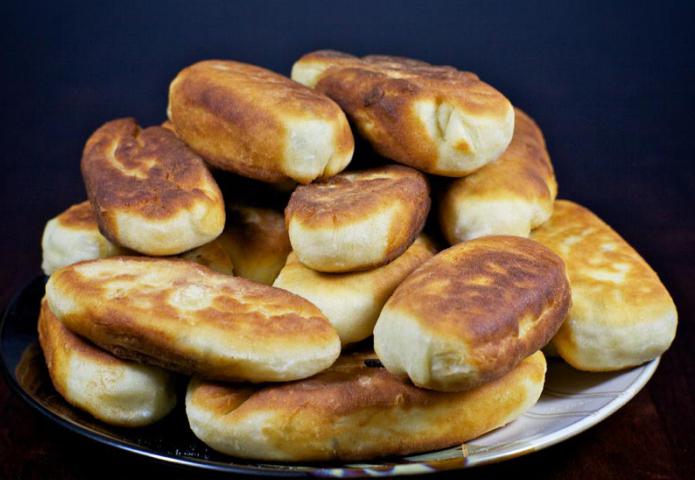 Cheesecakes
If you do not like to mess with yeast dough, then the following recipe is invented especially for you. Fast pies on kefir and cottage cheese are prepared in a matter of minutes and just as instantly disappear from the table:
Put 250 grams of cottage cheese in a mixing bowl, pour a glass of kefir, break one egg, add a teaspoon of salt, a tablespoon of sugar without top, a bag of baking powder and mix. At the end, sift three cups of flour and knead the sticky dough. Cover it with a bowl in which the products interfered, and leave alone for half an hour.
Prepare any filling according to your desire. It can be braised cabbage with a boiled egg, mashed potatoes with fried onions or green onions with an egg.
Divide the dough into equal pieces, roll them on a board sprinkled with flour, fill the blanks with stuffing and dice the straw pies.
Fry the treat in vegetable oil until cooked.
Thin patties
Quick pies on kefir can be made with sweet or, on the contrary, savory filling. In any case, they turn out beautiful, original and simple. And we will cook fast pies in 15 minutes like this:
Beat 200 grams of cottage cheese with two eggs and 250 ml of kefir. Then add to them two and a half tablespoons of potato flakes, two teaspoons of sugar and a little salt. Mix separately 250 ml of kefir and half a teaspoon of salt, and then combine both mixtures. Whisk the dough with a whisk and leave it alone for a while.
For the filling, grind 300 grams of chicken fillet, add to it to taste fresh mushrooms and onions. Put salt, spices, a spoonful of vegetable oil and mix everything thoroughly.
Fry the stuffing in the pan, and when the chicken is ready, add a spoonful of sour cream for the viscosity.
Heat a small frying pan on the fire, grease it with vegetable oil and pour in the pancake dough. When it grabs a little, put two spoons of filling on one side. After that, using a scoop, fold the pancake in half and firmly press the edges. Fry the resulting cake until tender under the closed lid on both sides.
Grease the finished treat with oil (optional) and serve immediately to the table.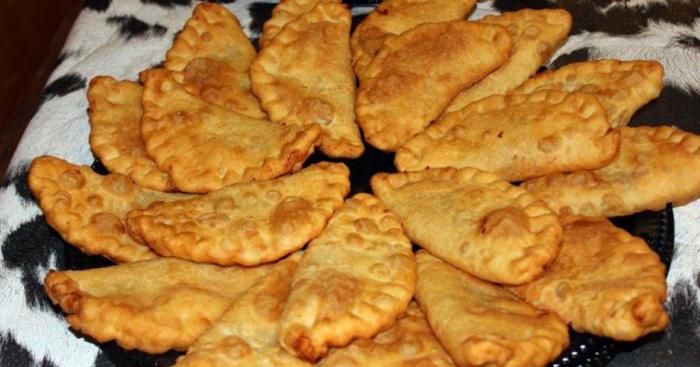 Quick Yeast Cakes
If you have firmly decided not to spend a lot of time in the kitchen, then try to prepare a treat according to our recipe. To make quick yeast patties, you will need:
Prepare the filling to your liking. For example, it can be grated apple with cinnamon and sugar, braised cabbage with fried onions, black pepper and grated egg or mashed potatoes, boiled meat and fried onions.
For the test, take three glasses of white flour, sift it through a sieve into a large bowl and add a bag of dry yeast to it. Melt on medium heat and cool 200 grams of margarine, add to it 250 ml of warm milk, a tablespoon of sugar and salt. Combine both mixtures and mix them thoroughly.
Divide the dough into six parts. Roll each blank into a rectangular bed measuring 35 x 20 centimeters. Put the stuffing on the long side of the billet, and then roll the dough into a roll. Next, divide the dough into equal pieces by the edge of the palm so that each billet will make six or seven patties.
Heat the oven and cover the baking tray with baking paper.Spread the patties, brush each with a beaten egg, and then bake them until cooked in a preheated oven.
Cool the prepared pastry a little, then put it on the dish and invite your relatives to the table.
Quick pies in a pan
This tender and tasty treat can be prepared from products that are always on hand. In addition, you do not have to spend too much time preparing them. Prepare quick pies in a pan as follows:
Chop half the cabbage fork, two peeled onions and a bunch of green onions. Fry the vegetables in a pan and add 200 grams of mushrooms to them (you can take fresh or boiled). Boil four eggs, free them from the shell and chop them with a knife. Mix the products, add to taste the salt and pepper.
Beat one egg with a half cup of sugar, add a glass of kefir, half a teaspoon of salt and a little soda. Next, add so much flour so that the consistency of the mass resembles cottage cheese. Note that the secret of this baking is that the finished dough should not be thick.
Sprinkle flour over the work surface, and then place a ball of dough on it with a spoon dipped in water.Then, with your hands, blind the tortilla, place the stuffing in the center and form a round bun. Put it in flour and keep making cakes from the remaining dough and filling.
Heat the pan, pour a large amount of butter into it and fry the pies on both sides until cooked.
You can choose for this delicious baking and other stuffing, focusing on your taste.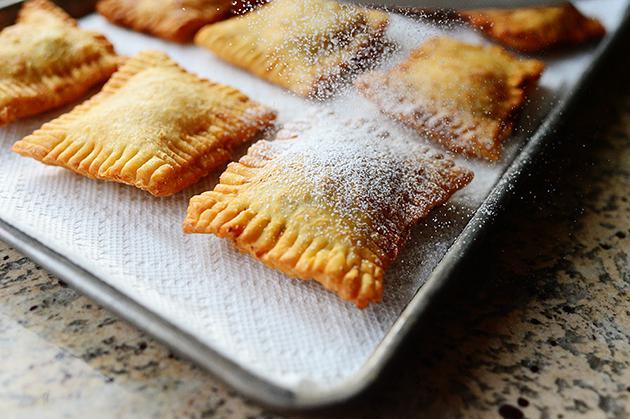 Lavash pies
When you do not have enough time to prepare the dough, you can take thin Armenian lavash instead. For the filling will suit any hard or melted cheese and products that are in the refrigerator. Cooking delicious quick cakes is very simple:
Expand the pita bread on the table and cut it into squares of the size you need.
For the filling, mix the grated cheese with greens and place it on a sheet smeared with ketchup. The next option is a finely chopped sausage mixed with green onions and ketchup. The third idea is cottage cheese mixed with herbs and garlic.
Roll each blank with an envelope and fry in vegetable oil in a pan with the lid open.
You can serve these pies as a snack for drinks, and also prepare them for your loved ones for breakfast.
Patties on soda
This baking can be done with a variety of fillings. Quick patties are very tasty with meat, potatoes, eggs or onions. But perhaps the most favorite treat will be baking with cabbage.
To begin with, grate two medium carrots on a fine grater, finely chop half a fork of cabbage and cut two onions with a knife. Stew vegetables in a pan, adding to them a bay leaf, salt and ground pepper. Nothing bad will happen if your filling is lightly browned.
Pour into a bowl one cup of kefir, add a teaspoon of soda to it, then one egg, two teaspoons of sugar, salt, some vegetable oil and so much flour to make a rather dense dough. After that, let him rest for a few minutes, and then proceed to the modeling of pies.
Roll out a round sausage of dough, then cut it into small pieces. From each blank roll out a cake, put the filling and form the cakes of the desired shape.
Fry the food in a heated frying pan on both sides until golden brown.
Quick patties serve hot with tea or milk.

Sweet pastry with peaches
If you decide to indulge yourself with delicious pastries, but do not want to stand at the stove for a long time, then this recipe is for you. How to make quick pies in the oven, read below:
Peaches, wash, cut them into two halves and remove the bones. Each part is cut into thin slices, but do not separate from each other.
Roll out puff pastry thin enough, cut circles out of it, sprinkle with sugar and place in the center of each half peach.
Grease the treat with the egg, place it on a baking tray covered with parchment, and bake until cooked in a preheated oven.
Fruit baking is prepared very quickly. Therefore, as soon as the dough is baked, it should be taken out and put on a dish. You will impress your loved ones if you serve an unusual pie with hot tea or coffee, garnished with grated chocolate and a scoop of vanilla ice cream.
Puff pastry with cottage cheese and banana
This treat is prepared instantly, and you can always make it easily for breakfast or for evening tea. The secret of this tasty and fragrant baking lies in the finished puff pastry, which is sufficient to defrost at room temperature and roll out.The recipe for quick pies is very simple:
One fresh banana cut into cubes, mix it with 250 grams of cottage cheese and a tablespoon of sugar.
Prepare a few sheets of puff pastry, roll out with a rolling pin and cut into squares.
Place the stuffing in the center of the blanks and shape the base of the boat.
Bake the pies in the oven for 15-20 minutes. When they are covered with a ruddy crust, they should be removed and cooled before serving.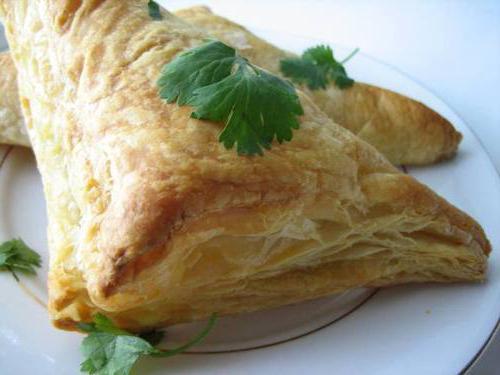 Korean carrot patties
The savory taste of this baking will certainly impress your guests. So read the recipe for quick pies and start cooking with us:
Thaw 500 grams of puff pastry.
For the filling, mix 100 grams of grated hard cheese (it can be replaced with cottage cheese), 300 grams of finely chopped sausages, chopped parsley and 250 grams of carrot in Korean. Season with mayonnaise and mix well.
Roll out the dough and cut into squares. Put the stuffing on the edge of each billet, fold the dough in half and pinch the edges.
Put the pies on a baking sheet, sprinkled with flour, brush them with egg and garnish with chopped dill. Heat the oven and bake in it an unusual treat for about twenty minutes.
Spinach patties
If you are preparing for a friendly party or a bachelorette party, then pay attention to this interesting recipe. Tasty and quick treat is prepared as follows:
Crush the onion and fry it in a pan. Then add 400 grams of finely chopped spinach to it and simmer it all together for a few minutes. Do not forget to put salt and pepper to taste.
When the filling has cooled, mix it with four boiled eggs and 150 grams of grated cheese.
Roll a sheet of puff pastry and cut into squares. Spread one spoonful of stuffing on one half of each blank, and make longitudinal cuts on the second part. Roll the workpiece in half and tweak the edges.
Bake the puffs until ready in a preheated oven, then cool them slightly and serve them to the table.
Chinese Apple Pies
This treat will look great on your table, and you can cook it very quickly:
For the dough, mix 90 grams of flour, 30 grams of starch and three tablespoons of sesame. Add to the mixture 40 grams of sugar and a little salt. After that, pour 100 grams of water into a bowl, break one egg and place 25 grams of melted butter. Stir the ingredients.
Two apples peel, free from the core and cut into flat slices.
Stir the fruit with the batter, and then with a spoon, put them in the pan and fry on both sides.
Finished delicacy can be served with honey and hot tea.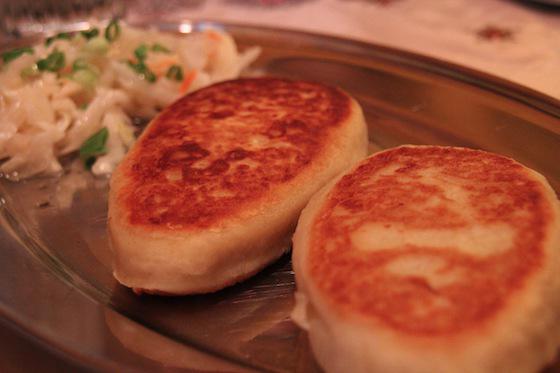 Conclusion
Pies fast can be prepared by any person. Even if you are just starting to learn culinary wisdom, do not be afraid and feel free to implement the recipes given in our article. We hope that you, your family and friends will enjoy delicious pastries.
Related news
Patties fast in the pan and in the oven: recipes image, picture, imagery