Mushroom soup puree - tasty, nutritious and healthy dish
Initially, this dish of European cuisine was cooked in a broth of dried mushrooms with the addition of fresh ones. So it turns out the most fragrant, tasty and tender.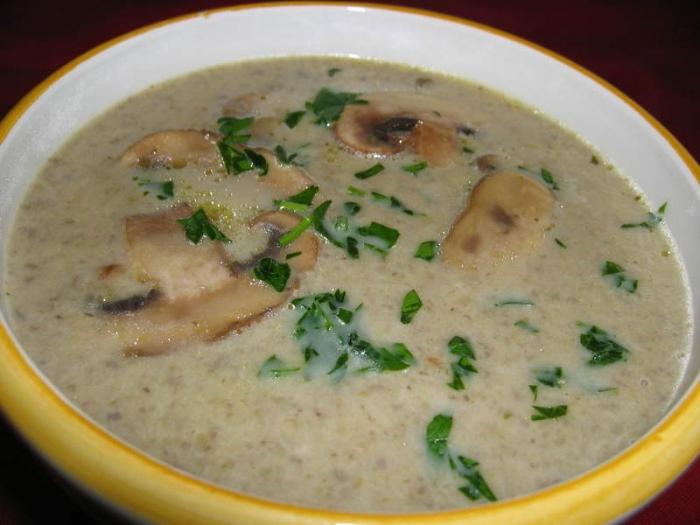 Mushroom soup puree of dried and fresh mushrooms
300 g of fresh champignons will require 20 g of dried forest mushrooms, a small onion, cup of cream, a liter of water, salt, cloves (if desired), 30 g of butter and a little olive oil, greens, ground peppers (black and sweet). Dried mushrooms should be filled with warm water in advance, leaving for half an hour. Fresh at this time are washed, and onions are peeled. All ingredients are cut arbitrarily. First, dried mushrooms are dropped into boiling water, and after 15 minutes, fresh mushrooms. While they are boiling, olive oil is poured into a frying pan, cream is added and the onions are fried. Salt and spices are sent to a pot with mushrooms, onions, along with butter, are brought to a boil. Soup is removed from the heat and allowed to cool slightly, after which everyone is ground in a blender.The finished mass is again heated on the fire, not boiling, adding cream. Mushroom soup is served, decorated with greens. You can also add crackers or serve croutons, fried in butter.
Mushroom Soup with Frozen Mushrooms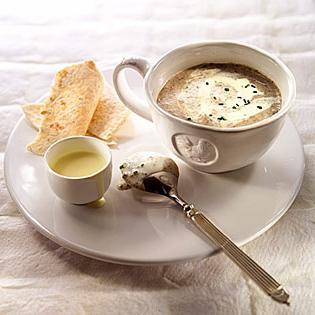 This recipe is perfect if fresh for some reason was not. A pound of frozen mushrooms will require 200 ml of cream, onion, 2 large potatoes, 3 tablespoons of flour, bread for toasts, salt, greens, seasonings. Mushrooms should be thawed and thoroughly rinsed. Then they are poured with a liter of water and boiled for about half an hour. Vegetables are peeled, randomly cut and sent to the soup. While they are boiling, the cream should be thoroughly mixed with flour. After the soup is ready, it is whipped with a blender, adding a lot of flour and cream, then again bring to a boil. Bread, cut in portions, dried in the oven with a small amount of butter. Mushroom soup is poured into plates, croutons are served separately. If desired, they can be slightly sprinkled with herbs or cheese.
Oyster mushroom soup
These mushrooms are no less popular than champignons. And from them, too, there is a wonderful cream soup.200 g of mushrooms take 2 cups of water and low-fat cream, onion, 50 g of butter, 3 tablespoons of flour, and salt. Mushrooms need to be washed, cut and stewed in a deep frying pan, adding oil. Then they put the sliced ​​onions and continue to fry until all the liquid is evaporated. Then pour flour into the mass, pour 200 ml of water and continue to simmer, stirring. After a few minutes, the mushrooms are salted, turn off the heat and, after cooling a little, are ground by a blender. The remaining water, cream is poured into the pan, add the crushed mass, bring to a boil, stirring. If necessary, ready mushroom cream soup can be dosolit and add a little ground pepper.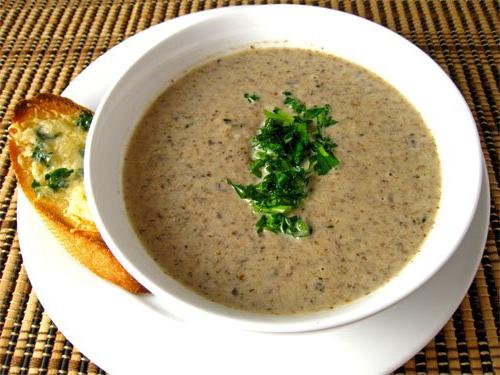 Cheese Croutons
Any soup is especially tasty when served with crispy toasted bread. Mushroom soup perfectly combined with cheese croutons. For them, you need to take white bread (a baguette is better), cut into slices of medium thickness, put a little butter on top, bake for 5 minutes in the oven, pre-powdered with grated cheese. On top of the croutons are decorated with greenery.
Related news
Mushroom soup puree - tasty, nutritious and healthy dish image, picture, imagery