Khachapuri in the pan. Cheese Khachapuri: A Step-by-Step Recipe
Khachapuri in the pan can be done in different ways. Someone cooks such a tasty and high-calorie dish on water, and someone uses fresh kefir. In any case, in compliance with all the requirements of the recipe, you will definitely get fragrant and ruddy products that can be safely served even to the festive table.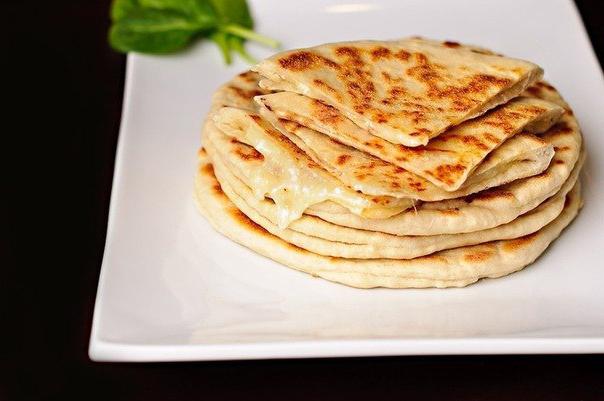 Making delicious khachapuri at home
Khachapuri is a national Georgian dish. Such a product is a flour tortilla, which can be stuffed with cheese, steamed fish or meat. The name of this dish comes from the words "hacho", that is, "cottage cheese", and "puri" - "bread".
To independently make khachapuri in a pan, we will need the following set of ingredients:
sifted wheat flour - not less than 300 g;
standard size eggs - 2 pcs .;
sea ​​salt - use according to your personal taste;
Imeretinsky cheese - about 300 g (you can use Mozzarella cheese);
white sugar - a full dessert spoon;
baking soda - no more than 1/2 dessert spoons;
pure water - 200 ml;
vegetable oil - use to taste and desire.
Making the base
Khachapuri in a frying pan is not very long fried. But before proceeding with the heat treatment of such a Georgian dish, you should thoroughly knead the base. To do this, chicken eggs are placed in a blender and whipped together with sea salt and sugar.
Having received a homogeneous and slightly foamed mass, ordinary drinking water is added to it and slowly sifted sifted flour, previously mixed with baking soda, is added.
All products are well disturbed with a spoon. As a result of this treatment, you should get not a steep, but a viscous dough, the consistency of which resembles the basis for fritters.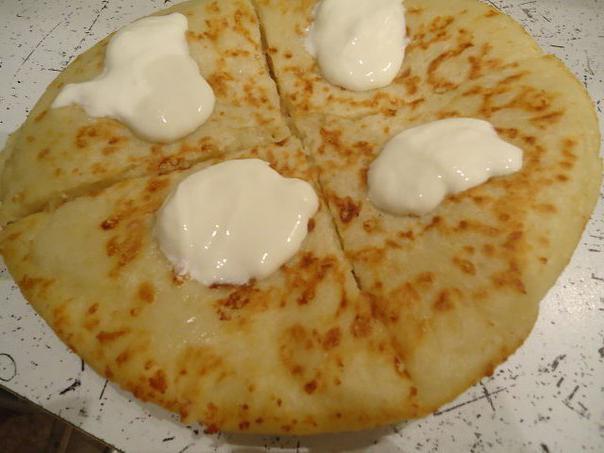 The finished egg mass is covered with a lid and set aside for hours. After this time, soft cheese is spread in the dough and thoroughly knead it with a spoon.
Again mixing the products, get a viscous dough with visible inclusions of dairy product. After that, it is again set aside, and then proceed to heat treatment.
Frying products on the stove
Khachapuri with cheese in a frying pan should be fried only after the dishes are hot. A small amount of vegetable oil is poured into it, and then some of the dough is laid out.
After frying the base on one side (about 7-8 minutes), it is gently turned over with a spatula and the same amount of time is prepared.
Observing all the above recipe requirements, they get a soft, ruddy and lush product.
Served at the table
Now you have an idea of ​​how to cook khachapuri with cheese in a pan. After roasting, the dishes are carefully placed on a large and flat plate, then cut into triangular pieces and presented to the table along with a cup of sweet tea.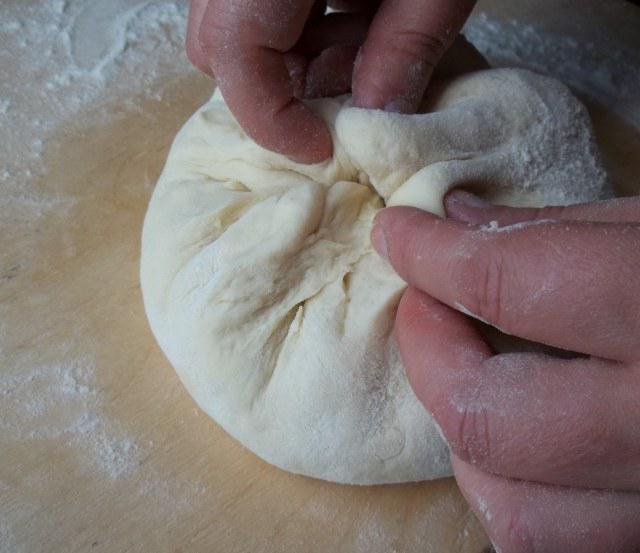 Cooking classic Georgian dish
Khachapuri-boat is a very popular dish in Georgia. To form it is not difficult. However, such a product requires heat treatment in the oven. In this regard, it is cooked a little longer than khachapuri in a pan. Therefore, we decided to present you with easier recipes for this amazingly tasty and simple dish.
So, to implement the recipe in question, we need:
fresh medium-fat kefir - about 140 ml;
high fat sour cream fresh - about 110 ml + 2 large spoons for the filling;
Quality butter - at least 100 g + 25 g for the filling;
sifted light flour - about 300 g;
common salt - ½ dessert spoon;
baking soda - ¼ dessert spoon;
white sugar - 1 large spoon;
Any kind of hard cheese - about 250 g (for the filling);
White cheese - about 100 g (for the filling).
Knead dough
The presented recipe for khachapuri on kefir is a classic. To implement it, you must first knead the base. To do this, sour milk drink is mixed with sour cream, and then add to it fine salt, baking soda and granulated sugar.
All ingredients stir well with a spoon, and then add the pre-melted butter. Also, wheat flour is gradually poured into the base.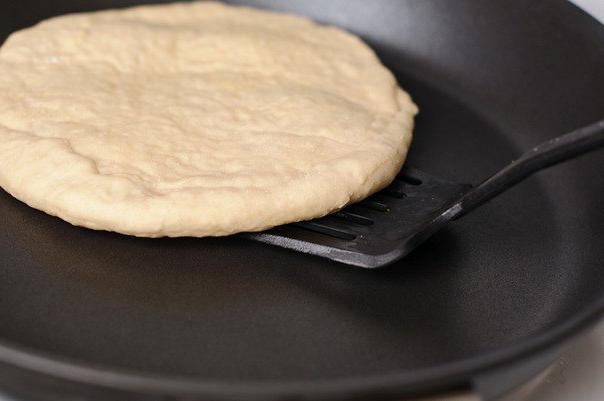 Ready dough for khachapuri should be soft and slightly sticky. However, due to the presence of oil in it, it should not stick to hands.
Kneading the base, cover it with a towel and leave at room temperature for 10-18 minutes. Meanwhile, proceed to the preparation of the filling.
How to make stuffing for khachapuri?
To prepare the filling for Georgian dishes, you must use several types of cheese. We decided to apply hard and white cheese. The first ingredient is rubbed on a small grater, and the second is simply crumpled with a large spoon. After that, both products are combined, add sour cream and soft butter.
The filling is well stirred before combining all the ingredients. If required, they can be slightly salted.
The process of forming products
After the dough is infused under a towel, it is divided into 4 equal parts. Subsequently, small flat cakes are formed from them, in the center of which a previously prepared stuffing is placed in a slide. By the way, there should be a lot of it (about the same as the test itself).
After the described actions, the edges of the base are collected to the middle, tightly closing the filling and expelling air to the outside. Then the resulting prefabricated gently flatten hands. At the same time make sure that the dough does not break, and the filling does not flow out. In this form, the cake is lightly rolled out with a rolling pin, and then proceed to its heat treatment.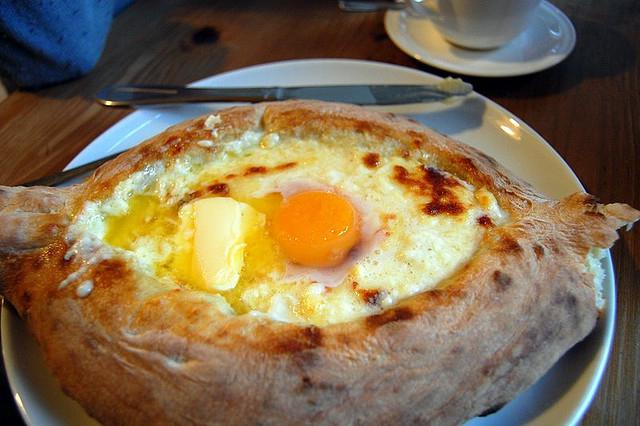 Fry products on the stove
Ideally, classic khachapuri baked in the oven.In addition, such products can be cooked in a conventional oven (for example, khachapuri-boat). However, we decided to fry this dish in a dry frying pan.
Ware strongly heated over high heat, and then spread the formed product. It should be fry with the lid closed before browning the two sides.
How to properly present to the table?
After roasting khachapuri they are placed on a large and flat plate, and then smeared with fresh butter. From the number of ingredients that was presented above, get exactly 4 products. They are presented to the table along with a cup of hot and sweet tea, after cutting the dish into small triangles.
Details on how to make khachapuri lavash
This dish is designed for lazy housewives. It does not require the purchase of a large number of products, but it turns out very tasty and nutritious.
So, to make khachapuri of pita, we need the following components:
hard cheese of any manufacturer - about 140 g;
thin Armenian lavash - a few sheets;
high-quality butter - about 100 g;
fresh herbs - use as desired.
Forming products
For the formation of such khachapuri use only thin Armenian lavash. It is cut into rectangles of 10 to 20 centimeters, and then spread on one side of coarsely grated hard cheese. You can also add fresh chopped greens to the filling. This will make the dish more aromatic and tasty.
After laying out the filling, it is necessary to cover it with the free side of pita bread and carefully rub it with your hands.
How to fry on the stove?
Having formed lazy khachapuri, they are fried in a dry frying pan on both sides. Do this until the products are lightly browned, and the stuffing does not melt.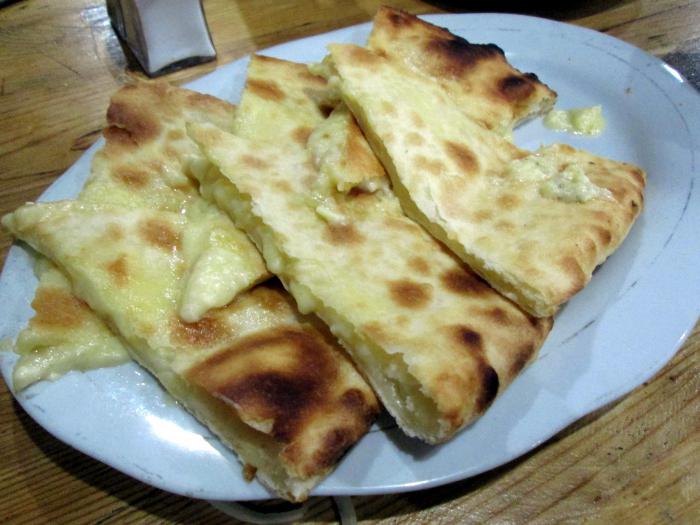 After heat treatment, the khachapuri is carefully laid on a plate and immediately smeared with fresh butter. In this form, products are served to the table along with sweet tea.
Related news
Khachapuri in the pan. Cheese Khachapuri: A Step-by-Step Recipe image, picture, imagery