Kalach - recipe, cooking features, types and recommendations
Many people think that kalach is a work of native Russian cuisine. But, in fact, this bakery product appeared in the XV century on the basis of Tatar flatbread. Then there were only two recipes: Moscow and Murom rolls. About the last form of baking, we know only from the annals. His recipe was lost. But the Moscow roll later became overgrown with variations. And now almost every city has its own recipe. Yes that there the settlement - each mistress bakes rolls in own way. There are holiday and everyday recipes, filled and without it, in the form of a "handbag", pigtails, loaf and even donuts. This muffin can be cooked with sour cream or milk. In this article, we present several popular step-by-step recipes for rolls. How does this type of bread roll differ from ordinary bread? Kalach do certainly with the use of leaven. Therefore, it preserves its freshness for a long time.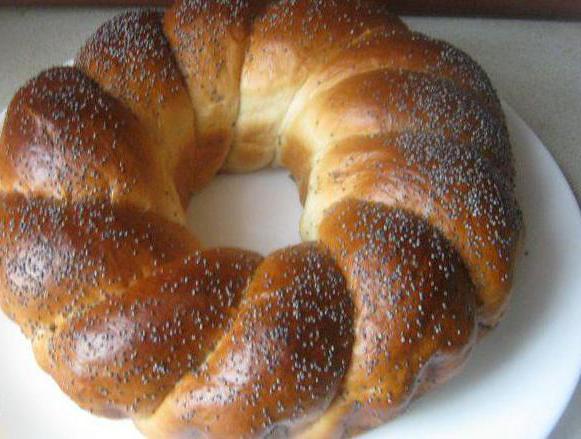 Kalachi on sour cream in the oven
This recipe is so simple that you can bake hot buns for breakfast. First you need to melt a hundred grams of butter. It needs to be slightly cooled. Then you need to add a hundred grams of any vegetable oil. Now we add a glass of sugar, 100 grams of sour cream and one egg to this fat mixture. Mix to make the mass homogeneous. Add two tablespoons of oatmeal and half the amount of starch. Flour (250 grams) should be sieved well and mixed with a teaspoon of soda. Sprinkle dry ingredients to the rest of a little, so as not to create lumps. Knead the dough, leave it for a quarter of an hour to rest. Then we divide the bun into ten parts. From each piece we form a sausage about 20 centimeters long. We fasten their tips. The recipe of rolls on sour cream in the oven describes the products as a circle of flagella. But the taste of the product its shape does not affect. Circle, oval or drop - everything will be delicious. The billets are laid on a baking sheet covered with parchment. Bake for about a quarter of an hour at 190 degrees.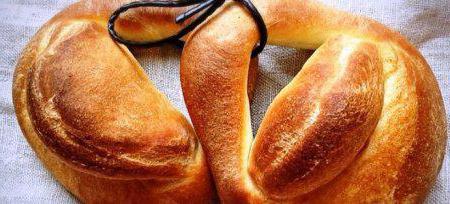 Moscow classic roll. Kneading dough
In a large bowl sift 250 grams of flour. We put there 10 g of fresh yeast and fill it with milk warmed to 40 degrees (approximately two thirds of a glass). Stir to avoid lumps. We will cover the bowl with a towel and put the brew in a warm, protected from drafts place for forty minutes or an hour. When the foamy foam appears, sift another 250 grams of flour into this bowl. Add a pinch of salt, three tablespoons of sugar, the same amount of soft butter, two eggs and, in addition, one yolk. The roll recipe orders us to knead the dough for at least ten minutes. Then again we cover with a towel and put in a warm place. But this time for an hour and a half. Then we remember a little dough with an open palm to let the gases out of it. Again, leave for half an hour under a towel.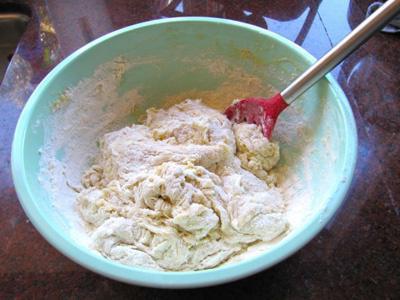 Moscow classic roll. Bakery products
The finished dough (it does not interfere even more time to knead) divided into four parts. From each with a rolling pin roll oval. The thickness of the dough should not exceed one centimeter. Stepping back a little from the edge of the oval, we will sell at one end a glass arc. Grease this "tongue" with melted butter and pry off the remaining roll.The recipe requires us to put the products on a baking sheet and grease their upper surface with yolk. It is necessary to warm the oven well - up to 200 degrees. And the rolls should stand still on the baking sheet for half an hour before getting into the oven. We cook them for about twenty minutes. We check with a spike from a match if we baked it. If the stick comes out dry, then the buns are ready.
Leningrad roll
It is more budget, but no less tasty baking. Since neither sour cream, nor milk, nor eggs are used in the Leningradsky kalacha recipe, you can eat this pastry in the post. In 350 milliliters of warm water dissolve 8 grams of yeast. Pour 250 grams of flour, put 50 grams of sugar, a pinch of salt, 24 grams of melted margarine and knead the dense dough. Knead it for at least twenty minutes, so that the gluten becomes separated from the flour. After that, you can relax. Cover the dough with a thick towel and set in a warm place without drafts for three and a half hours. Thirty minutes before the end of the period of upholding vigorously crush. Lay the dough on the table and pinch it off into a piece weighing 100-150 grams each, giving them the shape of smooth balls.Cover these balls with cling film and leave again for a quarter of an hour. Next, roll each into an oval and give them the look of women's handbags or padlocks, as indicated in the recipe of Moscow rolls. Bake at 240 degrees for about 15 minutes.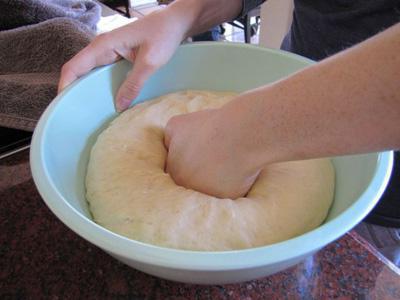 Kalach on kefir. Bread Maker Recipe
In order for the dough to rise, the yeast needs a lactic acid medium. Therefore, the classic recipe for rolls on sour cream gave rise to this more budget option. Buns can be made in the bread maker. Lay in the bowl of the unit first 250 ml of kefir (you can dilute it with milk), an egg and five tablespoons of melted butter. Then comes the turn of the dry ingredients. Sift into a bowl 320 grams of plain wheat and 160 grams of whole grain flour. Add four tablespoons of sugar and two pinches of salt. At the end, we introduce a bag of dry yeast. We give the car a command "dough". When the unit is all kneaded, take the mass out of the bowl, roll it into the reservoir and roll up the roll. Form roll, giving it a ring shape. On a baking sheet, lay out the baking paper, sprinkle it with flour. We put the roll, sprinkle it with water and leave it warm for half an hour. The dough will rise some more.After that, bake the product at 160 degrees for half an hour.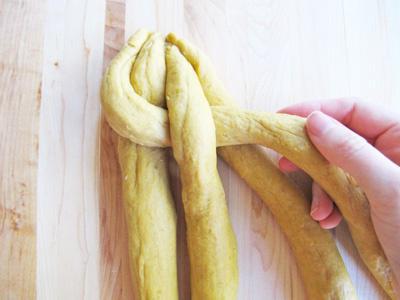 Kalachiki on milk. Recipe for Fryer
This dessert looks like donuts. And the recipe offers to cook these rolls not in the oven, but in a frying pan or fryer. Combine in a large bowl 15 grams of dry yeast, two tablespoons of sugar and a pinch of salt. Heat a glass of milk (250 milliliters) to forty degrees and pour it into a bowl. Stir until all yeast is dissolved. We will add a piece of butter (50 grams) to a soft state, add to the bowl with the brew. We begin to sift flour. It should go somewhere pound. Flour also poured on the worktop, where we shift the dough. We knead it no more than seven minutes. It should be soft and slightly elastic. Shift it back into the bowl, cover with a slightly damp cloth and leave for an hour in a warm place. During this time, it will increase three times. We crush the dough and begin to make little balls. We tear off the pieces, roll them into sausages, twist them, connect the ends of the harness. These products are laid out on baking paper and give rest for a quarter of an hour. Fry in a large number of heated vegetable oil until golden brown.We spread on the grid with paper napkins to stack excess fat. Sprinkle finished products with powdered sugar.
Cottage cheese rolls on a skillet
In a deep bowl, break three eggs. Add 40 grams of sugar. Shake a little with a fork and pour in 80 ml of vegetable oil. Mixing this ingredient, add 300 grams of cottage cheese, a pinch of salt and a bag of baking powder. Mix again to make the mass homogeneous. Begin to sift 200 grams of flour into a bowl. Knead the dough first with a spatula, then with your hands. It should be supple and soft. As soon as the dough has ceased to stick to the fingers, we will form a bun out of it and leave for half an hour. Then roll into a thin layer. Glass cut circles, and in the center of their glass - holes. The resulting rolls rolls from cottage cheese recipe recommends frying in a frying pan with high bumpers in a well-heated vegetable oil.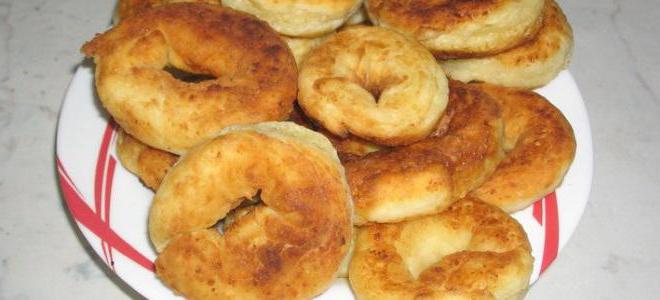 Another recipe for rolls on sour cream. Oven recipe
If you do not want to bother with yeast, but want to get lush baking, add soda to the dough. And, for example, sour cream. With it, you and the dough will fit quickly, and the products will be soft and fluffy.The recipe for crumbly rolls on sour cream in the oven requires that you first melt (not soften, but bring to a liquid state) 200 grams of butter. Pour it into a bowl, cool a little, add 200 milliliters of sour cream, 100 grams cup of sugar and two eggs. In another bowl sift two cups of flour. Mix it with half a teaspoon of soda and the same amount of salt. Gradually add bulk ingredients to the liquid. Knead thick dough. Next, form the rolls, as indicated in the recipe of the Moscow roll. Products should resemble a padlock with a handle. Kalachi spread on a baking sheet lined with baking paper. Top of the confectionery lightly sprinkled with flour. We bake 20 minutes at 200 degrees.
Cake roll. Recipe for the oven. Kneading dough
In some regions of Ukraine at Christmas, when they go to visit, the owners are given a richly decorated roll. It looks like a woven ring. We will return to the form later, but for now we knead the dough. Like an Easter cake, the Christmas roll should be stuffed. It can be dried fruits, candied fruits and even chocolates. So first you need to soak the raisins, dried apricots or prunes - of your choice.Heat half a liter of milk, dilute a spoonful of sugar in it, 10 grams of dry yeast and a pinch of salt. Stir and pour a glass of flour. The brew is kept warm for an hour. In a bowl, melt one hundred grams of butter and 50 grams of margarine. Pour 50 ml of vegetable fat. In another bowl, strain out six yolks. Proteins until clean in the fridge. Yolks fall asleep with 300 grams of sugar and rub well. Add to them 200 grams of sour cream. Stir once again. In the approached sponge we pour in first the sour cream mass, and then the fats. Gently mix. Beat whites with a bag of vanilla sugar. Lush foam is also carefully entered into the brew. Now sift flour. We pour, how many will go in to knead the elastic dough. This will take time - at least 10 minutes. Let's give the test still rise.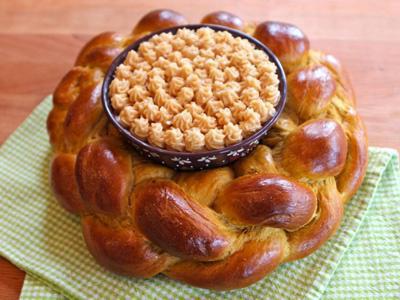 Baking a festive roll
Gingerbread man divided into two parts. We roll each of them into long strips 10-15 cm wide. We put dried fruits on these tapes, put chocolates or candied fruits. We pinch the edges of the strips to make long sausages. We intertwine two tapes with each other like a pigtail. Connect the ends and pinch them.It should make a beautiful ring. Give baking to stand for another 20 minutes. Lubricate the top of the product with yolk and sprinkle with poppy seeds. The recipe of rolls in the oven prescribes to thoroughly heat the oven to 220 degrees. Pan grease with vegetable oil. Install roll. We send to bake on the lower shelf. When the product is reddened, rearrange the pan on the upper level.
Related news
Kalach - recipe, cooking features, types and recommendations image, picture, imagery