Ideas for pregnant women photo shoots in the studio, at home and in nature: images, clothes and makeup
Pregnancy is a short, happy and quivering period in a woman's life. 9 months fly extremely fast - and there is so much to be in time. Nowadays, future moms want to do a photo session with a professional photographer, because you want to capture these exciting moments of waiting for your baby.

When is the best time for a photo session?
Such surveys usually take place during the third trimester. Clothes and images for a photo shoot of pregnant women can be chosen independently or turn to a professional stylist and makeup artist. Ideas for shooting are usually suggested by the photographer, since "Waiting for a miracle" photo shoots have been very popular in the past few years. And this is not surprising.
Photo shoot ideas for pregnant women
Future mothers want to make beautiful photos during their pregnancy in order to save pleasant moments in the family photo album.In addition, many women want to please their friends and subscribers in social networks with bright and original pictures. Therefore, pregnant girls are very responsible approach to the issue of choosing ideas for filming. The concept of a photo session depends on the venue. Usually the photographer offers the following location options:
home conditions;
in a photo studio;
Outdoors.
The choice of location for a photo session depends on the weather conditions, the season and the family budget. Before you decide on this, it is better to consult with the photographer to avoid mistakes. Ideas photo shoot for pregnant women are very diverse and interesting in any place.
Nature photography
If the third trimester of pregnancy fell at the end of spring or summer months, then there is an opportunity to hold a photo session on the background of bright blooming nature. Beautiful landscapes of forests, fields, rivers and meadows will serve as excellent scenery for photos of the future mother. Natural light will emphasize its extraordinary beauty. In such conditions, you can get incredibly tender and sensual photos with your husband.
A photo session for pregnant women in nature should not be overloaded with props.A wreath or a bouquet of wild flowers will be a good complement to the image of the future mother. The day of shooting is better to plan for 2-3 weeks, because the weather dictates its own conditions.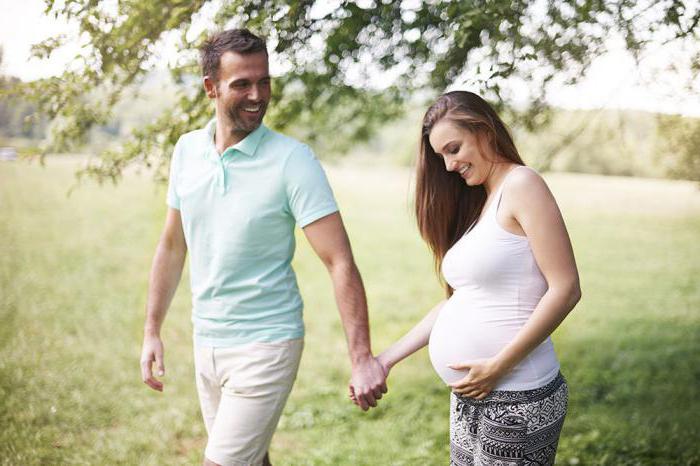 This is the only significant negative photo session in nature.
Examples of locations for filming:
in the park or square;
in a field among flowers or ears of corn, in a meadow;
in the forest;
in the blooming garden;
near the reservoir (marine).
Studio photo session
A photo studio is a great place to shoot, in which you can implement a lot of creative ideas for photos. There are special devices for lighting (softboxes) that will help make the pictures more vivid, clear and beautiful. In the studio, the future mother can completely relax and enjoy the process of a photo session, because there are no strangers who will hamper a woman with their curious views. As a rule, in a photo studio there is a lot of props, which will help to make photos more original and interesting.
Many girls want to bare belly in the photo and make a cute picture on the skin. Photo Studio - this is the best place to translate this idea. Ideal if the drawing will be applied by a professional artist specializing in body art. But it is possible that someone close to them would paint the stomach.
Usually in December and January in almost all photo studios reigns New Year's atmosphere. Beautiful Christmas trees with sparkling toys, garlands and other Christmas paraphernalia will be an excellent background for pictures of the future mom. New Year's photo session for pregnant women is the original version of the gift during the winter holidays. As a props, you can use hats, like Santa Claus, Snow Maiden costume, tinsel, fake gifts and other holiday accessories.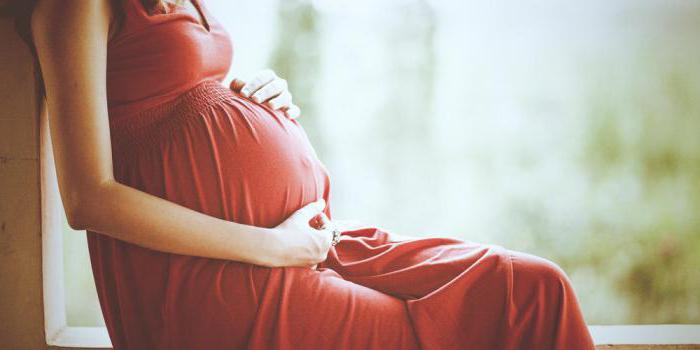 Here are some more photo shoot ideas for pregnant women:
The belly is tied with a wide satin ribbon with a bow of the corresponding color (blue if a boy is expected, pink is a girl). A husband can hug his wife from behind or stand opposite, gently touching their "gift."
In the nude or underwear. In a photo studio, you can afford to completely or almost bare. For this type of shooting, it is better to choose some kind of lightweight translucent elements of clothing to emphasize the sensuality and beauty of a pregnant woman.
Future mother in rose petals. You can get beautiful photos by posing on a bed covered with flower petals.
Use as a props children's things (booties, vests, shoes, caps).
Flying fabrics. In some photo studios you can rent dresses for a photo shoot for pregnant women. Long weightless train of such outfits can be a good addition to the pictures of the future mother. The photographer alone or with the help of a fan will lift the fabric into the air to add to the image of the girl elegance and grace.
Figure on the stomach. Examples of inscriptions: Loading 80%, "I plan to escape this fall," Kinder surprise. Usually they draw emoticons, watermelons, cute babies or watches on their stomachs. Be careful with the choice of paint, because not all of them are safe for the health of a pregnant woman.
Photoshoot pregnant at home
Sometimes the last months of pregnancy are given to a woman very hard. Edema, poor health and weakness do not give to leave the house. In this case, a place for a photo shoot can be an apartment or house of the future mother. It is very convenient and practical to carry out shooting in such a place - all things are at hand, the photographer and future parents are almost unlimited in time. The requisite for such photographing can, for example, be children's things, toys or a cot. At home, images for a photo shoot of pregnant women should be relaxed and simple.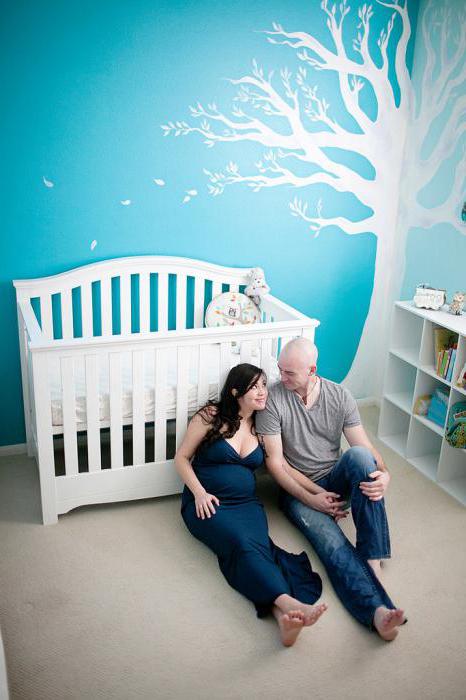 Not every apartment or house is suitable for a photo shoot - the place for filming should be spacious and well lit. It will be great if the photographer first examine your home. Only he can tell you whether this place is suitable for photographing or not.
Ideas of photo shoots for pregnant women at home are not particularly different from studio ideas. Typically, photographers offer to capture the morning of the future mother: how she wakes up, prepares breakfast, embraces her husband, puts things for the future baby. Such everyday moments seem simple and mundane, but life is one of them.
Photo session for pregnant women with her husband
If the future dad wants to take part in the shooting - it's just wonderful. The clothes of the future parents should somehow "match" in color. It would be best if the shade of some accessory or a man's wardrobe item will repeat the color of the woman's dress. Then the photos will be more harmonious and tender.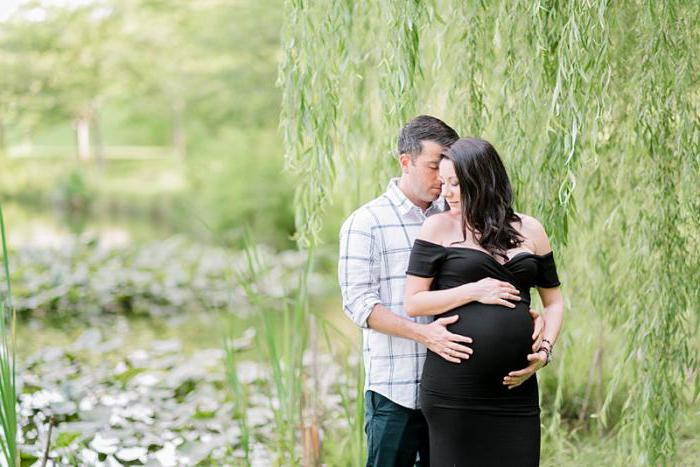 A photo session for pregnant women in the studio will be a good solution in this case.
Here are some ideas for filming for a pregnant woman with her husband:
The man gently kisses and hugs the stomach or puts his ear in the hope of feeling the movement of the child.
Close-up belly, and on it are two hands, male and female, with wedding rings.
The future dad draws a cute picture on the woman's stomach, for example, a family with a small child or a little face of a baby.
Smiling future parents, and in their hands they have a pregnancy test or an ultrasound scan.
Ideas for photographing a pregnant woman with her husband and child
If the family already has a baby, you must use it in the shooting. In this case, the photo session is best done in the studio. So the child will not be able to run far, he will be interested in a new place, he will not have time to get bored. You should not stretch the process of filming for longer than 1 hour, as this can tire the baby and he will be capricious. New Year's photo session for pregnant women with the participation of the child will decorate your album. As a props, you can use Christmas decorations, funny Christmas hats and sparklers.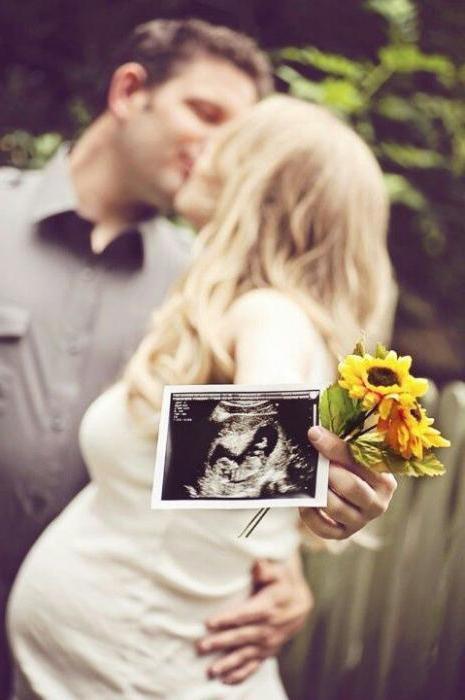 Other ideas for a photo shoot with your child and husband:
The child and the husband from different sides embrace a pregnant woman by the stomach.
The husband embraces his wife from behind, and the child kisses his mother's bare belly.
The child leaves fingerprints on her mother's belly.
What clothes to choose for a photo shoot?
The choice of makeup, hair and clothes should be approached very seriously. For a photo shoot, you need to come up with several images that you will change during the shooting. If the photographing will last 1 hour, then no more than 2 images should be prepared, since there will not be enough time for changing clothes and changing makeup (especially if the photo session takes place in the studio). If the shooting will last 2 hours, then it is worth thinking of 3-4 sets of things.
The woman chooses clothes for photo shootings to her own taste, it depends on her style and manner of dressing in everyday life. As a rule, future mothers choose dresses for a photo shoot for pregnant women, because it is very convenient. In the photo, this image looks very feminine and elegant.
How best to make up for a photo shoot pregnant?
Makeup for a photo shoot for pregnant women should be elegant and calm. It may be bright, but it means that the chosen clothes for this image should be matched. Absolutely without cosmetics it is better not to be photographed. It should be understood that the makeup on the photo looks different than in real life. The colors on the paper are "eaten up," so you definitely need to highlight the eyes and lips with makeup.
Ideally, if the future mother uses the services of a professional makeup artist.Hair should be put in a beautiful hairstyle or curls made right before the shooting. No need to use a lot of varnish - it will be noticeable in the photo. The image should be thought out to the smallest detail.
Related news
Ideas for pregnant women photo shoots in the studio, at home and in nature: images, clothes and makeup image, picture, imagery