How to start "Yandex. Wallet": step by step instructions
Electronic money, electronic wallet - for many of us this is no longer a wonder. Payment of utility bills, earning money by a freelancer, money transfers to relatives, payment for purchases in online stores - all this requires an electronic wallet. In this article we will tell you how to start and how to use Yandex. Wallet, one of the most simple and reliable for today.
Why do you need an electronic wallet?
First of all, they start an electronic wallet for settlement with sellers who have an online store, or providers of remote services. Conveniently and economically, if you and the addressee have an electronic account of the same system, the transfer fee will actually be a penny. Therefore, for people who are concentrating on remote work, freelancers, it is better to have several e-wallets so that when calculating with any customer, you have an account where your earnings will not be reduced significantly by the transfer fee.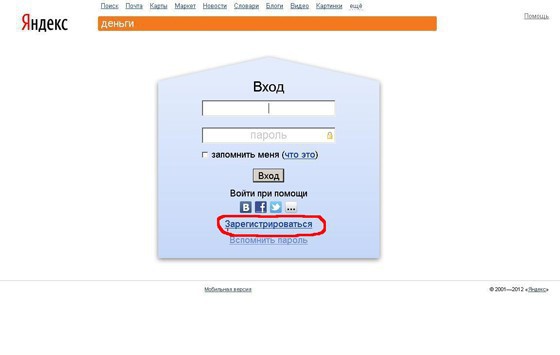 Electronic money systems today a lot. The most famous:
WebMoney.
QIWI.
RBK Money.
"Yandex money".
To transfer money, say, from the WebMoney wallet to the Yandex. Money wallet, you need to contact the resellers - Robokassa, Z-Payment. Naturally, they charge a commission for their services. That is why it is important not only to get an electronic wallet "Yandex", but also other systems in order to make calculations on the Internet.
Pros and cons of Yandex. Money
Today, more and more users choose the Yandex system. This is connected, for the most part, with the reliability of the system - since 2012 it has been owned by Sberbank of Russia. But this implies its shortcomings: mandatory verification, strict adherence to the letter of the law. Other pros and cons we put in the table.
Advantages of the system
System flaws

Logical and easy interface.

Money transfer is a procedure with a minimum of actions.

Simple authorization.

Replenish your wallet easily by bank transfer.

The breadth of use.

If the amount on the account is less than 15 thousand rubles, then you can transfer it into real money without user identification.

The possibility of issuing a plastic card tied to your wallet.

The presence of the mobile application "Yandex. Money".

The high level of protection provided by the protection code.

All operations are only ruble.

The system is focused only on the Russian Federation.

The possibility of lending within Yandex. Money is absent.

A considerable percentage of the withdrawal of money.

There is no mode of so-called two-phase payments.

Can only be used by individuals - otherwise the account is blocked.
If, having weighed all the pros and cons, you decide to start a Yandex. Wallet, registration and other important steps await you in our future story. Let's start by opening an account.
Start "Yandex. Wallet" for free: registration
As you understood from the title, registration in the Yandex. Money system is absolutely free. How to start "Yandex. Wallet":
Go to the system start page: click on the "Login" tab, in the next window click on the "Registration" link.
The most convenient way is to register through a social network. Today it can be done through VKontakte, Google, Mail.ru, Odnoklassniki, Twitter, Facebook.
How to get "Yandex. Wallet"? You can go the other way: come up with and enter your login and password, email address for notifications and be sure to have your mobile number. Login must be unique (a green check mark next to it will indicate this). So you will gain not only an account in Yandex. Money, but also in all services of the system, includingand free email.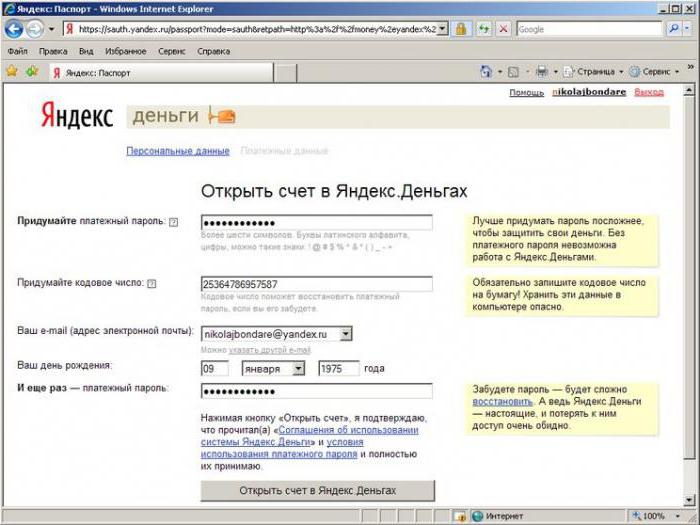 If you have an account in the Yandex system (in other words, an email address), then click on the link "I have an account on Yandex." In the Login field, you enter its name, and in the Password field you enter respectively, the password from your email.
If this is your first time in the Yandex system, then you need to enter your last name and first name.
Confirm that you are not a robot by entering characters from captcha. If it is incomprehensible, then it can be replaced by another.
We advise you to keep your login and password from your wallet in a safe place and disable the auto-completion of these fields.
Once all the necessary items are filled, click on "Continue."
We continue to tell how to start "Yandex. Wallet". Next, you will see a window in which you need to dial a digital code that will come in the form of SMS to the specified mobile number.
If you didn't enter the email to receive notifications from the system, now is the time to indicate it. This can be either mail on Yandex, or any other.
Read the "Agreement on the use of data", if you are satisfied with everything - tick "I accept ...".
And now - click on "Open Wallet".That's all, in a few simple steps you have found your account in Yandex. Money, which you can already begin to manage right now!
How to find your wallet number?
We made out how to start Yandex. Wallet. Many are interested in how to find out his number in order to send it to his partner, friend, employer. As soon as you click on "Open Wallet" during registration, you will be taken to the main page where you will find these numbers. If you did not pay attention to them at first, closed the page, you must do the following: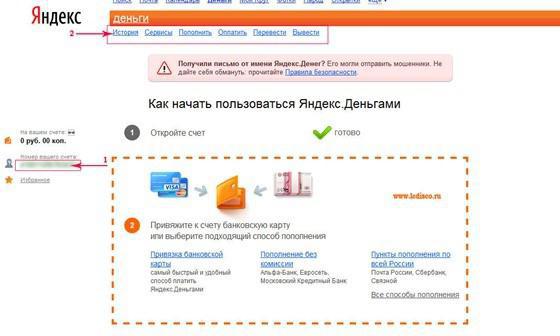 Log in on the Yandex home page by entering your username and password.
In the top menu bar of your account, find the "Money" and click on this link.
Next to the "wallet" icon ("0 rubles" will be signed next to it until now), click on the down arrow.
In the menu that appears, you will see the number of your wallet, similar to a bank account.
Purse replenishment
Make replenishment "Yandex. Wallet" can be through these systems:
Salons of communication - "Svyaznoy", "Euroset" and so on.
Virtual prepaid cards.
ATMs and bank terminals.
Transfer from other payment systems, for example, "Kiwi", "Web Money".
With the help of banking applications, in particular, the popular "Sberbank Online".
Bank cards and so on.
Consider the most popular replenishment - using the systems of Sberbank.
Deposit through Sberbank terminals and ATMs
Via ATM:
Enter the card, pin code.
Select "Pay for services", then click on "Next."
Find "Electronic money", and in them - "Yandex".
Enter the number of the replenished wallet, again "Next."
Then specify the amount of the deposit "and again" Next. "
Check all details and click on "Pay".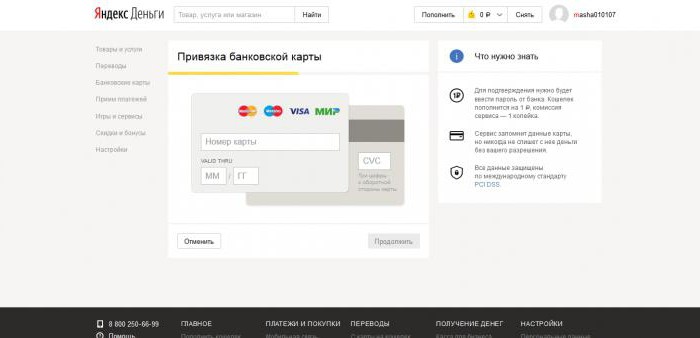 Via terminal:
"Cash payments", hereinafter - the "Continue" button.
Find "Payments in the organization", and in them - "Other".
Find "Yandex", then - "Pay".
Enter the purse number, then - "Continue".
Deposit money, continue again.
Be sure to save the receipt issued to you by the device.
Transfer from wallet to wallet
In addition to the instructions "How to start" Yandex. Wallet ", many are interested in knowing how to transfer money from one account to another. It is simple:
Log in to your Yandex. Money account, click on the "Transfers" tab.
Enter "From" (your wallet) and "To" - this can be either a Yandex wallet or a bank card.
Additionally, you may need to enter a phone number, email address.
You can protect a transfer with a protection code or attach a message to the recipient.
In the specific box below, enter the transfer amount, then "Continue."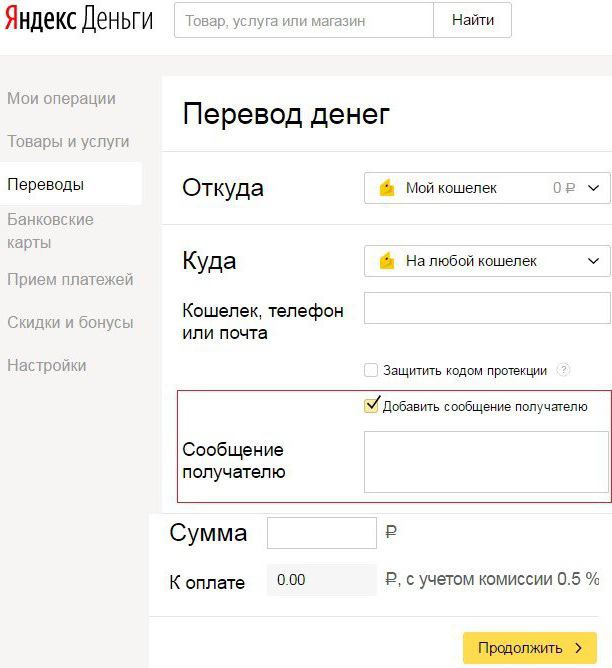 Withdrawing money from an electronic wallet
In the instructions "How to start Yandex. Wallet", finally, we will specify how to withdraw money from it:
Log in to your account, click on the "Withdraw" tab.
Tick ​​the filters for output: "in my region", "instantly", "without identification" (tick the latter if you have not passed the verification procedure).
Select the withdrawal option: to a Yandex card or other plastic card, to a bank account (physical person, legal entity, credit card), expedited transfer to a bank, through a money transfer system (Western Union and its ilk).
Specify the amount of withdrawal, confirm the action.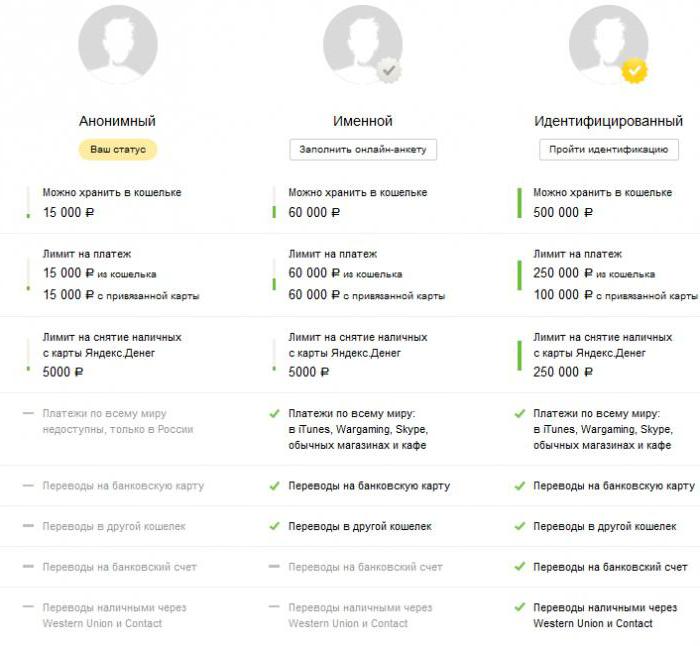 So we figured out how to open "Yandex. Wallet" and how to use it. Now you are convinced that this is a very intuitive and easy to use service.
Related news
How to start Yandex. Wallet: step by step instructions image, picture, imagery