How to do "Raffaello" at home?
What other dessert is so associated with tenderness, lightness, ease, as "Raffaello". From the name of the trademark, this word was transferred to our lexicon to refer to candies containing milk, coconut and almonds. They became a universal gift to any woman for the holiday. Like any industrial pastry, "Raffaello" contain dyes, flavors and various emulsifiers, which not everyone wants to see in their diet, even on holidays. But the ingredients in these sweets are not the rarest, moreover, they can always be easily found on the shelves in the supermarket or on the market, which means that you can cook Rafaello at home without any additives. In principle, it is not difficult. How to make "Raffaello" at home, we describe further.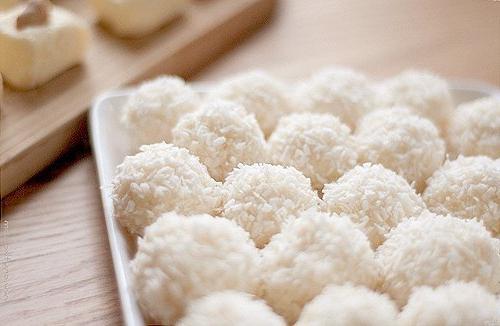 What do you need?
Take the list and go to the store. There we need to buy:
- condensed milk - 1 can;
- butter - 200 grams;
- vanilla sugar or vanilla - 1 bag (about 10 grams of sugar);
- Almonds - 0.5 cups;
- Coconut chips - 150 grams.
The process of creating goodies
In the recipe of cooking "Raffaello" in the home there are no inaccessible or too expensive components. The only ingredient that can be replaced is nuts. In the classic version of the candy is almonds, but instead you can use peanuts or hazelnuts, depending on your desires and imagination.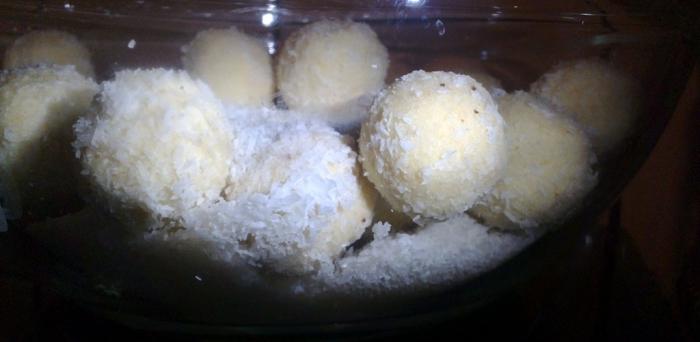 How to start the preparation of this dessert?
From the very heart of the candy - from the nuts. It is necessary to preheat the oven and fry the almonds. Instead of the oven, you can use a dry frying pan and dry the nuts on the stove, most importantly, do not forget to mix, so as not to burn burnt nucleoli. The main component of cooking "Raffaello" at home is condensed milk. It should be whipped until smooth with softened butter, vanilla sugar and 100 grams of coconut. After that, remove the resulting thick mixture in the refrigerator for 10 hours. It is best to do this in the evening, then by morning the basis for cooking "Raffaello" at home will be suitable for use.From the present and thickened mass it is necessary to form small balls. In the middle of each of them should be put on 1 nut. Roll the balls better with hands moistened with water so that they do not stick. After that, they should be well wrapped in coconut chips, then put on a flat surface, covered with a layer of parchment paper. Keep a distance, do not let the blanks stick together among themselves. Ready candies need to stand in the refrigerator for a couple of hours for better curing. After that, the dessert is ready to serve. It goes well with green tea, champagne or white wine, so it will be a great addition to a romantic dinner.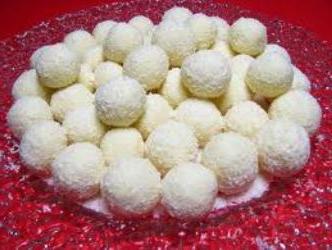 Conclusion
Homemade "Raffaello" taste is no different from its industrial counterpart. But it does not contain any preservatives, therefore it is best to keep it in a cool place. Although those who already know how to make Raffaello at home, they say that they will not have to keep it for a long time: fans of the sweet eat such a delicious dessert as soon as possible. Now you can surprise your household and friends with these wonderful candies, valuable not only for their stunning taste, but also for the fact that they are made by hand from the heart.
Related news
How to do Raffaello at home image, picture, imagery