How and what to feed the Yorkshire terrier
You have a dream come true - a small barking creature has appeared in your house - a Yorkshire terrier. If you want your baby to be healthy and have lived with you for many years, you should pay particular attention to his diet. What to feed the Yorkshire terrier? Now we will tell you about the principles for doing this. First of all, be aware that the Yorkies have a very delicate digestive system. Improper diet can cause abnormalities in the stomach. Therefore, the dog should receive all the necessary vitamins and trace elements from birth.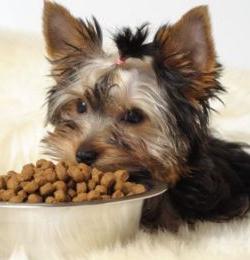 What to feed the Yorkshire terrier: natural or ready-made food?
Only you can answer this question. We only give the arguments "for" and "against." If you want to feed with natural food, then the choice of products for feeding York should be approached very responsibly. The basis of a balanced diet is raw beef (scalded with boiling water). In addition, you can feed York by-products, raw or boiled vegetables, boiled cereals (buckwheat, rice), dairy products (kefir, cottage cheese), yolks.All products should be cleaned, washed, cut into small pieces, if necessary, then heat treated. With ready-made feeds, everything is simpler: you bought and fill your pet as needed. The important thing is to choose the right one. Choose high-quality feed (expensive). Those that are sold in supermarkets are not suitable. Whichever option you choose, the animal must always have clean water.
What to feed a puppy Yorkshire terrier?
The diet of babies should be balanced, consist of the same products as for an adult dog. The only difference is the number and volume of servings.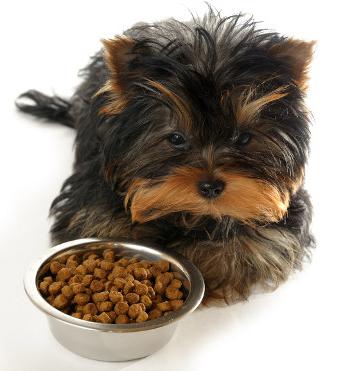 Feeding a Yorkshire Terrier puppy: a simple scheme
Baby York should be fed strictly on the clock. Remember that portions should be small. Do not overfeed puppy. If you choose ready-made feed, then the scheme is as follows:
up to three months you need to feed six times a day;
up to four - 5 times;
up to six months - 4 times;
up to ten - 3 times.
The board
If you opt for natural food, then when feeding you need to alternate food. When the puppy is ten months old, it can be transferred to two meals.Such a system can be followed further.
Recommendations to owners
Do not give your dog too cold or hot food. Salty and spicy foods are prohibited.
Fish - this is what you can not feed the Yorkshire terrier. Since it may be small bones. In addition, there are worms in river fish. For the same reason it is worth refusing raw offal.
Legumes, sausage, potatoes, bones - all this has a bad effect on the digestive system of York.
From fatty meat (pork, lamb), too, should be abandoned. Although animal protein is an essential element of the diet of such a dog, especially during active growth.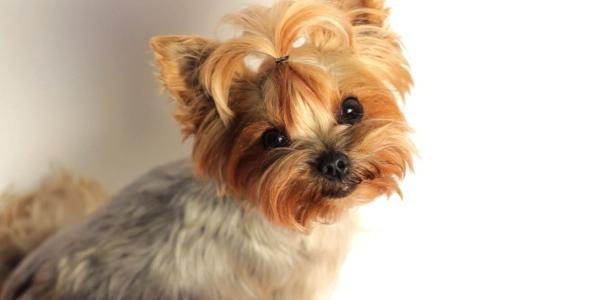 Conclusion
Now it is clear what to feed the Yorkshire terrier, what he can and cannot do. Take care of your pet, choose for it only high-quality food!
Related news
How and what to feed the Yorkshire terrier image, picture, imagery