Golden Chinchilla cat: description of the breed, character, characteristics of care and maintenance
Appearance history
have long won the favor of connoisseurs due to their aristocratic and good nature. They have a lot of varieties of color. Shaded species are more popular under the name of chinchillas, their color resembles the coloring of these animals.
Initially, the cat was bred, which had a silver color. The golden chinchilla cat appeared later, at the end of 1880.
Silver color turned out to be blurry, unlike gold, and therefore did not have such popularity. To obtain a gold color, breeders crossed Persian chinchillas with classic breeds of the same type or with smoky British cats. Thanks to this, they managed to achieve the desired result.
Color Description
Cat golden chinchilla got its name thanks to a new variety of color.She has a neat soft fur of medium length, golden brown. At first glance it may seem that the cat has a monotonous color. However, if you look closely, you can see that the golden chinchilla's hairs have a heterogeneous color. Gentle-peach color of the base of the hairs to their endings is replaced by a black shade.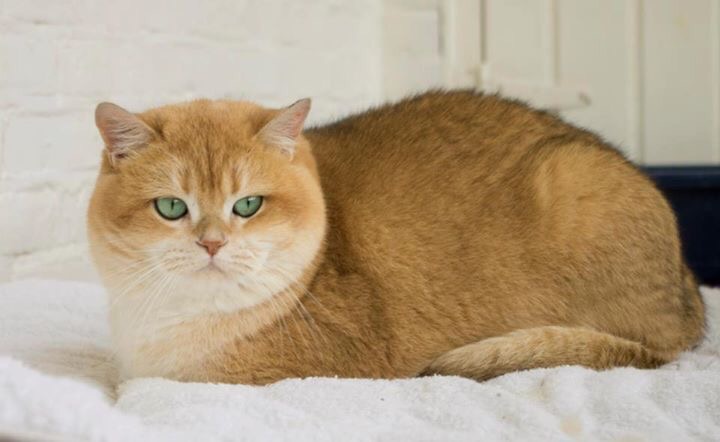 It turns out that the color of this British has a certain feathering. There is a slight difference in the color of gold chinchillas, but it is considered immaterial. A British cat with a golden chinchilla color according to the exhibition standard should have a bright peach color, other shades are considered acceptable, but undesirable.
Breed description
This breed is characterized by beautiful rounded body and limbs. In cats, the harmonious proportions of the head, paws and tail in relation to the body. They are achieved not only due to thick and dense wool, but also thanks to a fairly well-developed muscles. Hind and front legs have the same length, the tail on the end is slightly rounded.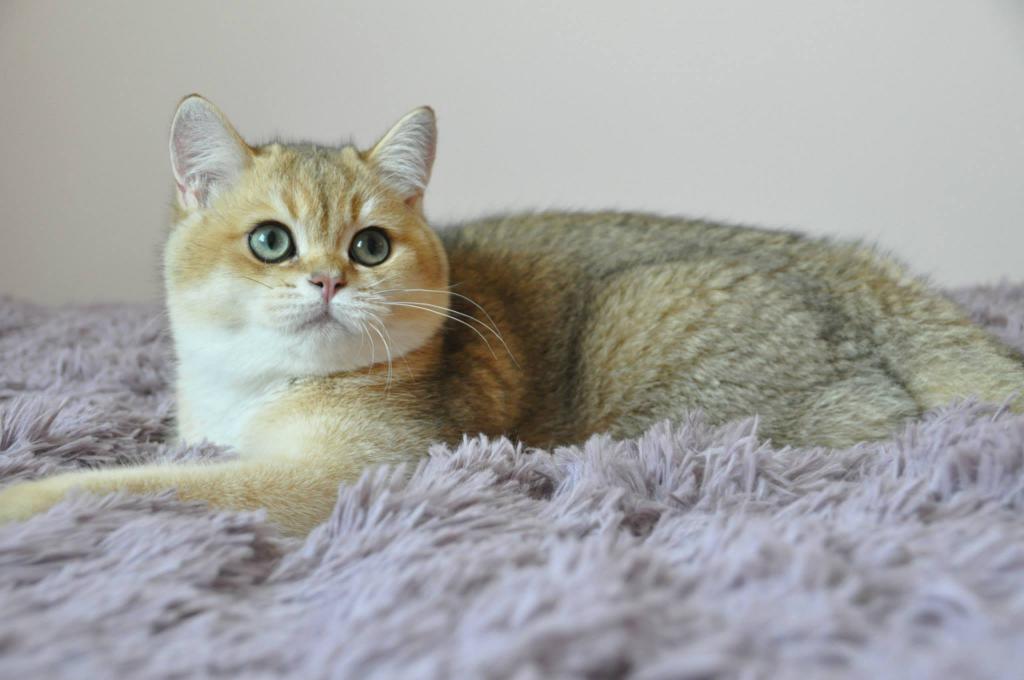 The head of a golden chinchilla cat has a massive shape with a pronounced chin and large, shallow eyes.The eye color is usually deep green or emerald green, but it is also found golden. The ears of these cats are wide, of medium length and covered with short hair. The forehead is wide and has a flat shape.
Cat character
The nature of the cats golden chinchilla is distinguished by calmness and poise, for which they are often called aristocrats. However, besides this, they have rather strongly developed stubbornness or even obstinacy. Suppose if a pet decided to sleep on your pillow, then it will always go there. Wean him from this will be quite difficult, so raising these cats need to be engaged from an early age. In this case, there is an opportunity to grow a pet who will listen to you.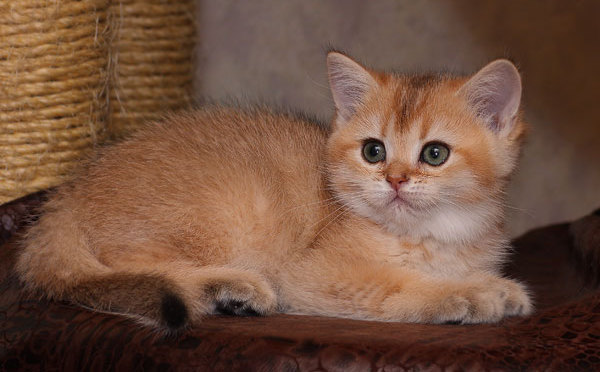 These cats calmly tolerate the absence of owners, but still prefer to be in their company. At a small age, kittens are very active and love to play. Usually these cats become attached to their owners and become true friends for them.
Maintenance and care
British cats (golden chinchilla including) do not require special care and attention. The main requirement is timely pet combing.To do this, use special brushes or gloves. Despite the fact that the wool of these cats is of medium length, it is very dense and with a thick undercoat. Combing is carried out as necessary, and during the period of molting it must be done every day.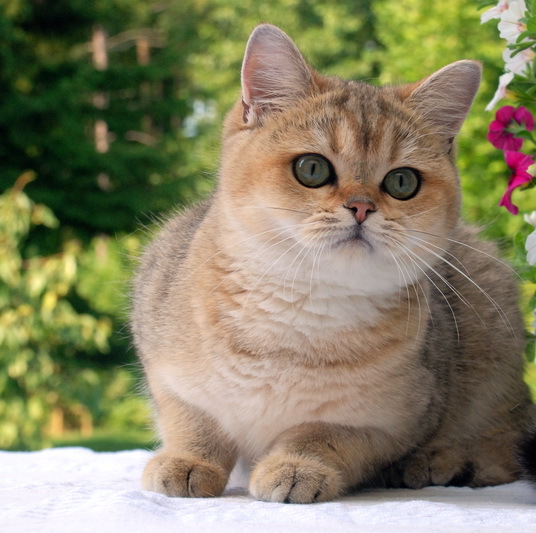 For a pet, it is recommended to equip a special area in the house where he would have the opportunity to sharpen claws and play. Make it necessary, because otherwise the cat can ruin your furniture. Chinchilla claws grow fast enough, and therefore the pet needs their constant sharpening.
Cat golden chinchilla differs not very strong teeth, so for long-term preservation, they must be cleaned with special compounds that are sold in pet stores. Also, due to the peculiar shape of the eyes in these cats, it is recommended to wipe them with tampons dipped in clean water or in a weak infusion of medicinal chamomile.
Pet food
You can feed the golden chinchilla cat with various types of food. It is recommended to give ready-made food, which is balanced by the manufacturer for the pet of your age. Regardless of whether it is dry or canned food, it already in the right proportions contains all the nutrients that your cat needs.
However, if you prefer to feed your pet with natural food or combine it, you need to take into account some features. It is recommended to make a diet of the following products:
Meat.
A fish.
Dairy.
Vegetables.
Fruit.
It is very important not to overfeed your pet and correctly formulate its diet. Overeating will most likely lead your cat to develop various diseases of the gastrointestinal tract, liver and kidneys.
Recommendations on the preparation of the diet
Meat, including chicken, cat golden chinchilla must be given without lived and bones. Chicken fillet and meat tenderloin are preferable. You can combine the diet on your own.
When feeding a pet with fish, it is necessary to remove absolutely all the bones and entrails, including the tail and feather fins. The type of fish is unimportant, as long as it is not too fat. Dairy products are recommended to give no more than two times a week. This may be milk and dairy products.
Oddly enough, many cats love fruits and vegetables very much. To determine which ones your pet will like, you should periodically offer them to him.He will be happy to eat exactly those that he likes. The cat knows which vitamins it needs.
Cats must be fed three times a day, in the morning, afternoon and evening. Be sure to next to the food should be dishes with clean drinking water. The water itself is recommended to change at least three times a day.
How much is a British golden chinchilla cat
This question will interest almost every amateur, after he first sees the golden chinchilla. Its prices can hardly be called democratic, but at the same time they are acceptable.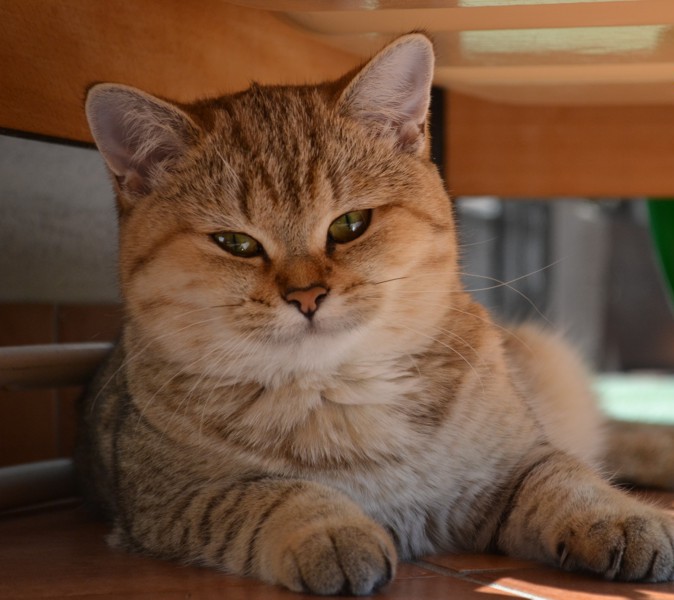 The cheapest representative of this beautiful breed will cost 10 thousand rubles. But there are instances of the golden chinchilla, which are much more expensive. The average price threshold is from 25 to 50 thousand rubles, such a spread is motivated by the pedigree of the cat. There are also representatives of the elite class for sale - these are individuals whose ancestors have not only flawless pedigree, but also various awards at international cat shows.
Breed Reviews
Ginger British cat color golden chinchilla, according to the owners, the pet is very controversial. Some owners argue that the cat is very calm and obedient and has a very appeasable character.Others say that these pets are very impulsive and cutting, subject to frequent mood swings.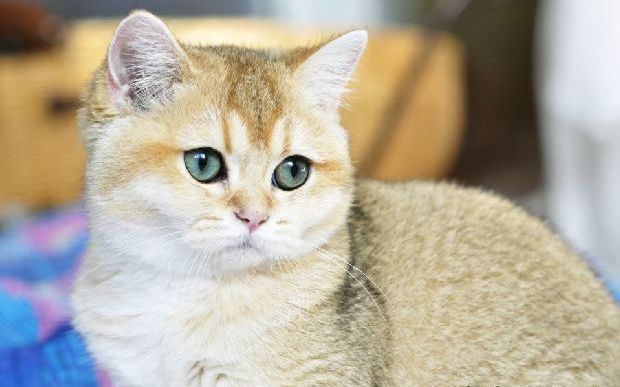 It is fair to say that the vast majority of such polar behavior of cats is explained not so much by their genetic characteristics, but by ordinary upbringing. Very much depends on the pet owners themselves. The cat has a very firm and capricious character, but at a young age it can be made more docile. By spending more time raising a golden chinchilla kitten, in the future you will get an obedient adult.
Nevertheless, despite the fact that, according to reviews, cats behave differently, absolutely all owners are happy that they have brought just such Britons. These representatives of the cat delight their owners not only with their beautiful appearance, but also with sincere devotion. Regardless of the nature, these creatures are very attached to their owners.
To buy this really beautiful and smart cat or not, you decide. If you are determined to have such a pet in your house, then you must follow all the recommendations. In this case, the cat golden chinchilla will become a true friend to you and will delight all household for many years.
Related news
Golden Chinchilla cat: description of the breed, character, characteristics of care and maintenance image, picture, imagery