Dog paper mask do it yourself
Do you make a dog mask yourself? There is nothing easier. For every taste and color, you can pick up a lot of ready-made templates and get great pleasure from both the manufacturing process and the result of the work done.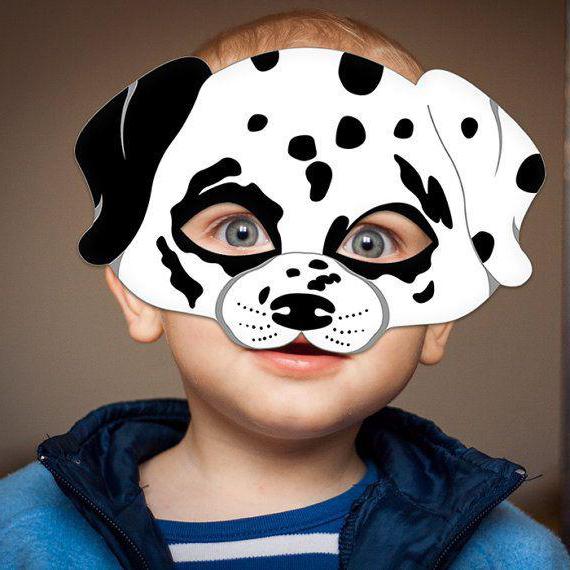 Paper dog mask
A paper mask, with or without a costume, can perfectly complement the image of the chosen character for a children's party, a school play and an event. Or it can be fun entertainment and fun on a rainy day. How to make a dog mask with your own hands? Simple step-by-step instructions will help to understand everything.
You will need scissors, glue stick, scotch tape, tape or elastic for mounting on the head.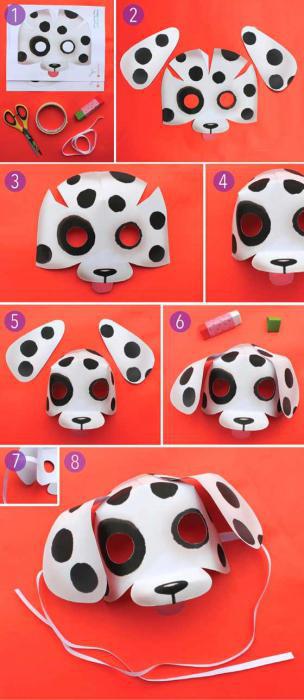 Step 1
First you need to draw or print a template. To mask the dog was more durable, the paper should be chosen more tightly.
Step 2
Carefully cut out the main mask pattern, not forgetting the eye holes and ears.
Step 3
We glue the middle incision where the dog has a forehead with glue-stick, and make additional anchoring on the back of the mask, using a small piece of scotch tape.
Step 4
Like step 3, glue the side panels together. Thus, a volumetric dog mask is obtained.
Step 5
We add ears, for this purpose we simply glue them symmetrically on the upper part of the paper head of the dog.
Step 6
To get a nose, you need to bend a little bit vrutr the lower part of the mask at the level of the nose.
Step 7
Measuring the pre-size of the head and pick up the appropriate gum or tape, glue it to the mask with adhesive tape.
That's all! Your dog mask, made with your own hands, is ready for fitting. Picking up her spotted suit from the most simple things, you can get a beautiful image of a tomboy-Dolmatin.
Other options
You need: paper, scissors, elastic tape, glue, colored pencils.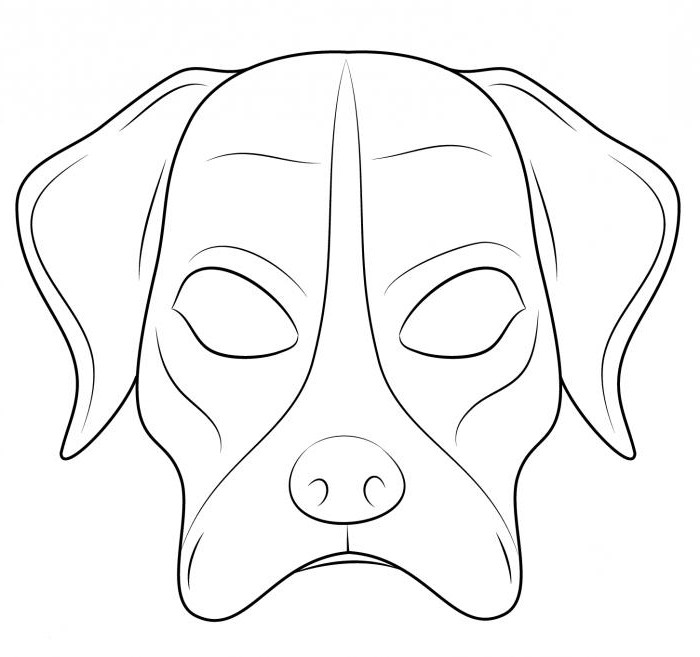 To get such a lop-eared dane, you just need to cut a neatly printed template along the contour, as well as space for the eyes. You can paint it and make the mount on the sides in the form of an elastic band for fixing on the head.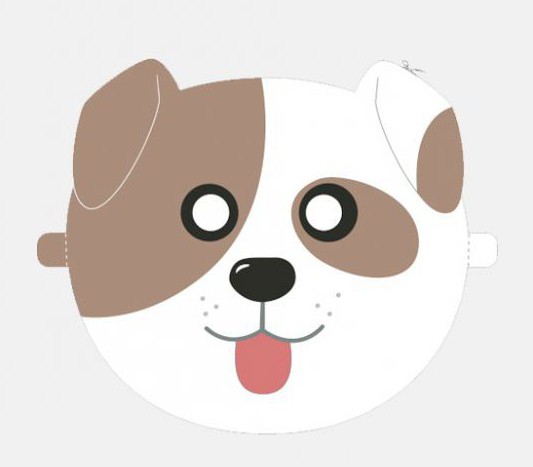 Such a cute puppy can also serve as an example of a simple mask.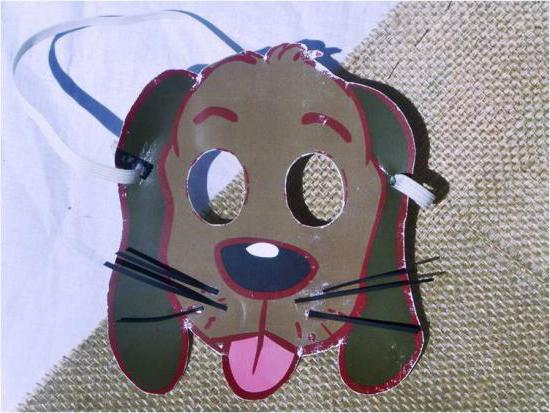 Often, children want to look like their favorite cartoon characters. In this case, you can make for them masks of puppies from the cartoon "Paw Patrol".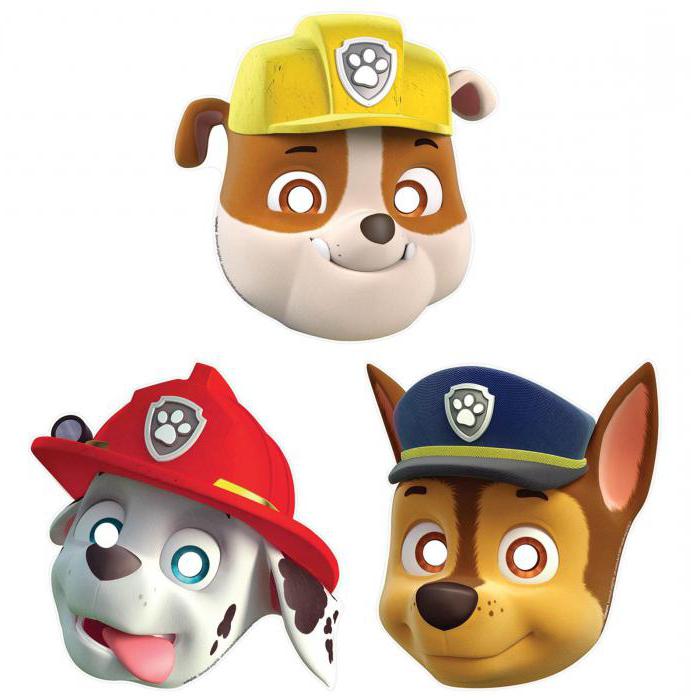 Depending on the purpose for which the mask is made (for a specific performance on stage or a simple game with friends in the backyard), a costume is selected that you can buy or make yourself.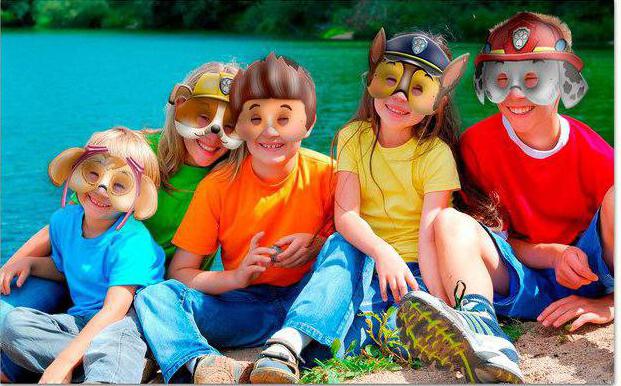 Suitable case
Where can I wear a mask? You can use this costume attribute for a number of occasions and events, such as:
halloween
school performances;
friends' birthdays;
parades;
special events;
Even with a little creativity you can easily make an unforgettable surprise for your child.
Making a mask with your own hands can be a real creative endeavor that unites children and their parents.
There are many options, everyone can choose for themselves a sketch corresponding to his individuality.
Masks can be fastened with the help of years or rubber bands, so not at all. It may be just a flat image on a wooden stick. This option is well suited for a masquerade ball or a comic photo shoot.
And most importantly, whatever you do, let it bring only pleasure, joy and positive emotions. You can, of course, buy ready-made copies in the store and not bother about it. And you can spend a little time and create something unique.So, with the help of scrap materials, you can make quite a realistic suit, and also add to it some accessories in the form of a hand-made mask, a collar made of an old belt or soft cotton tape.
Related news
Dog paper mask do it yourself image, picture, imagery