Cocktail cherry: description, application and methods of preparation
Cooking food and drinks is a complex process that requires a certain amount of experience, skill and dexterity. To make the dish look appetizing and attractive, it is necessary to think over its decor well. For this purpose, cocktail cherry is used in cooking. It can be purchased at the store in the form of canned food or cook yourself in one of the ways described below.
Detailed description
Cocktail cherry is used as a spectacular addition as a decoration for:
ice cream and all sorts of desserts;
baking;
confectionery;
drinks;
fruit salads.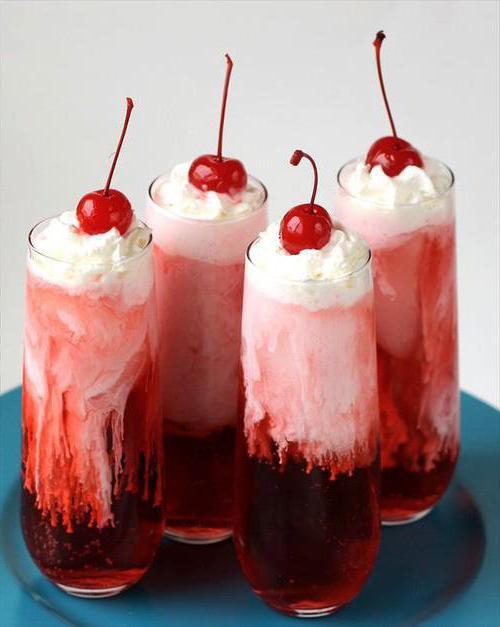 Interesting colors. In addition to the traditionally red, there are also green, yellow, purple, blue and orange berries. Such cherries differ from ordinary fresh berries in unusual transparency. From the side it may even seem that they are made of some synthetic material.The fact is that this decor item is prepared using a special technology consisting of several stages:
processing in a special solution;
pitting;
whitening;
soaking in water;
sugar saturation;
staining.
After such processing, the berry changes not only its appearance, but also its taste and other organoleptic characteristics.
A bit of history
Many of these berries are better known as "maraschino" cherry. Where does this unusual name come from? The fact is that initially the raw material for the original decoration was the fruit of the cherry tree varieties "maraska" growing on the Adriatic coast. These berries are very small, almost black in color, and their taste is slightly sour, with a slight bitterness and almost not sweet. But European nobility was simply delighted with their original look. Cherry bought in large quantities. True, for transportation over long distances, the fruit had to be salted or pickled. New rise in popularity of unusual cherries occurred in America in the early 19th century. In every pub, bartenders added them to alcohol. Pre-products were soaked in alcohol, treated with acids and salts, and then candied in a sweet syrup.
Technology secrets
Today, on a production scale, several companies produce cherries for decoration. The most famous of them are Luciano, Mikado, Maraschino, Cherry Man and Dr. Oetker.
How to prepare a cocktail cherry? Each manufacturer has its own recipe and technology.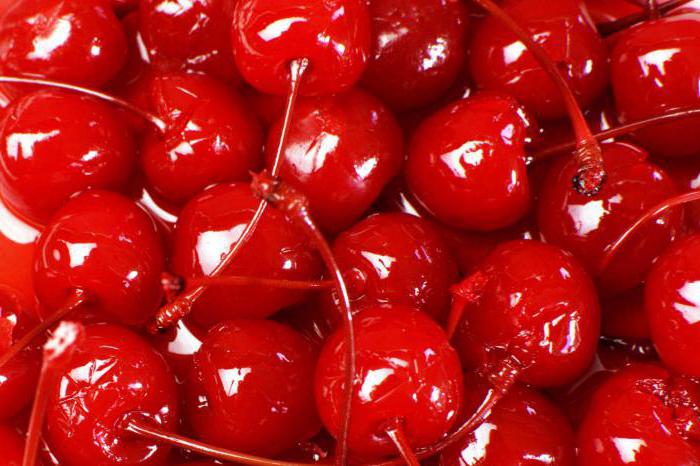 For example, Dr.Oetker has the candied fruit as follows:
First, fresh fruits for 4-6 weeks are soaked in a special chemical solution consisting of quicklime and sulfur dioxide. After that, instead of red, they become ivory. In addition, the pulp of the berries noticeably compacted.
With the help of special devices from cherries extracted bones.
After this procedure, the berries are kept for some time in sodium chloride, and then they are soaked in water for a long time. So from them reagents which promoted to decolouration are completely removed.
To make the processed material more dense, the workpieces are 14 days in a solution of sodium bisulfite.
The cherry processed in this way is poured with sugar syrup. To flavor it add mint and almonds.
With the help of various food dyes, the finished product is given the desired shade.
For an ordinary customer, products are packaged in small-scale vacuum packaging. This is done so that it does not need to be stored for a long time after opening.
Delicious addition
Many people believe that cherries made for decoration should not be eaten. Of course, if you only imagine what kind of chemicals were exposed to a natural product, then you immediately lose the desire to try it. For those who are accustomed to decorating their culinary creations, we can advise you to prepare your favorite decor item yourself. Cocktail cherry at home is very simple. For the work will need the following components:
for 600 grams of cherries, one and a half cups of water, a pinch of salt, 105 milliliters of lemon juice, ½ cups of pomegranate juice, a peel of 1 orange, anise star and a cup of sugar.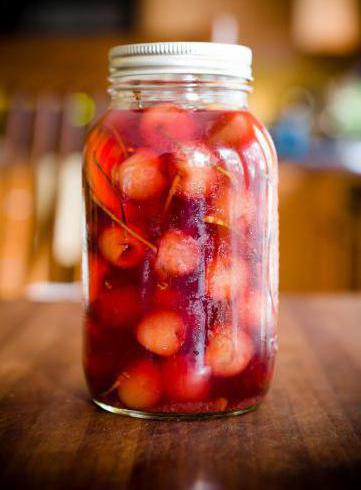 To make such a cherry should be as follows:
Fresh fruit to wash and gently remove bones from them. At the same time it is desirable to leave the stalk.
All other ingredients to collect in one pan and bring the mixture to a boil, heating over medium heat. Boil until sugar crystals are completely dissolved.
Fill up the berries and continue the process for another 10 minutes. During this time, the fruits will turn pale, and the syrup will become cherry-colored.
Remove the pot from the heat and wait until its contents cool to ambient temperature.
Berries spread on sterilized jars, pour syrup and keep in the refrigerator for about 3 days.
After that, fragrant cherries can be used to decorate drinks and desserts, or just eat with pleasure.
Worthy analog
Not everyone has the opportunity to try real maraschino cherries. But do not despair. Any product can always find a worthy replacement. There is one very simple way to make a cocktail cherry so that it has the desired original flavor. The recipe is very simple. It requires only 3 ingredients:
450 grams of fresh cherries some sugar and a bottle of Maraschino liqueur.
From the dishes will need only a glass jar with a tight lid.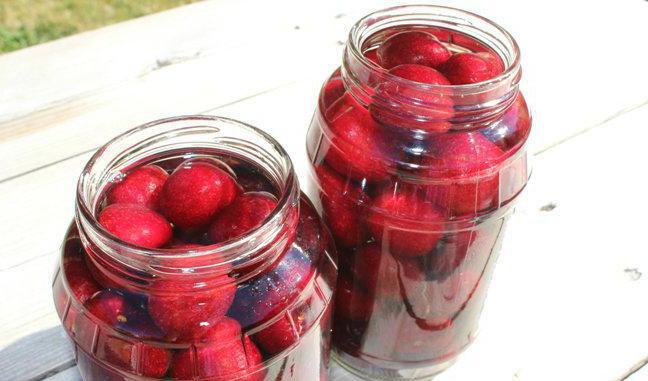 Method of preparation:
Berries need to be washed and let them dry properly.
Fruits put in a jar and pour them with liquor.
Add sugar (if desired). For quick dissolution, it is better to prepare a syrup from it.
Close the jar with a tight lid and put in a cool place for 2 weeks. For maximum effect, it is better to wait at least a month.
After that, cherries are ready to eat. They taste much better than those that are made in factories with chemicals. Such berries will not only decorate any dish, but will also become a good dessert.
Professional Tips
Some employees of bars and other pubs also prefer to use cherries cooked on their own. In their opinion, such products are in no way inferior to those made in factory workshops. To verify this, you can try to repeat one interesting cocktail cherry recipe at home. For the work will need the following components:
0.5 kilograms of cherries (pitted), 200 milliliters of bourbon and dark rum, 2 cinnamon, 3 cloves and 2 black cardamons.
Everything is done very simply and quickly:
All ingredients are collected in one container.
Put it in a dark cool place for 2 days.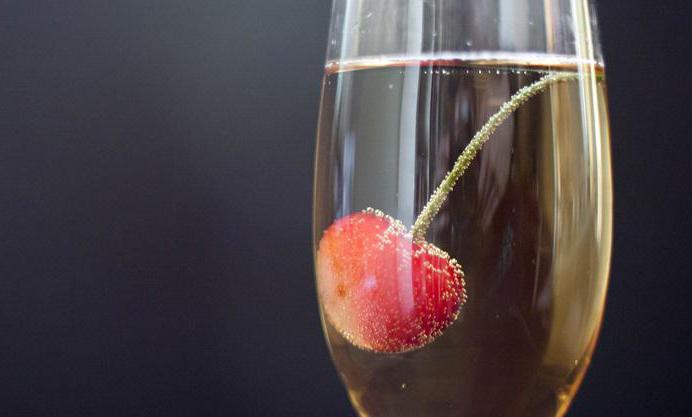 After that, fragrant, juicy and very tasty cherries will be ready. Such berries can be safely added to various cocktails.They can not only decorate the drink, but also give it an original flavor. In addition, this versatile garnish will suit any dessert or fruit salad. Moreover, these cherries can be stored in the refrigerator for a long time. Even after a few months, their taste and appearance will remain the same.
Related news
Cocktail cherry: description, application and methods of preparation image, picture, imagery