Chicken Olivier: recipe with photos
At the word "Olivier", we immediately recall the New Year, friends and relatives who gathered at the same table, champagne and the chiming clock. Each housewife prepares this famous salad in its own way, often experimenting with the composition and adding to it new flavor notes. Olivier with chicken can be done in many ways, and in this article we describe the most interesting recipes.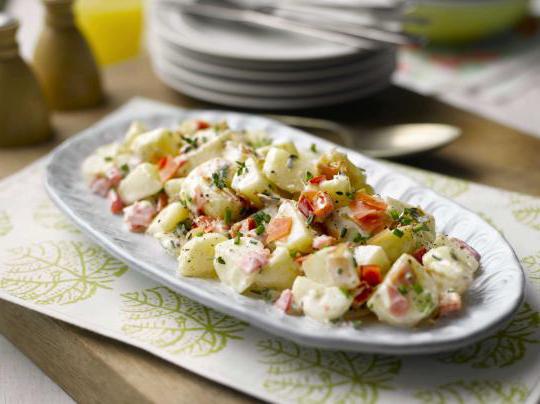 Traditional New Year's Salad
Until now, the debate about which products includes the classic salad (with chicken) does not abate. The fact is that the original recipe was based on ingredients such as beef tongue, grouse, caviar and so on. Over time, the composition of the salad appeared potatoes, green peas and boiled sausage. However, the citizens of our country do not pay attention to such "trifles" and continue to prepare this wonderful dish in their own interpretation. And they are doing it right, because from the hands of diligent housewives, sometimes wonderful dishes come out, not at all worse than the classic Olivier.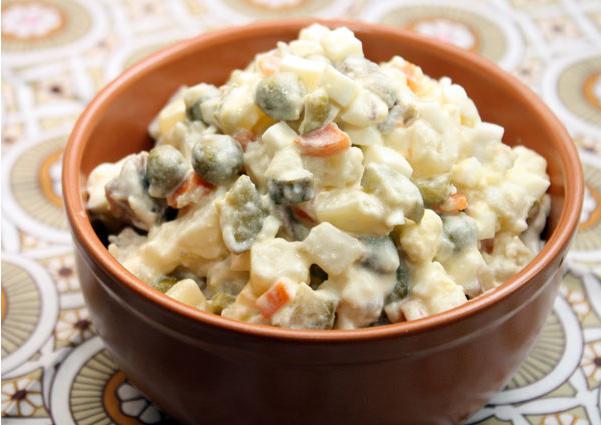 Olivier in Soviet style
Every Russian knows the taste of this salad firsthand.You can not go wrong if you prepare a dish familiar from childhood for the holiday. The only change we allowed ourselves to make to the Soviet recipe was to take chicken breast instead of sausage. Cooking:
Boil chicken breast, three eggs, two potatoes and one carrot until cooked.
Cut the cooled products into a cube and mix in a large salad bowl.
Add to the chicken and vegetables a jar of canned green peas, three pickled cucumbers (also diced) and half of the chopped onion.
Salad salad, season with mayonnaise and let it brew a little.
If you increase the number of products in this salad two or three times, then you will be able (as is customary here) to treat the guests for a few days. Therefore, you should not fill the dish with mayonnaise immediately, but immediately before serving.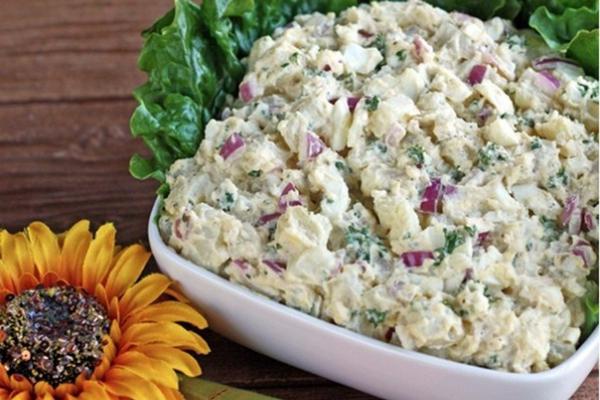 Chicken and Apple Olivier
This recipe differs from the traditional one in that it consists of fresh cucumbers and sour apples. Perhaps that is why this dish is called "Summer Salad". One way or another, but the taste of the New Year's dish from the product change only benefits. Chicken Olivier Recipe:
Boil fresh chicken breast in salted water until tender.
Two hard-boiled eggs, one carrot and two potatoes - in uniform.
One red onion, a large fresh cucumber, eggs, skinless chicken fillet and boiled vegetables cut into cubes.
Peel the apple and the core, and then grate it. Chop green onions.
Add green peas and mix all the products in a salad bowl with salt and mayonnaise.
Place the lettuce leaves on each plate and carefully put a portion of summer chicken salad with the help of a pastry ring.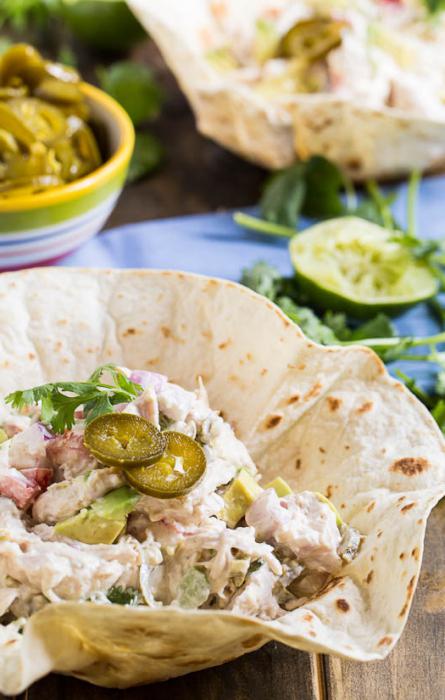 Smoked Chicken Olivier Salad
As is known, boiled chicken in a salad is rather dry, and even the fattest mayonnaise does not help to hide this fact. Therefore, many housewives use smoked chicken for cooking olivier. The finished dish turns out juicy and fragrant, and, therefore, enjoys great success with all participants of the feast. Smoked Chicken Olivier Recipe:
Clean smoked breast from skin, separate from bones and cut into cubes.
Crush boiled potatoes (three pieces) and one large boiled carrots.
Half a bulb and two boiled eggs also cut into a cube.
Add to the prepared food half a can of green peas, salt and mayonnaise to taste. Mix well, let it brew for a while and serve.
It is not necessary to offer this salad in the traditional way - in a salad bowl or in portions. So, for example, you can arrange it in small homemade tartlets of dough or cheese and serve it along with snacks.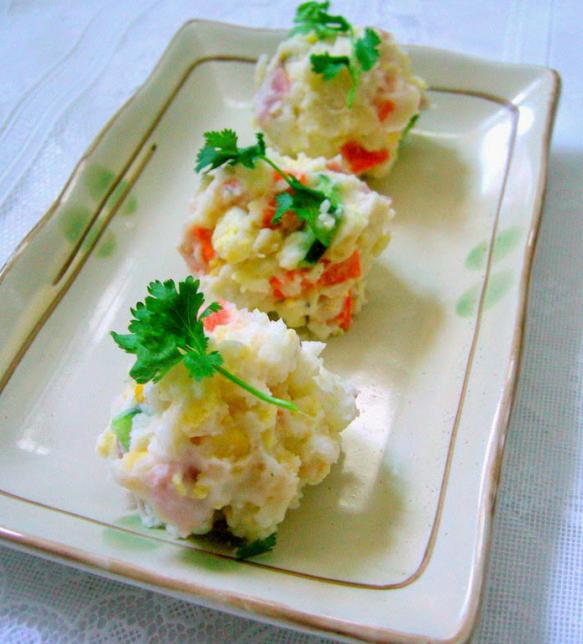 Spicy olivier
The amazing combination of meat and seafood in one salad will not leave indifferent any admirer of the New Year's Olivier. And the original design of the dish will help you collect deserved compliments to your address. Chicken Olivier Recipe: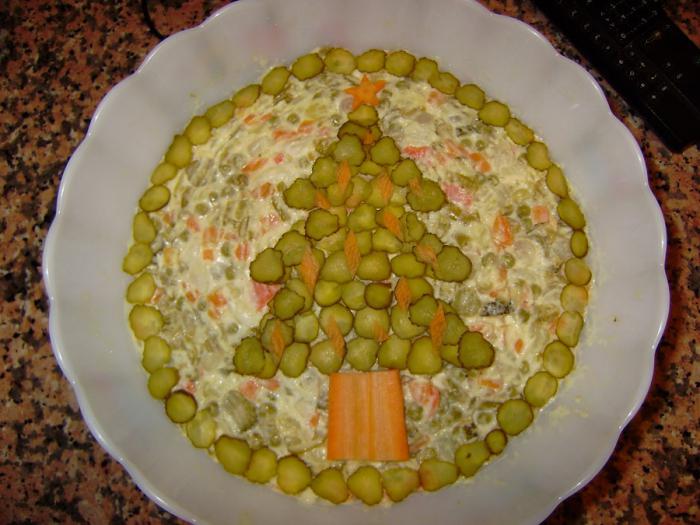 Boil potatoes, carrots, eggs and chicken until tender.
Boil shrimps (150 grams) in salted water.
Chop the onion and dice the vegetables and meat.
Mix green peas and other products in a large saucepan. Add mayonnaise and salt.
Put the salad in the form of a pointed cone on a flat dish. Decorate the top of an improvised Christmas tree with a star carved from a cherry tomato. Spread whole shrimps at the foot as gifts, and sprinkle the salad with chopped green onions.
Olivier with mushrooms and chicken
If you have not tried this version of your favorite salad, we recommend making it for the next holiday. We assure you that you will not regret. Olivier with chicken and mushrooms are prepared as follows:
Boil two chicken legs in salted water. Let them cool, separate the meat and cut it into cubes.
Onion cut into half rings and marinate briefly in lemon juice.
400 grams of champignons chop and fry in vegetable oil.
Two fresh cucumbers, four eggs, boiled potatoes and carrots cut into cubes.
In a salad bowl, mix all the ingredients, add the green peas, chopped olives and parsley. Put salt and mayonnaise in the salad and mix well.
Quail eggs olivier
Delicious and beautifully decorated salad will always look beneficial on your holiday table. For this option you need:
Meat one chicken breast to fry until cooked on aerogrill (you can make it in the oven), cool and cut into long slices.
Boil quail eggs until cooked - five for salad and one per serving for decoration. Let them cool, peel and chop finely.To prevent the shell from entering the salad, rinse the peeled eggs under running water.
Cook, peel and dice three potatoes and one carrot.
Mix all the products, add to them canned peas, chopped onion, salt and mayonnaise.
Winter Salad Tips
Try using smoked or grilled chicken instead of boiled chicken. You might like the chicken leg salad cooked in the oven. To make the meat taste more bright, pre-pickle it in a mixture of mayonnaise, sour cream, adzhika and salt.
There is a popular belief that the number of potatoes and eggs in a salad depends on the number of guests. True or not - you decide.
Cooked vegetables should be cooled at room temperature. In no case can you mix hot foods with cold foods, otherwise the taste of the finished dish will not be as good as you would like.
Olivier with chicken does not necessarily fill the usual for all the mayonnaise purchased at the nearest supermarket. Surprise your guests with a salad dressing with lemon juice, garlic or mustard.Do not be afraid to experiment with new tastes and soon you will achieve the desired success.
Olivier with chicken, the photos of which were presented above, can be served with black or red caviar. This little touch will instantly change the taste of the dish and give it a special chic.
Do not forget about the design of a festive dish - make it original, bright and memorable. To do this, you can use the following methods: place the salad in tartlets, spread each serving with the help of a culinary ring on the lettuce leaves, decorate the dish with quail egg halves, olives and greens. If you have outstanding artistic abilities inside you, then try using different colored products to depict a clock, a New Year tree or a snowman on a salad.
To prevent your holiday dish from spoiling, season it with mayonnaise just before serving.
Pay special attention to the choice of products. Since we often cook this salad on an industrial scale, each ingredient should be as fresh as possible.
Related news
Chicken Olivier: recipe with photos image, picture, imagery