Bread, as you know, is all over the head. It is difficult to imagine a dining table without him. This product contains many beneficial trace elements. They are especially rich in rye and bran bread. It can be eaten with both sweet additives in the form of jam, jam, chocolate cream, and with sausage, cheese, onions, vegetables and various pate.
Bread Dishes
Bread is used as a link in the composition of meatballs. Also from it prepare crackers with various tastes. The stale bread can be revived by making croutons or French toast. Usually their recipe includes such basic products as milk and chicken eggs. Depending on what additional ingredients will be used, you can get dishes that are perfect as a breakfast, dessert or a festive snack.
Fried egg bread with sausage and cheese
All men will like this quick breakfast recipe. It will take no more than fifteen minutes to prepare it, and you don't have to be a restaurant chef to make bread in an egg.
So, the grocery set:
half white loaf;
fresh milk - one glass;
hard cheese - two hundred grams;
sausage or ham - three hundred grams;
chicken eggs - 2 pcs .;
vegetable oil for roasting - fifty grams;
table salt - one teaspoon
any spices - to taste.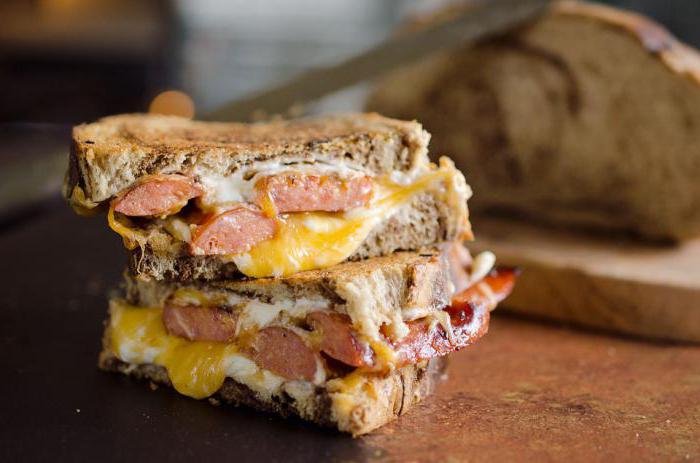 And now the cooking sequence:
Bread should be cut into portions.
In a deep bowl, beat eggs, milk, spices and salt with a fork.
Cut sausage or ham into small cubes.
Cheese grate a large grater.
In a hot frying pan, pour in vegetable oil.
Dip pieces of bread in the egg-milk mixture and fry on one side.
Fry fried egg in bread, sprinkle with sausage and cheese on top. Cover the pan with a lid and keep on fire for about one minute. If desired, the finished dish can be sprinkled with finely chopped fresh herbs.
For tea
If you suddenly want something sweet, but not enough cash in your wallet to buy confectionery, and at home there is only a minimal set of products, you should try to make bread in an egg with milk and sugar.
To prepare a simple dessert, you will need the following ingredients:
white loaf or bread - three hundred grams;
milk of any fat content - half a glass;
chicken eggs - 2 pcs. medium size;
sugar - three dessert spoons.
To the future sweet croutons do not fall apart during frying, bakery products, it is desirable to take yesterday's pastries. In addition, they will be better soaked with a mixture of milk and egg.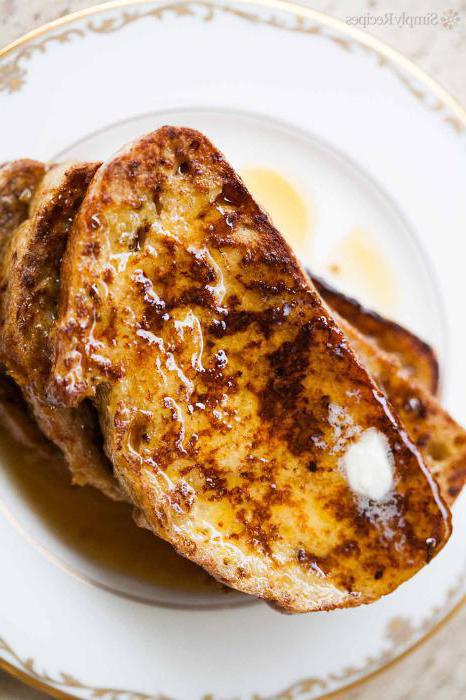 Stages of cooking:
Cut the loaf into equal pieces of about 1.5 centimeters thick.
Prepare the egg-milk fluid. To do this, in a wide bowl, beat two eggs, add boiled milk to them, add sugar. This mixture should be thoroughly mixed with a regular table fork for two minutes until smooth.
Dip the prepared pieces of loaf into the sweet egg-milk mixture and leave them to soak for about two minutes.
Place a frying pan on a gas or electric stove and allow it to heat up. Bread in an egg with milk is best roasted in deodorized vegetable oil or cream - who likes it. Soaked pieces of loaf need to cook over medium heat, so as not to burn. It usually takes about four minutes to fry bread in an egg on both sides. It is fast enough.
Bread in an egg with milk can be prepared as a complete breakfast dish for tea or as adessert. This simple recipe can be mastered by young hostesses.
Holiday Croutons
For their preparation you need to take:
one white loaf or wheat bread;
chicken eggs - five pieces;
any hard cheese - two hundred grams;
pickled boletus or other mushrooms - 200 g;
low fat mayonnaise - 200 grams;
four cloves of garlic.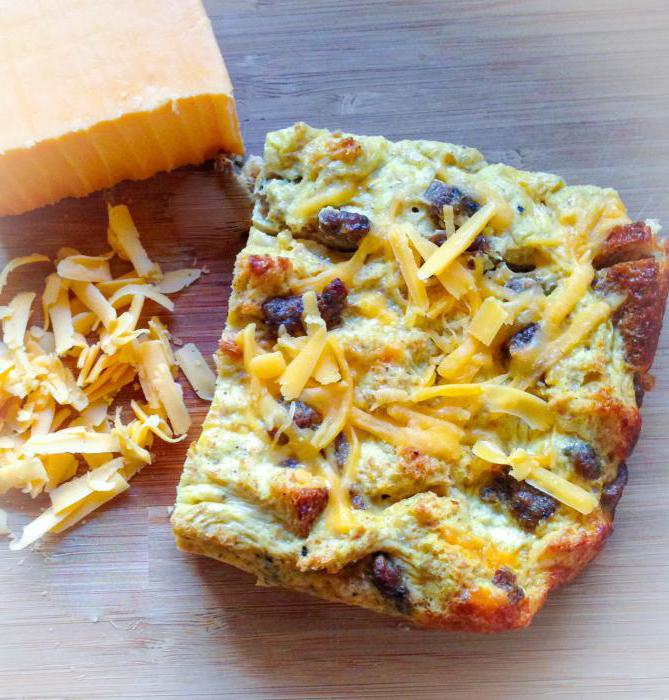 Start cooking:
Cut the loaf or bread into equal pieces of one centimeter thick.
Boil three eggs hard-boiled, cool, peel and grate.
Prepare the egg-milk mixture.
One side of the loaf (bread) must be dipped in batter and fry.
The back of the spread with a mixture of mayonnaise with garlic. Top on the bread in the egg spread out finely chopped mushrooms, sprinkle with grated yolks, proteins and cheese.
Ready-made bread in an egg (fried), the recipe of which allows you to easily feed your family with a tasty and satisfying dish, can be served as a cold snack. In addition, it goes well with strong alcoholic beverages.
Bread in an egg with milk: a recipe with photos
Very tasty French toast. The basis of their preparation is the fried bread in the egg. A batter usually has an unusual composition:
milk - 200 ml;
chicken eggs - 2 pcs .;
sugar - two dessert spoons;
vanilla sugar - a third of a teaspoon;
nutmeg - on the tip of a knife;
orange liqueur - two dessert spoons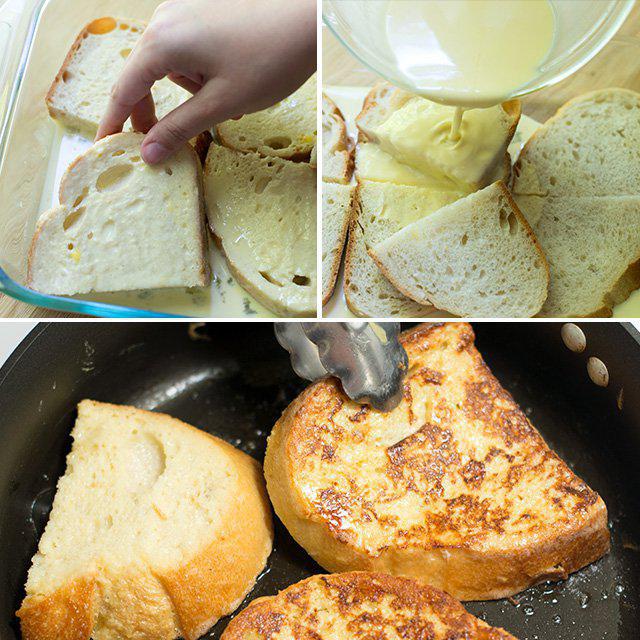 So, we start cooking:
Baton or bread cut into thick slices.
Cooking batter. To do this, carefully mix all its ingredients.
Every piece of future French croutons is well wetted in an egg-spicy mixture.
In a hot frying pan, melt three dessert spoons of butter and fry the loaf on both sides over medium heat until cooked.
Bread in an egg cooked in French, usually served, sprinkled with powdered sugar, with fruit syrup or jam. Wash down with hot tea or coffee.
Bon Appetit!
Charlotte
Fans of fruit pies can please themselves with such a quick recipe, like bread in an egg, fried with apples. He will rescue those housewives who do not work the oven.
List of required products:
milk - one glass;
granulated sugar - fifty grams;
chicken eggs - 2 pcs .;
apples - 2 pcs .;
half loaf or white bread;
vegetable oil for roasting - 100 ml.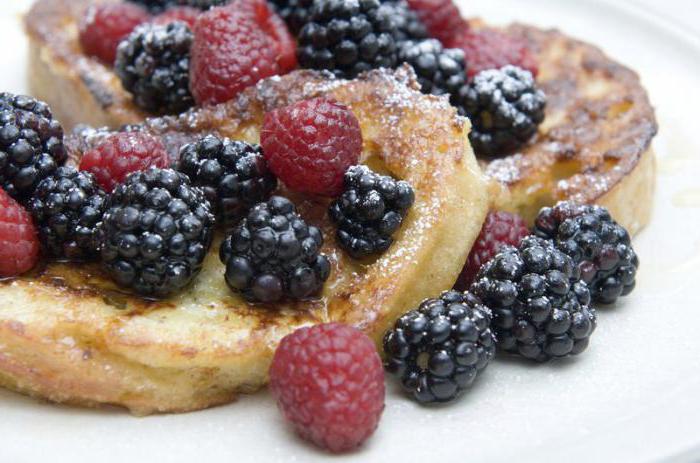 Sequencing:
To make a charlotte, you need to wash the apples and divide them into circles.
Baton (bread) cut into thin slices.
Milk, sugar and chicken eggs mix thoroughly.
Take one piece of loaf (bread), put apple slices on it and cover with the second. After that, "cake" dipped on all sides in batter and fry until cooked in a hot frying pan.
Top charcoal can be sprinkled with powdered sugar and decorated with fresh berries. The fastest apple pie is prepared for breakfast in a matter of minutes, and any fruit is suitable as a filling.
What is useful bread in batter
This versatile dish is perfect for both children and adults. Perhaps you should abstain only those who have elevated cholesterol.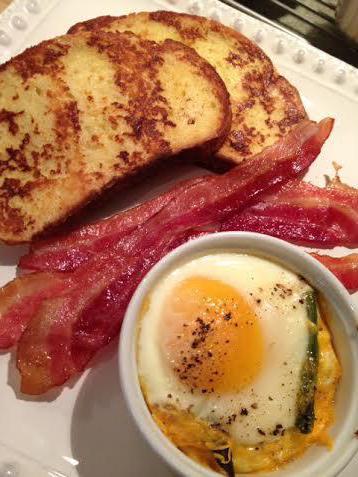 On the content of nutrients the composition of the dish is ideal:
bread is carbohydrates, fuel for the body;
eggs - protein, which is the building blocks of cells;
Milk is rich in calcium, strengthens the bone system.
Be healthy and enjoy your meal!
Related news
Bread in an egg with milk: a recipe with photos image, picture, imagery