Is bottle house a joke?
Sometimes there is a need and desire to build something on your plot: a gazebo, a garage, a shed, a playhouse for children or something else. But the material for construction, as they say, "bites" at its price ... Maybe someone will like the advice - to construct a structure out of junk. After all, you can even build a whole house ... from bottles!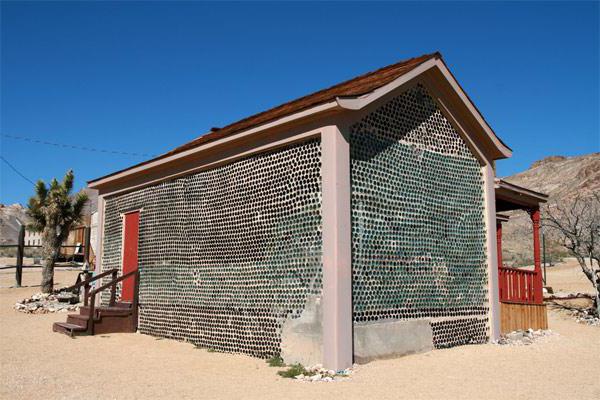 Strange dwelling about which the whole world is judging now
The first bottle house was built in Rhyolite, located in the south of Nevada, by Tom Kelly back in 1906. Since there was a wood problem in this corner of the planet, the owner of the saloon came up with an original way out.
In the case went packaging from under the whiskey, soda and beer, apothecary flasks. In total, almost 50,000 bottles and vials were used.
He lived there for 6 years. Then from 1936 to 1969 two other owners lived in it. House of bottles has become even extremely famous in the world. He was filmed in several Hollywood films. Then this place turned into a non-residential, house from bottles, the photos of which became unique today, was abandoned.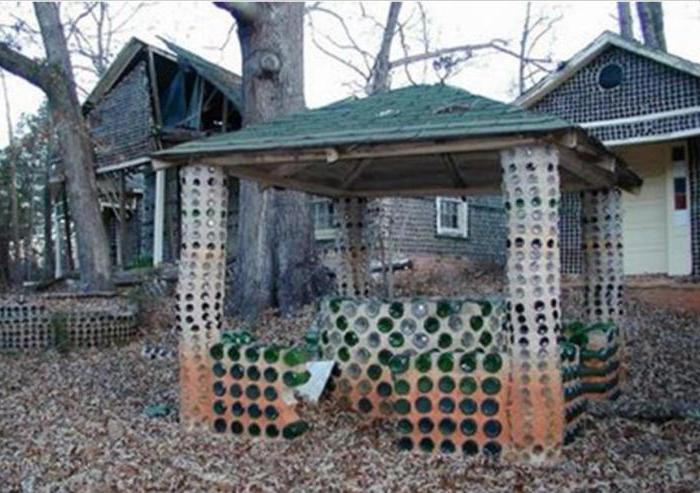 2 years ago the house was restored. And even around was built a miniature town. True, no one lives in it today - it's quite a popular museum among tourists.
Report on bottle houses - a ticket to world fame
Philippine resident Jonathan Devante became famous for making a video about amazing dwellings built, as he says, from "eco-bricks". Otherwise, such a structure can be called simply - a house of bottles.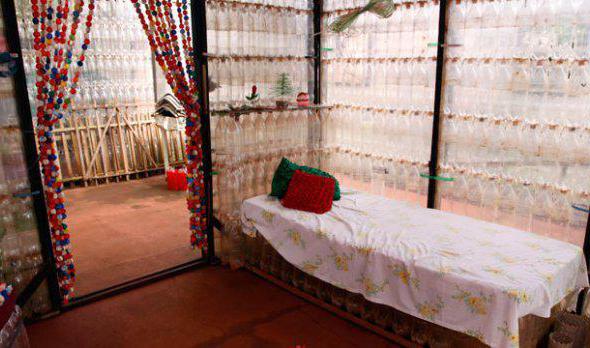 Jonathan attached to his film a description where he said that the idea of ​​building buildings from "eco-bricks" is perfectly realized both in the Philippines and in Guatemala. He argues that such facilities have great advantages. It:
seismic resistance;
environmental friendliness;
refractoriness;
soundproofing;
bulletproof;
high thermal insulation;
huge service life;
low cost.
The fact that a huge amount of natural material is saved by using unnecessary plastic or glass bottles instead of wood or stone is not worth talking about.
Now such projects are being implemented in Asia, South America and Africa.For example, in Nigeria, the first residential building of 60,000 square meters was recently commissioned. Its construction took 14,000 plastic bottles.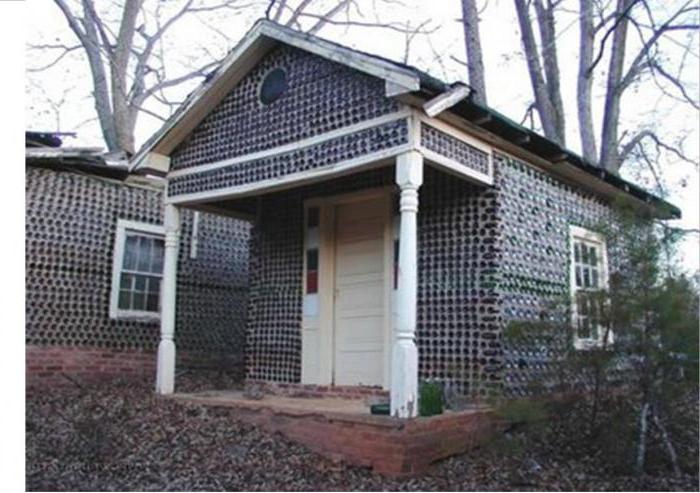 Now activists are developing a building plan for schools. Moreover, 14 schools built from bottles are already functioning in Guatemala. Adolescents are actively involved in the construction of such buildings. They themselves collect building material - used egg-caps, thereby clearing the terrain from trash. Their help is very noticeable in the process of building walls.
We will build a glass house with you!
In fact, today, many are puzzled over how to build on their site something original in an unconventional style. For them there is an instruction describing how to build a house from the bottle.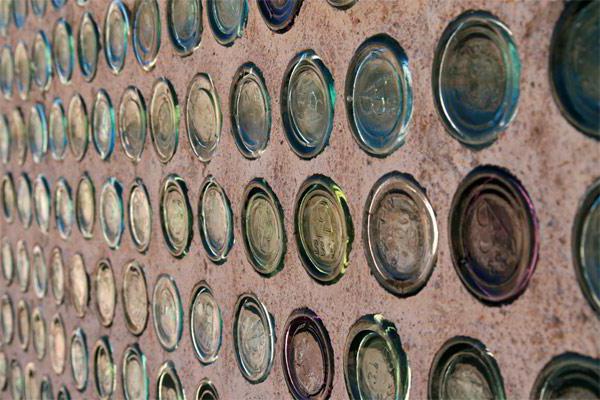 First, prepare "eco-bricks". Glass bottles are washed and dried thoroughly.
Then the dishes are clogged. It is best to fill the necks with cement mortar.
The foundation for the house is laid in the usual way.
At the site of construction of the wall pour the cement layer.
Bottles are placed on it tightly so that the necks "look" in one direction.
The next layer of cement is poured over the neck of the bottle to the convex part.
Now the layer of bottles is stacked in a checkerboard pattern.
The operation algorithm is repeated until the required height of the wall is reached.
Each wall is built separately.
Corner joints are fully concreted by adding to the solution of crushed bottle glass of different colors.
If you wish, you can make an original pattern with an ornament or even lay out the whole picture. To do this, during the construction of the walls used bottles of different colors. Then you can build a real palace for fairy fairies, and not just a house of bottles. Photos of such wonderful buildings speak for themselves.
It is economical to build houses from plastic bottles and it is pleasant to live in them!
Of course, collecting so many used containers is quite difficult. After all, for the construction of a single-story house will need from five to eight thousand bottles. But if someone succeeded, then it is not worth delaying. Indeed, it is time to build a house from the bottle with your own hands!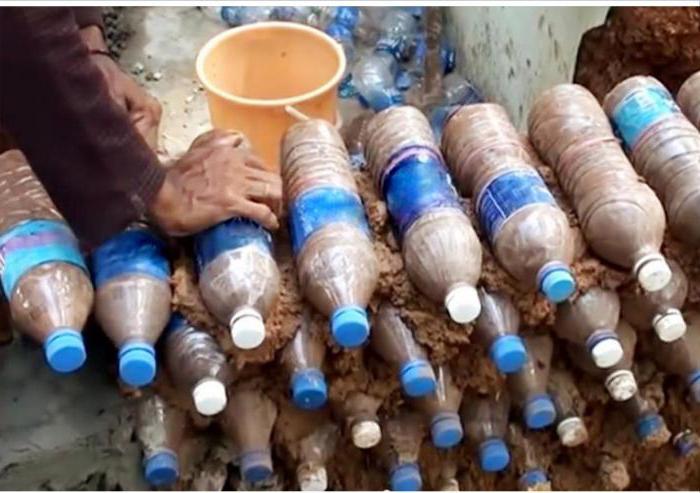 Plastic bottles are filled with sand and clogged. Therefore, you should immediately worry about the covers.
The solution is prepared in the same way as for the brickwork.You can, for example, take a recipe using sawdust, clay, earth, and cement.
The algorithm for laying "eco-brick" from a plastic bottle is not much different from working with glass containers.
You can give the walls stiffness, having built several columns of bottles. This can be done quite simply, and the effect will be impressive.
How to build columns of plastic bottles
Prepare a rounded pit. Its diameter can be from 60 cm to one meter.
She poured cement.
In the middle of the pit set reinforcement.
10-11 bottles filled with sand are laid around the rod. This should be done so that the neck of the dishes were directed to the center of the valve. The caps of the neighboring bottles must touch! During the laying of "eco-bricks", the necks are tied with twine, additionally fastening them together.
The gaps are better to pour a solution.
After the cement "sits down", the second layer of the column is laid. Can be used when pouring fragments of bricks, broken glass or other solid construction waste.
After the construction of the columns proceed to laying out the walls.
You can use in the construction and empty plastic bottles, only then to talk about super-strength and thermal insulation is no longer necessary.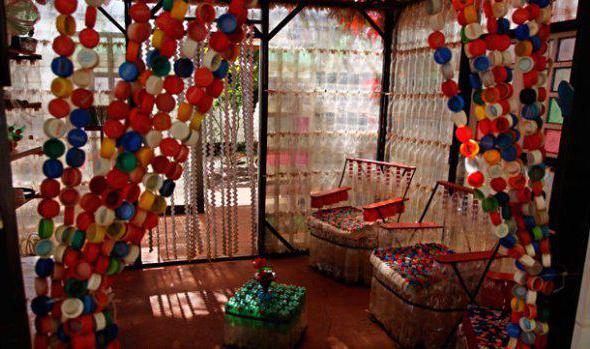 Some use vertically stacked bottles for masonry walls.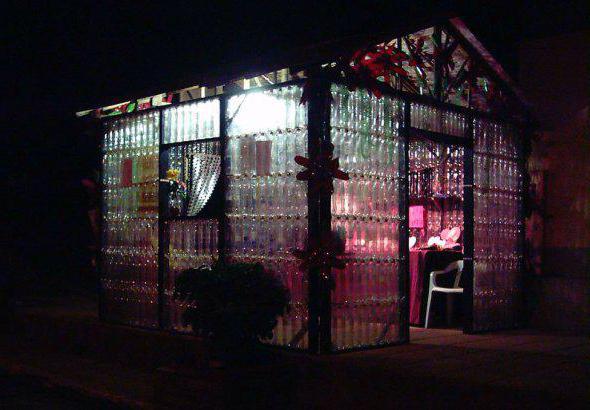 It can be beautiful, especially when the bottles are hollow inside.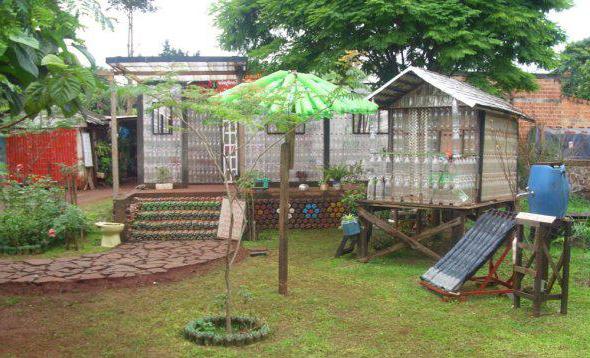 But in this case it is worth forgetting about strength.
Related news
Bottle house is a joke image, picture, imagery