Baked trout with vegetables - the most delicious festive dish
Baked trout with vegetables can be a great festive dinner that any person will appreciate. It should be noted that such a dish turns out to be much tastier if in the process of cooking only fresh red fish is used.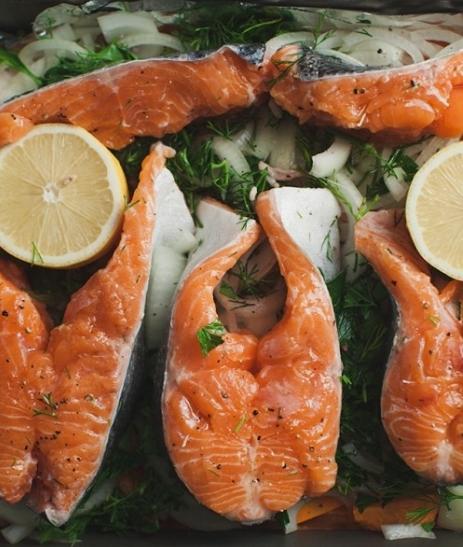 Baked trout: the necessary ingredients for six people
carrots - six medium pieces;
a trout - two kilograms;
potatoes - ten pieces;
onions - five heads;
salt - one small spoon;
greens, pepper and other seasonings for decoration and taste;
lemon - one half;
sunflower oil - two large spoons;
mayonnaise - 200 grams;
cheese - 160 grams.
Baked trout in the oven: red fish processing
Before baking the trout in the oven, it should be marinated in lemon juice for half an hour. To do this, take one two-kilogram fish, clean it from all entrails, remove fins, head and tail, and then wash well and cut into steaks a couple of centimeters thick.Next, each piece of trout should be salted, pepper and sprinkle with lemon juice. To the fish soaked with spices and acid, it is desirable for half an hour to set aside and do the processing of other products.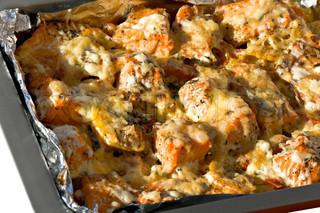 Baked trout: preparation of vegetables
For such a delicious dish it is recommended to take only fresh produce. Potatoes, onions and carrots should be washed, peeled and chopped into large circles. Then they must be put in one pan and mixed together with salt and pepper.
Baked trout: a recipe for cooking
In the event that lunch is designed for a large number of people, then for baking red fish is best to use a baking sheet. It must be well lubricated with vegetable oil, and then proceed to laying out vegetables and trout. The first layer should be put potatoes, sliced ​​into circles, then - carrots and red fish steaks. On the fish it is recommended to evenly distribute onions, chopped into large rings. After that, in a separate bowl, mix 200 grams of fatty mayonnaise, cheese, grated on a coarse grater, chopped greens and a few small spoons of lemon juice.Then the resulting mass is required to fill the entire surface of the prepared dish. A baking tray with vegetables and fish is recommended to be placed in a heated oven for about one hour. It should be noted that such a dish should be baked on low heat.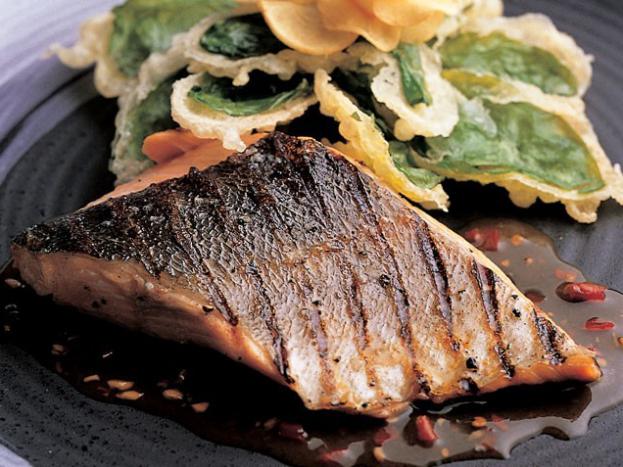 Baked trout: the right feed to the table
After the potatoes and carrots are soft, the baking tray with fish and vegetables must be removed from the oven and carefully arranged on a plate (one trout steak - one portion of dinner). For this dish it is recommended to additionally submit a salad of fresh herbs, olives, cucumbers and tomatoes. In addition, it is desirable to decorate the plates with thin slices of lemon and lettuce leaves.
Helpful advice
If the number of guests does not exceed four people, then bake the trout with vegetables better in portioned form. For this it is recommended to use a dense foil.
Related news
Baked trout with vegetables - the most delicious festive dish image, picture, imagery